The Sacred Flame
W Somerset Maugham
English Touring Theatre
Yvonne Arnaud Theatre, Guildford
–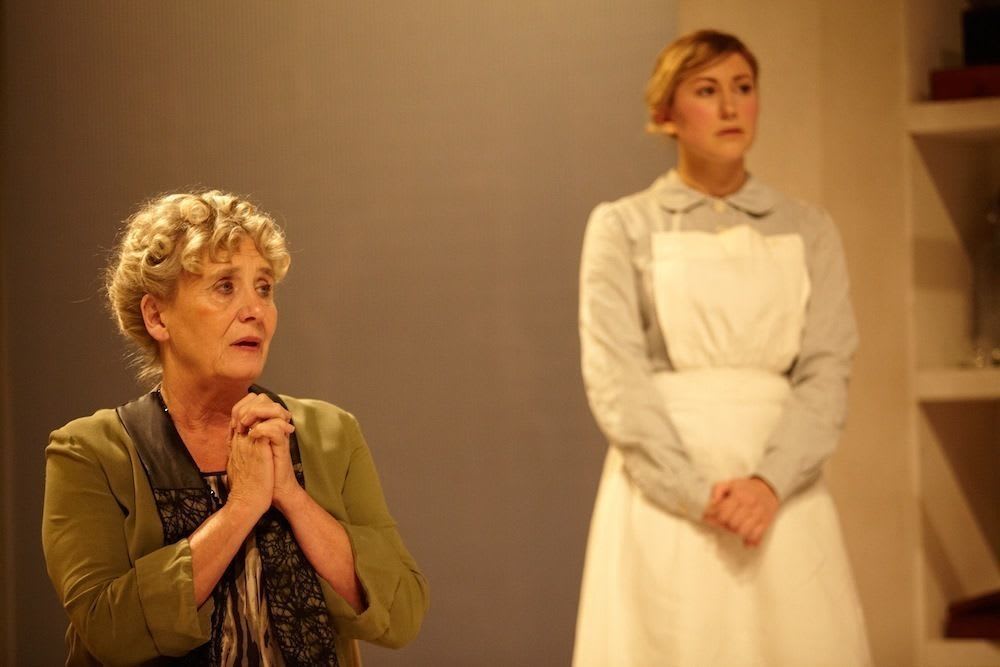 In Matthew Dunster's production, the setting by Anna Fleischle is stark and unforgiving with vast amounts of glass walls allowing us to see into the patient's bedroom and a long flight of hard white stairs leads to the landing above.
The play stands alone, needing no accoutrements to get its meaning across, and it's a very powerful message, especially for 1929 when it was first produced and became a huge hit—success inadvertently assisted by the Bishop of London who denounced it as immoral.
The opening domestic scene sees World War One hero Maurice (a superb portrayal by Jamie De Courcey), bed-bound and paralysed from the waist down after a crash, animatedly playing chess with his doctor while his live-in nurse reads and his mother gets on with her embroidery.
He seems to have come to terms with his disability and is happy that his beautiful wife Stella can have a life without him, this evening escorted to the opera by his brother Colin, but this attitude is only a façade for the sake of his wife and, alone together that evening, he breaks down in front of her.
Next morning he is found dead—natural causes says the doctor, but the nurse insists he has been murdered, and the play then turns into a totally gripping thriller. In an Agatha Christie type of confrontation, every single one of them could have had a motive or a reason to kill him.
Much more than the thriller element, though, and what so disturbed the Bishop of London, is the frank discussion on women's sexual desire, the transience of passionate love and, something very pertinent to today, mercy killing and a patient's right to die. Also discussed is tolerance of the views and beliefs of others, something which must have been very important to the bisexual Maugham in an age when homosexuality was illegal.
So much content to fit into two and a half hours that there is no room to fully develop each theme, but the whole is beautifully presented and gives a lot to think about, my only criticism being that the ending becomes slightly maudlin as characters collapse into each others' arms with the tears flowing.
Maugham writes great parts for women and it is they who carry the weight of the play, with Beatriz Romilly as the accused wife becoming distraught and ashamed as secrets are exposed and Sarah Churm's virtuous Nurse Wayland 'holier-than-thou' insisting that revelation is her duty.
The performance with the greatest impact, however, is from Margot Leicester, gracious and dignified as the wise and observant mother. You can certainly imagine this woman in India, calmly and pragmatically adapting to life in an alien country and getting on with the job. Her confession of a past love for Major Liconda (a plausible Robert Demeger) illustrates her point of the transience of passion.
This play had been virtually forgotten since the sixties, but ETT decided to "give it an airing", much as they did with a long-ignored Terence Rattigan just before he became flavour of the month. It could be that they have done it again and begun a revival of Maugham's forgotten work. The theatre was packed. Guildford audiences know a good thing when they see it.
Touring to Brighton, Southampton and Cambridge
Reviewer: Sheila Connor