The Santaland Diaries
David Sedaris, adapted by Joe Mantello
Alley Theatre
Neuhaus Theatre, Alley Theatre, Houston
–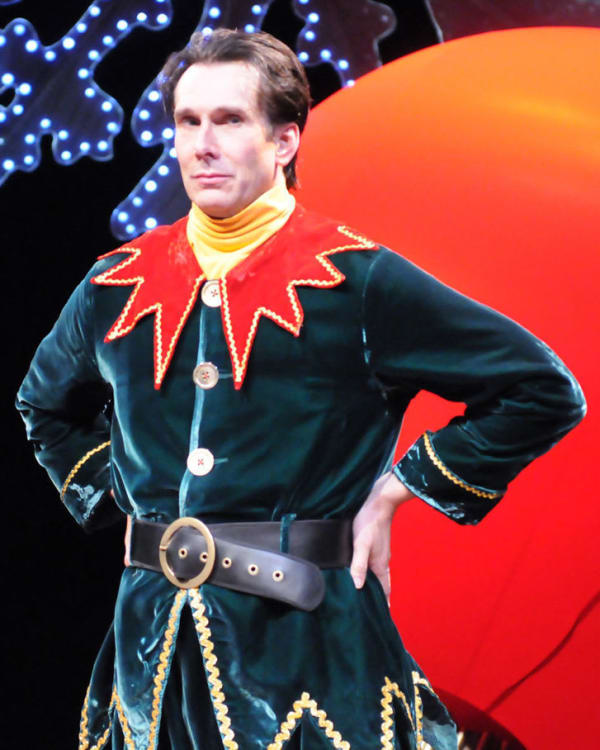 It was nice to see something fun and light for Christmas as when I saw the Alley Theatre's production of Joe Mantello's adaptation of David Sedaris's The SantaLand Diaries.
Among US essayists, Sedaris is among the first rank: Sedaris is hugely imaginative and very, very funny. If you haven't had a chance, you really should read such collections as his Naked, Me Talk Pretty One Day and Let's Explore Diabetes with Owls.
As the titles might indicate, Sedaris has an imagination that is pretty much unfettered. His essays are full of outrageous moments, many revolving around his family and his queer sexuality. I should warn you: don't read these aloud at work, on the Tube, or otherwise in public. You'll embarrass yourself when you laugh aloud uncontrollably.
The SantaLand Diaries is Sedaris's first published essay and is his account of his first days in New York, having moved to that famously tough city with no job. He takes us through one month of serving as a Christmas Elf in Macy's Santaland (Macy's is roughly the US equivalent of Harrods). Santaland is both an enchanted place full of magic, and an absolute indictment of American capitalism.
In 1996, these essays took on dramatic form: Joe Mantello adapted Sedaris's essay, originally read by Sedaris on our National Public Radio's Morning Edition. The Santaland Diaries was a huge hit at the Atlantic Theater Company in New York on November 7, 1996 and hasn't ever stopped being performed here. In the Alley Theatre's production, Sedaris is played by Canadian actor Todd Waite, who is just plain out hilarious.
Like such actors as Lucille Ball, Red Skelton and Donald O'Connor of an earlier generation and such contemporaries as Debra Messing, Megan Mullally and Sean Hayes (all American film and stage actors who appeared together in Will and Grace but have had good careers since), Waite depends, successfully, on physical comedy to craft his characterisation of Sedaris, though the other characters he plays, including at least three Santas, are built more on his use of accents.
As goofy as it is, the show works. Waite not only knows how to deliver a gag (and some of the lines are "it hurts to laugh this hard funny"), he also knows how to play the audience, as when he was delivering a line about a man with a handle bar moustache, and interrupted himself to tell a man in the front row with such a moustache "oh, I don't mean YOU, of course," or to otherwise engage the audience. He's very smart and very fast; when a joke didn't go over as well as it should have, he merely said "Live theatre," sighed and went on, getting a new laugh from that moment.
He also, however, knows how to handle more sympathetic material as when he tells the story of a child-like man; Sedaris and Waite alike humanise the man who really wants a toy from Santa and visits three times getting more excited each time and he makes the theatre glow at the climax of the show, when it's just possible the real Santa visits Macy's, something treated by Sedaris and his dramatic counterpart with just the right touch of pathos.
The set by Karin Rabe Vance and lighting by Kevin Rigdon are exactly what they need to be: a large chair for Santa complete with and cookies and milk, a big ornament in one corner and a somewhat frightening Santa in another; the costumes by Blair Gulledge are great, and Waite got a laugh when he displayed himself in all his Christmas glory.
However, Pierre Dupree's sound design is as funny as Waite himself, with a woman (uncredited) announcing breaks for Santa's helpers and counting down to Christmas, clearly getting more and more frazzled and angry as the holiday season wears on and on.
Generally, director David Cromer and all the designers got out of the way and let Waite make his audience sick with giddy laughter. That's what they need to do, while Waite works his holiday fun.
Reviewer: Keith Dorwick