The Scarlet Letter and Other Betrayals

Livewire Theatre
theSpace @ Surgeons Hall
–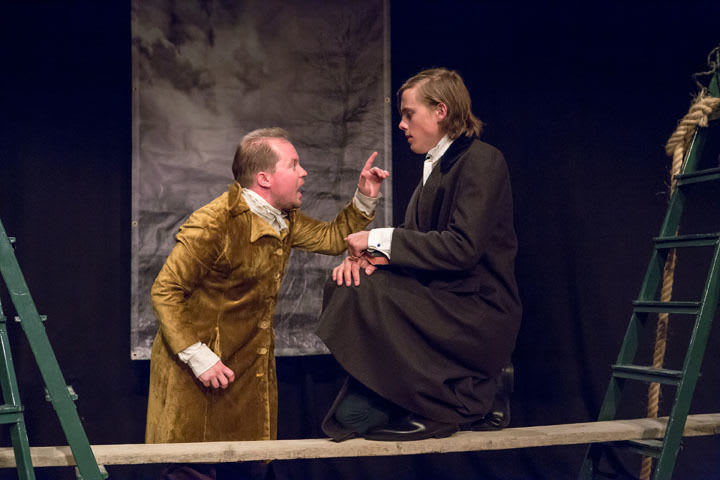 Livewire Theatre is something of a secret perennial of the Fringe. Since the mid 2000s it has been bringing its own special brand of bombastic literary adaptations up to Edinburgh each year only to vanish again into the mists once again as September creeps around.
Having experimented last year by running a gauntlet of three shorter plays run back-to-back each night, it's good to see them return to what they do best: a single, solid, well paced, longer production.
The Scarlet Letter and Other Betrayals, adapted from Nathaniel Hawthorne's novel, is a tale of jealousy and secrecy against a background of puritanical idealism flying in the face of human behaviour. It revolves around the public shaming and ostracism of Hester Prynne, a young wife who has borne a child while her husband has been long absent.
Her refusal to name the father, the town minister, leads to a sharper shunning from the fiercely religious and hypocritical community. Meanwhile, her long missing husband arrives incognito and attempts to discover the culprit himself, posing as a visiting physician.
The production is typical of Livewire's work, with mixtures of authentic folk song, repeated visual cues and Greek chorus style tonal epithets. As the plot meanders its wicked route through the lives of the townsfolk, the lives of the downtrodden are realised with care and beauty: a slave girl, a native American, the adulterer and a bullied widow, clinging steadfast to her land.
The widening of the narrative to encapusate the themes of the disenfranchised standing fast against persecution lets the piece exceed its source material and show that Livewire truly is a high calibre theatre company which should not be missed.
Reviewer: Graeme Strachan