The School for Scandal
Richard Sheridan
Waterloo East Theatre
–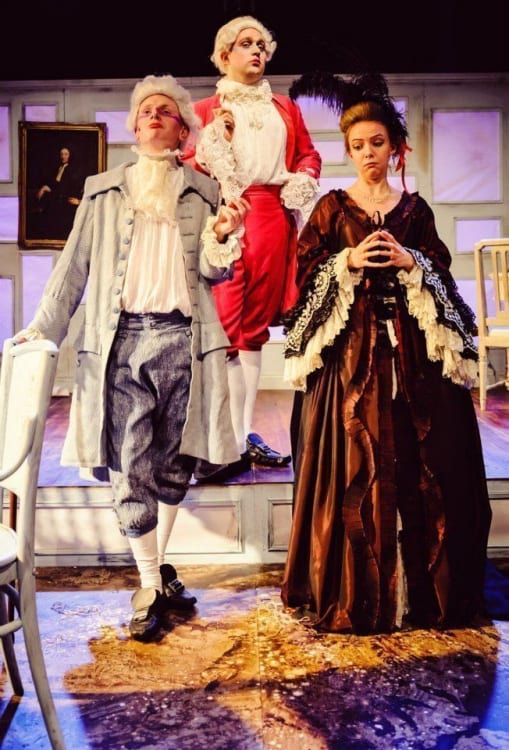 Richard Sheridan's eighteenth century comedy contains all the wit and farce of a pantomimic commedia dell-arte performance: elaborate costumes, exuberant energy, devilish plots, and enough exaggerated quips and asides to make an audience believe they too are in on the latest scandal.
The School for Scandal observes superfluous affairs of a glamorous group of conniving socialites, interfering in lives of those around them. One plotline concerns the arrival of Sir Oliver Surface returning to London in order to decide which of his two unruly nephews, Charles or Joseph Surface, is to become his heir.
Cue being plunged into a macrocosm of double-crossing and disguise, as Sir Oliver fabricates his appearance when visiting both brothers, as a means to figure out which of them is worthy enough for this succession. Meanwhile, the pairing of Sir Peter Teazle and his new, young, country bumpkin wife, Lady Teazle proves somewhat difficult.
All the while the scandalmongers place themselves at the centre of these occurrences. The leader of the pack is the devious Lady Sneerwell, providing the show with the explosive extremes of her emotions: one minute she is laughing heartedly about the uncultured background of Lady Teazle drowning out the sniggers from her minions, the next she is shrilling and shrieking with disdain at her foiled intermingling. Grace Fairbairn does well to portray the "spoilt little rich girl" stereotype; parading about the stage; sporting a stilted poise and an expression which exposes her constant scheming.
Rob Maloney stepped in to play the part of Sir Peter at the last minute in place of Matthew Ward, who fell ill. We are asked to bear with him as he uses a prompt book. Nonetheless, he delivers a seamless performance, seldom glancing at his lines; bringing the character to life, and almost eclipsing the performances of the others, especially as he warmly banters with the audience; expressing his helplessness at the mercy of his bawdy new wife.
The staging is simple yet effective. The empty picture-frame backdrop allows for versatility from one wealthy abode to another; the frames covered with white cloth let through beams of coloured light at various points throughout the show, making for a very interesting and striking concept.
Although the show begins to drag a bit in the middle, the overall performance promises much comical fun and manages to redeem itself by the end. Some of the male characters look like they've been on tour with Adam and the Ants, with their painted faces and "The Highwayman" costume. There is a hilarious moment where Lady Teazle wrestles with what looks like a rhubarb and custard sweet, and another where Moses downs a glass of whatever is put in front of him between each sentence.
Director, Zoe Ford, has done well to squeeze out every ounce of shameless comedy she can find in Turn of the Wheel's second production, marvelling in the endless fiasco, but nonetheless displaying an assortment of characters with a touch of warmth and light-heartedness.
As much as we hate to admit it, everyone loves a bit of juicy gossip and to revel in a scandal; thus making this play as relevant today as it was when it was first performed.
Reviewer: Lauren Hughes