The School of Night's Spontaneous Shakespeare

Extempore Theatre and Festival Highlights
Gilded Balloon Teviot
–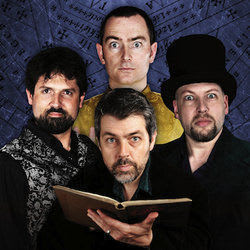 The School of Night's Spontaneous Shakespeare is exactly as the title suggests: energetic, fun, improvised and yes, heavily featuring Shakespeare. This is a special brand of Shakespeare however: a new play that gets created entirely through audience suggestion.
The bard is not the only literary giant who gets the School of Night treatment though, in a twist that involves the audience and shapes their experience of the show. Whilst Chaucer is a warm up and Shakespeare forms the body of the piece, these versatile performers also offer a recap of their newly made up masterpiece in the style of other authors.
For the performance that I saw, the submissions included Harold Pinter, Richard Brinsley Sheridan, Sarah Kane and Molière. Reenacting the previously improvised scenes in these styles is a tricky stunt but, with vivid imaginations, all the performers rise to the challenge creating hilarious situations.
The joy of The School of Night is that the talented ensemble are not afraid to test each other's skills and so something much more than just the outline of a plot is created. Improvisation is a skill not many people truly possess, so to see such consummate professionals summon sonnets out of thin air is an exciting experience.
The show is as accessible as the audience makes it, so why not go along with a suggestion of your own and participate in devising a brand new piece of theatre?
Reviewer: Amy Yorston