The Score
Oliver Cotton
Theatre Royal Bath Productions
Theatre Royal Bath
–

Listing details and ticket info...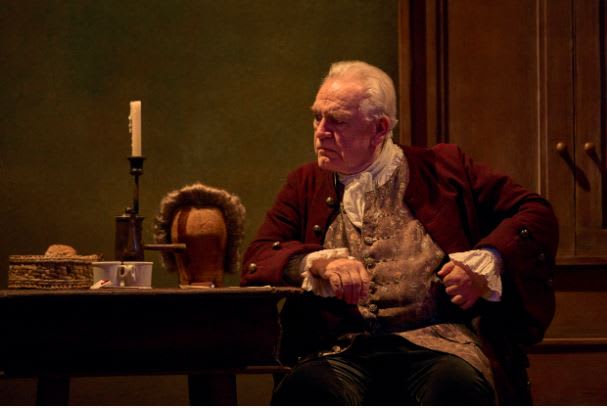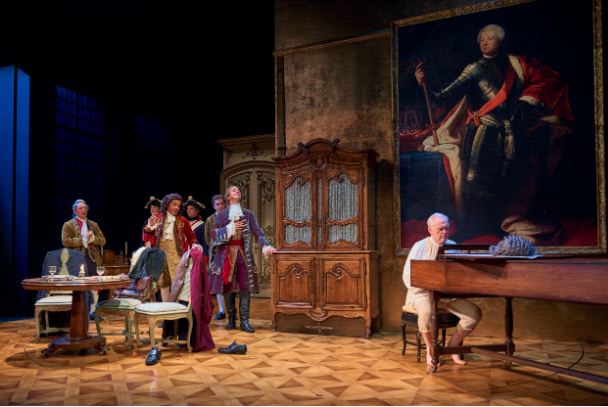 Announced almost a year ago, Brian Cox's much-anticipated return to stage raised a few eyebrows when Theatre Royal Bath was chosen as his homecoming destination. After all, aside from a run as the titular character in Uncle Varick in Edinburgh almost two decades ago, Cox hasn't performed away from London or Broadway since the late 1980s.
Not to say the West Country theatre isn't used to such big names bestowing its corridors—on the contrary, with Ralph Fiennes, Rupert Everett and Sir Ian McKellen all premièring plays here in the last few years. Nevertheless, following his worldwide acclaim as the Murdoch-inspired Logan Roy in HBO's Succession, a trip down the M4 from his usual territory is definitely a feather in Theatre Royal Bath's cap.
So, what brings Cox to Bath? Oliver Cotton's The Score is what. Here, he dons the cloaks and genius of 18th century Baroque composer Johann Sebastian Bach, as he travels to Potsdam on invitation from Frederick the Great, King of Prussia (Stephen Hagan). The play mostly takes place over a few days as the ideals of Bach's faith and morality are put to the test, in addition to his musical excellence.
Cotton, an actor-playwright who has penned The Enoch Show at the Royal Court and National Theatre's Scrabble, gives us an insight into what happened when the pair met in 1747 and how two men of contrasting beliefs fared. Along for the ride are Bach's son Carl (Matthew Burns), the troublesome composing trio of Johann Quantz (Christopher Stains), Jiří Benda (Benedict Salter) and Carl Graun (Eric Sirakian), as well as housemaid Emilia played by Doña Croll and esteemed writer Voltaire (Peter De Jersey).
Under the direction of former National Theatre and RSC Artistic Director Trevor Nunn, a grand production utilising imposing and impressive Georgian interior design is implemented. Under the prolific and experienced designer hands of Robert Jones, it effortlessly fills out the stage to replicate those great halls with large, detailed furnishings, windows and doors. But it is Cotton's stand-offs that really capture the audience's attention.
A cynic might refer to it as just one shouting match after another, but there's a well-intentioned guile and rhythm to Cotton's dialogue that allows for enough air and freedom. Of course, it almost goes without saying, but Cox's presence is commanding. So used to playing the unlikeable baddy, here we see a side of him that's more human and sympathetic. It is an aging Bach—only three years before his death—and Cox plays him like a thoroughbred horse on his last legs, eking out that last bit of genius to earn another ribbon for the mantlepiece. We are treated to his trademark Coxian roar, but also his wonderful comedic timing. When presented with the almost-impossible challenge of improvising a three-part fugue, Cox splendidly delivers, with that delightful dryness: "I might give it a try."
But it is those sharp back-and-forths with Frederick which steal the show. Hagan goes toe-to-toe with Cox and never takes a backwards step. A king famed for his association with the arts and the Age of Enlightenment, Frederick II's tumultuous relationship with his father is perhaps why he was able to add 'Great' to this title after his upbringing enshrined a ruthless streak within him. Historian James Gaines wrote that "no father-son conflict has ever been more pointed". When Bach cannot contain his anger at the treatment of his people in Leipzig any longer, Cox and Hagan are let loose and engage in some gripping struggles and exchanges.
There's no doubting Cox's gravitas as he lands a powerful performance, but he is supported extremely well by the rest of the cast. Hagan's layered showing is certainly a highlight, as is De Jersey's comic relief as the eccentric Voltaire. Overall, The Score is a real treat for Bath's audiences.
Emmy, Golden Globe and Olivier Award-winning Cox, not content with his fortnight stint back on stage, returns to London next spring in Eugene O'Neil's Long Day's Journey Into Night for three months at Wyndham's Theatre. After this formidable return performance, many of those in the West Country might head in the other direction on the M4 to catch his stagecraft once again.
Reviewer: Jacob Newbury