The Scouse Dick Whittington
Kevin Fearon
Liverpool's Royal Court
Royal Court
–

Listing details and ticket info...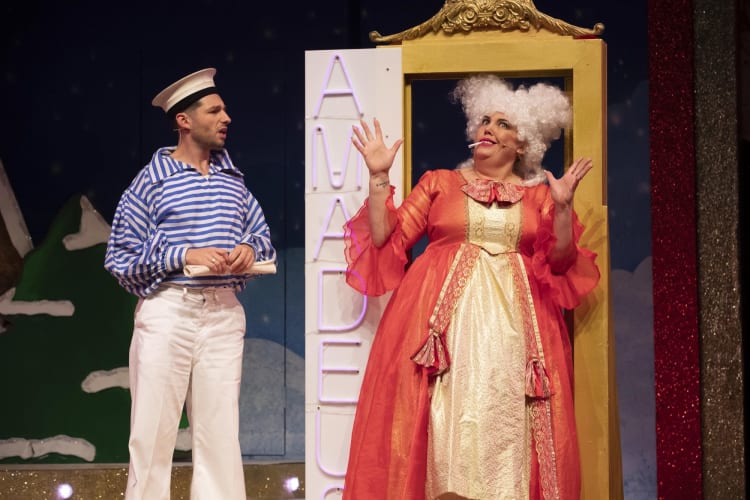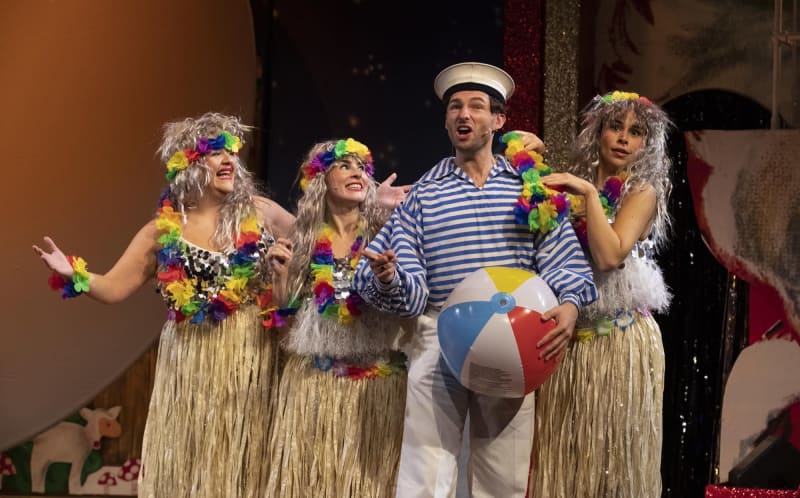 Christmas dinner is on the menu at the Royal Court as an appetiser for this year's adult panto, scripted by the theatre's Executive Producer, Kevin Fearon, and poaching Mark Chatterton, co-writer and director of 19 rock 'n' roll pantos at the Everyman down the road, to direct his first panto here.
The script flirts occasionally with the more familiar Dick Whittington panto tale, but it does have a story of its own to tell, opening in Garston with a chorus of Scousers in a mixture of glittery dresses, fairy wings and shell suits singing PJ and Duncan's "Let's Get Ready to Rhumble". This is where the Dick of the title (Adam McCoy) lives—although here his surname is Head—with his mother, Holly Head (Lindzi Germain).
Then Andrew Schofield's King Rat arrives on a bike singing The Osmonds' "Crazy Horses" and knocks down Dick's Cat (Jamie Clarke), as he is trying to kill al of the cats in Liverpool. Fortunately, Fairy Fanny (Paige Fenlon) is on hand to help. Meanwhile, the Mayor, Bradley Fitzwarren (Liam Tobin), has to resign for failing to save the cats; after doing a striptease to Neil Diamond's "Love on the Rocks", he resolves, with his daughter Alice (Hayley Sheen), to find someone to run for Mayor or King Rat will win the election. Alice finds Dick, and Dick quite likes Alice (I know, but there is a lot of this kind of innuendo in the script, as you might expect).
As in the original, act I ends with Dick boarding a ship—which looks rather like Tony Hart's logo design for Blue Peter—with a treasure map and Alice stowed away on board disguised as a crew member, setting off to Bon Jovi's "Livin' on a Prayer". Act II opens with Whitesnake's "Here I Go Again" before King Rat introduces his Discombobulator, a machine to create storms at sea to shipwreck our heroes, leading to a great scene with a large blue cloth and puppet versions of the characters and some advice on film from Mayor Joe (Keddy Sutton)—perhaps a reference to a past leader of Liverpool council...
If you're following the style and era of many of the songs, Dick's comment whenever he looks at the map that "this means nothing to me" should perhaps give you a clue to where the treasure lies. Yes, it's in Austria. There we meet Schofield's lonely goatherd, followed by Tobin and Germain's Mr and Mrs Mozart—cue the occasional burst of a certain song by Falco—then finally Schofield again looking rather like Gary Numan singing Kraftwerk's "The Model".
Of course (spoilers?) all is resolved, the baddy is killed, the audience is encouraged to sing along with "(Is This the Way to) Amarillo" and it's all rounded off with a bit of Spice Girls.
Music is provided very effectively throughout by a four-piece band, scattered to the four corners of the stage—Ben Gladwin on keyboard, Greg Joy on drums, Chris Nicholls on Bass and Mike Woodvine on guitar—with Howard Gray as musical director. The Ratettes are a silver-clad, '60s-style girl group providing backing vocals: Fenlon when not on fairy duties with Emma-Grace Arends and Emma Bispham. There are also some strong voices among the rest of the cast, with the rock numbers being particularly effective.
There are traditional pantomime elements, but the scriptwriter and director have added plenty of their own touches and a strong local flavour; unlike commercial pantos that throw a few local place names into an existing script, this is a show that, like most of those who created it, comes out of Liverpool. This is billed as an adult panto, but while there is some strong swearing, the near-the-knuckle gags—some of which come from Olivia Du Monceau's clever set—aren't too far away from those in some family pantos I've seen.
It's slick and funny with all performers going for it full-throttle right through to late January, so an entertaining night out, even for this non-Scouser.
Reviewer: David Chadderton