The Sea Child
Carolyn Sloan
Yvonne Arnaud Youth Theatre
Gilded Balloon
–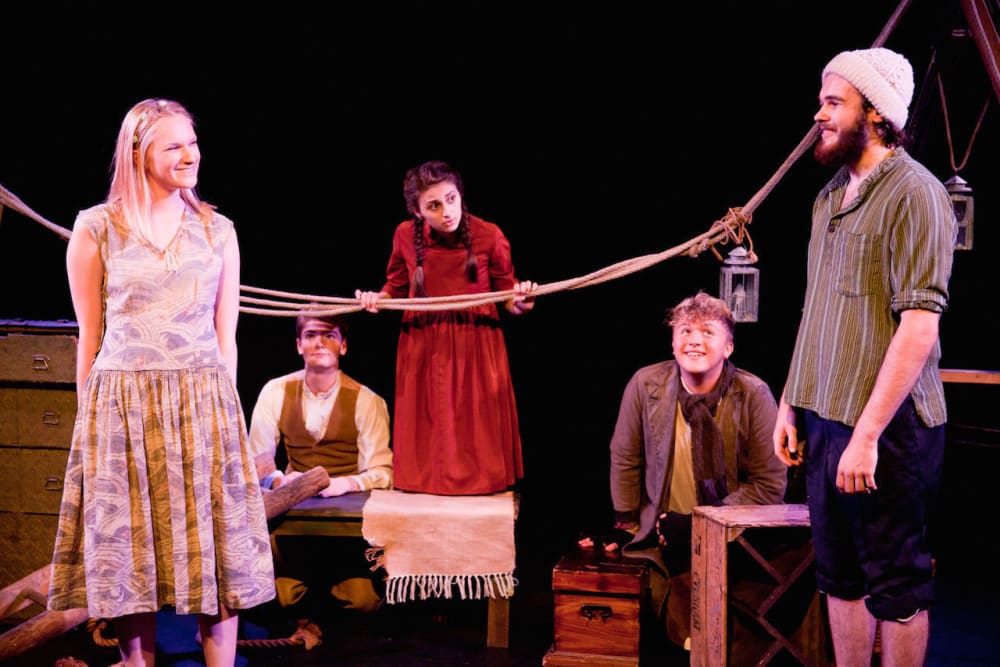 The Sea Child is a delightful story adapted by the author Carolyn Sloan from her own novel. Guildford's Yvonne Arnaud Youth Theatre, which returns to the Fringe for its eighth year, sensitively and beautifully performs the tale.
The atmospheric set consisting of wooden ladders, ropes and the detritus from the sea works well and the talented ensemble create the scene with a rendition of sea shanties, sung sweetly, that set the mood.
This is a story about ghosts, smugglers, a sunken village and tides that don't go out and the legend of The Sands and the houses that once stood upon them before they disappeared under the sea over three decades ago.
It is told through the eyes of young Jessie who has lived alone on The Sands with her father Danny for over ten years and then there is Bates, the seagull, simply and cleverly represented by a paper puppet that follows her everywhere.
They survive in this isolation, finding all they need from the sea and living in peaceful contentment. But as Jessie grows older and her tenth birthday approaches, her curiosity grows and she wants to discover where she really belongs and visit the mainland.
Jessie's voyage of discovery takes her through the secret passage of Dead Man's Walk inventively created by her climbing over the cast's shoulders.
When Jessie reaches the village, she is ostracized by the inhabitants who fear her presence, but 10-year-old Lisa befriends her and even takes her to school, but schoolteacher Miss Potter is certainly not amused by this strange urchin.
Mrs Madden, the vicar's wife, is more benevolent but when Lisa disappears the whole village is plunged into turmoil.
The mysterious newspaper reporter is anxious to get the facts and so have a scoop and bribes the local policeman to help.
Then there are blind granny Rose and old Max who know much more than they are revealing. But was it all just a dream?
This mystical story is told by a skilful, disciplined cast with fine acting and strong ensemble work and is directed with panache by Lucy Betts. This is certainly a production that deserves to be on the ones to see list.
Reviewer: Robin Strapp