The Sea Queen
Daniel Winder with lyrics by Matthew Bugg & Rae Mcken and music by Matthew Bugg
Iris Theatre
The Scoop
–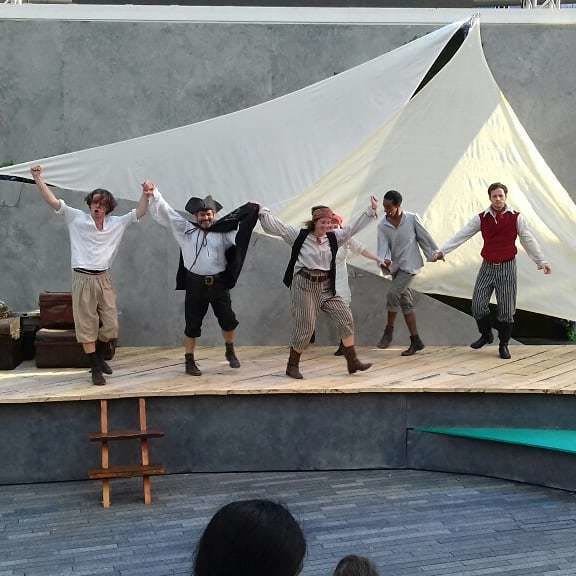 This summer, Gods and Monsters brings Iris Theatre, already well known for its outdoor promenades at St Paul's, Covent Garden, to the South Bank and this is their early evening show primarily for younger audiences.
Based on fact, though fairly freely, it is the little-known story of a female Irish chieftain and sometime pirate, Grainne O'Malley, from the age of Elizabeth I. To secure the release of members of her family who are held prisoner in Dublin Castle, she sets sail for London to appeal to the Queen.
Held up in an Underground tunnel for half an hour due to what is euphemistically called "an incident" I missed a large chunk of the play's opening arriving to find her halfway through her voyage in contention with what I took to be an English aristocrat in an a fancy outfit.
With the actors contending with noise from the now adjoining bar and fast food stalls and the passing multitudes plus a sound system that wasn't helping, it wasn't easy to work out what was going on until Stephanie MacGaraidh's Grainne arrived in England when a Latin introit, beautifully sung by her courtiers, announced the arrival of the Queen, played by Veronica Beatrice Lewis in this colour- and gender-blind production. As Elizabeth she commanded the stage with crystal clear delivery, shutting up Acushia-Tara Kupe's Essex and Lorenzo Martelli's Secretary Cecil and issuing instructions to Itoya Osagiede's Lord Butler to sort things out in Dublin and instruct its English Governor to release the O'Malleys.
What I saw did not inspire me but I missed too much to make a fair judgement and the audience, though not particularly responsive during the performance, gave it an enthusiastic final reception. It is free, so why not try it?
Performances are Wednesday to Sunday.
Reviewer: Howard Loxton