The Season
Jim Barne & Kit Buchan
New Wolsey Theatre Ipswich, Royal & Derngate Northampton
New Wolsey Theatre, Ipswich
–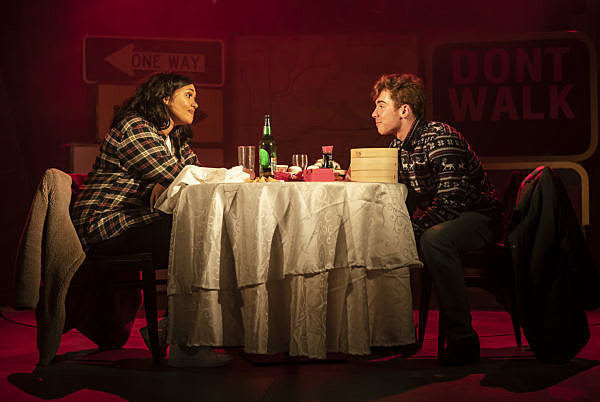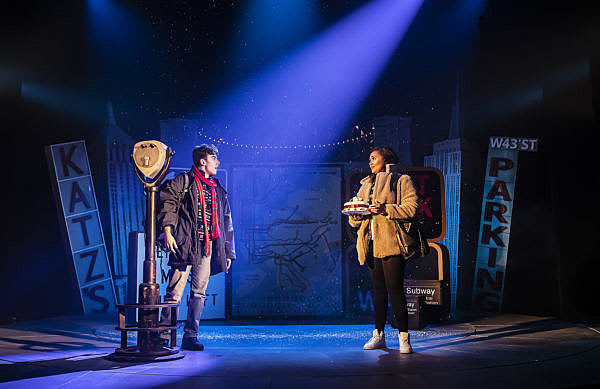 A new musical is a difficult beast to get off the ground. This fairly inexperienced writing team has had mentoring from a number of sources, including George Styles & Anthony Drew, on an idea that began germination in 2015 and is now developed as a full-length show produced by the New Wolsey and Northampton's Royal and Derngate.
What has emerged is a rather sweet, slightly quirky, lightweight offering which, although neither original nor groundbreaking, will nevertheless probably do rather well with audiences looking for bit of light relief from all the doom and gloom of Brexit and an unwanted election campaign set to ruin Christmas.
This is a musical for just two actors—reminding me very much of The Last Five Years—but unlike that one does have a script as well as songs. It tells the story of Dougal, a 20-something, slightly geeky British guy who has arrived in New York for the posh wedding of his well-off father—someone who walked out before he was born and with whom he has had very little contact since. Dougal, played endearingly with wide-eyed optimism by Alex Cardell, is a bit like an excited puppy dog—his knowledge of New York is all from films he's seen at the local cinema and, like Kris Marshall's character in Love Actually, he believes America, here specifically NY, is the answer to his dreams.
Tori Allen-Martin—last seen at the New Wolsey in the very different One Man Two Guvnors—plays the second character Robin, a streetwise New Yorker and sister to the bride tasked with meeting Dougal at the airport.
As in all good love stories, they initially don't hit it off, but as they get to know each other they realise they have more in common than they thought. After a bit of persuasion and an accident with the wedding cake, Robin takes Dougal on a wild night out in the Big Apple on his father's credit card, ending with them waking up in a room together at the Plaza Hotel with hangovers and a wedding to get to.
So far, so inevitable. The second half gets a little bit more antsy and there are a couple of small twists in the plot. Finally, they end up in a Chinese restaurant together in a rather nice and well-directed scene portraying an alternative version of a wedding they may or may not end up having themselves.
The songs are quite samey but pleasant rather than singalongable and the actors do an amazing job holding it all in check and not letting the material get the better of them. They also have good onstage rapport and their relationship is believable. It's all performed on a revolve stage where tables, outfits and subway train seats come into view at various points to give the impression of travel and create the scene changes.
Two main problems for me were that one main feature of the production is the city of New York itself, so maybe a projection of the places they travel through and to would have improved things, and secondly its meant to be Christmas Eve but there is nothing on stage to suggest this.
If you love musicals in the Steven Sondheim vein, this is definitely for you. It's an evening in the company of two endearing characters with love, laughter and some nice songs and a bit of Christmas cheer thrown in—nothing too challenging—a pocket musical that is a pleasant evening's entertainment. And the audience on the night loved it. But I can't say it left me with more than a fleeting aftertaste of something a little bit too saccharine.
Reviewer: Suzanne Hawkes