The Season Ticket
Lee Mattinson, adapted from the novel by Jonathan Tulloch
Northern Stage and Pilot Theatre
Northern Stage, Newcastle
–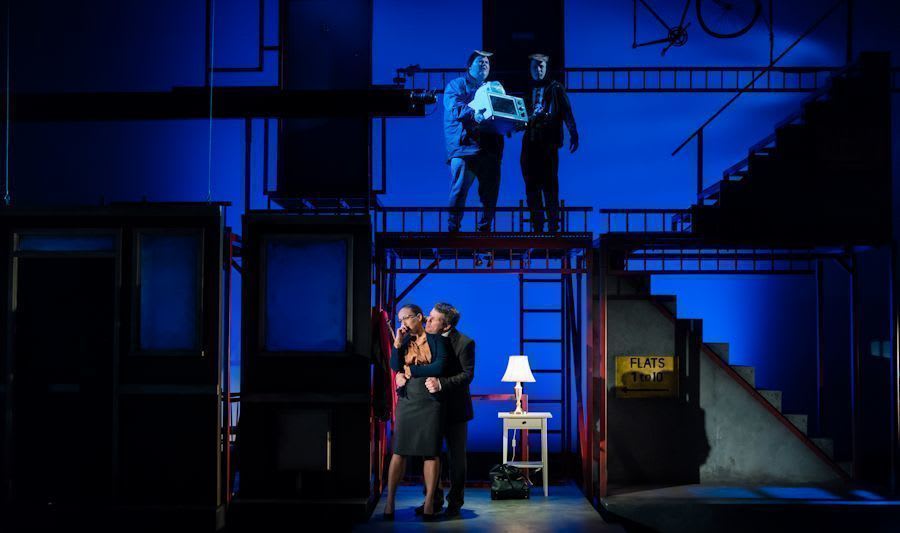 Liverpool (and many another football team) manager Bill Shankly is famously reported to have said, "Some people think football is a matter of life and death. I assure you, it's much more serious than that."
He was probably half-joking but there is an element of truth there. What else would lead a grown man to punch a police horse in his home city because that city's football team had been defeated by hated local rivals? Why else do many grown men (and women) spend the summer luxuriating in the (occasional) sunshine while longing for the football season to begin?
And why else would fifteen-year-old Gateshead lads Gerry and Sewell decide to devote a whole year to raising the £1,000 they would need for two season tickets for Newcastle United, a seemingly impossible task?
Society doesn't mean much to them. Sewell isn't very bright and Gerry is a school refuser. They're both from single-parent families: Gerry, his sister and his mother have to keep moving to keep out of the way of his violent bully of a father, in spite of court orders for him to keep away, and Sewell's dad has never recovered from the loss of his wife. Gerry's sister wants to go to uni to read English but he has no interest in reading or anything else even vaguely academic and Sewell is only semi-literate.
But Sewell has warm and happy memories of, as a young child, being taken to football matches by his dad, with the coat dad wore and even the tea (hot, milky, with two sugars—just the way he likes it) being equally important ingredients.
Football is a happy memory and a dream of the future when they will sit in the same seats in St James' Park every other week with their tea and their programmes, possibly even a pie. Football, their devotion to the team and being part of the "toon army" are what gives their lives meaning.
The Season Ticket isn't really about football; it's about identity, two lads trying to find their place in a society which seems to have nothing else to offer them.
I haven't read the novel, nor have I seen the film based on it (Purely Belter), so I came to the production with no preconceptions, except about the playwright and some of the cast. The script bears many of the hallmarks of Lee Mattinson's other writing: he creates strong characters, both male and female; his ear for the way people speak is first class, enabling him to produce very natural dialogue, and he manages to yoke together humour (he's good with one-liners) and real (not easy or sentimental) pathos.
All of this is particularly evident in the second half which really does grip from the first whistle (obligatory football metaphor done—no more, I promise!). The first half was, perhaps, a little uncertain in focus, possibly pushing the humour a little too much to set itself up in contrast to the much more serious, even grim, second half, but that could just be me. The audience certainly weren't complaining, enjoying the frequent laughter.
Director Katie Posner has assembled a cast of three very experienced and three young actors who are just setting out on their careers. Joe Caffrey and Victoria Elliott are well known for their work with Newcastle's Live Theatre as well as at Northern Stage, and this is Kevin Wathen's third visit to his native North East where he has appeared at both Live and Northern Stage. As expected (the afore-mentioned preconceptions) they created and totally inhabited very believable characters, each playing at least two.
The other three members of the cast, Will Graham (Sewell), Niek Vesteeg (Gerry) and Laila Zaidi (who plays Gerry's sister and Sewell's girlfriend) are the newcomers, the youngsters—but youngsters with a bright future to judge by their performances here.
After the run at Northern Stage, the production tours to York Theatre Royal (12 to 15 October), Winchester Theatre Royal (20 to 22 October) and Dundees Rep (25 to 27 October).
Reviewer: Peter Lathan