The Second Violinist
Music by Donnacha Dennehy, libretto by Enda Walsh
Landmark Productions & Irish National Opera
Barbican Theatre
–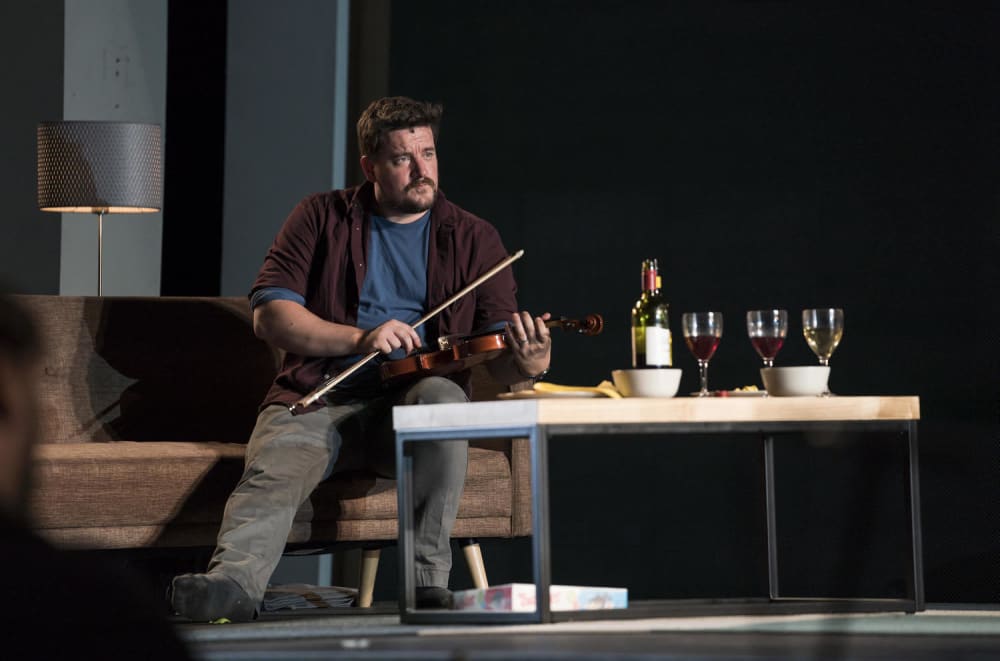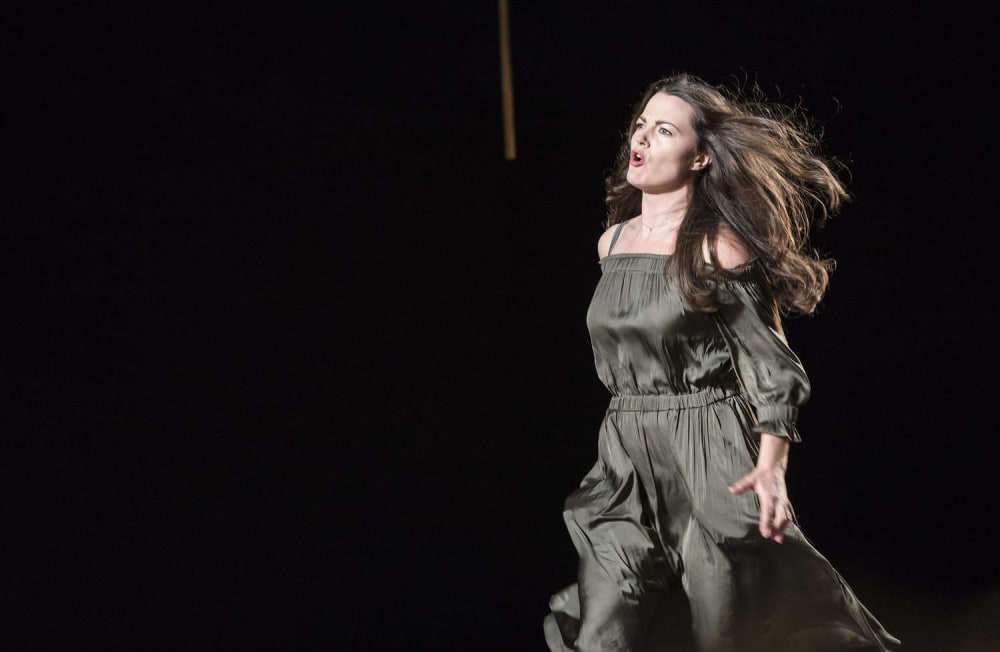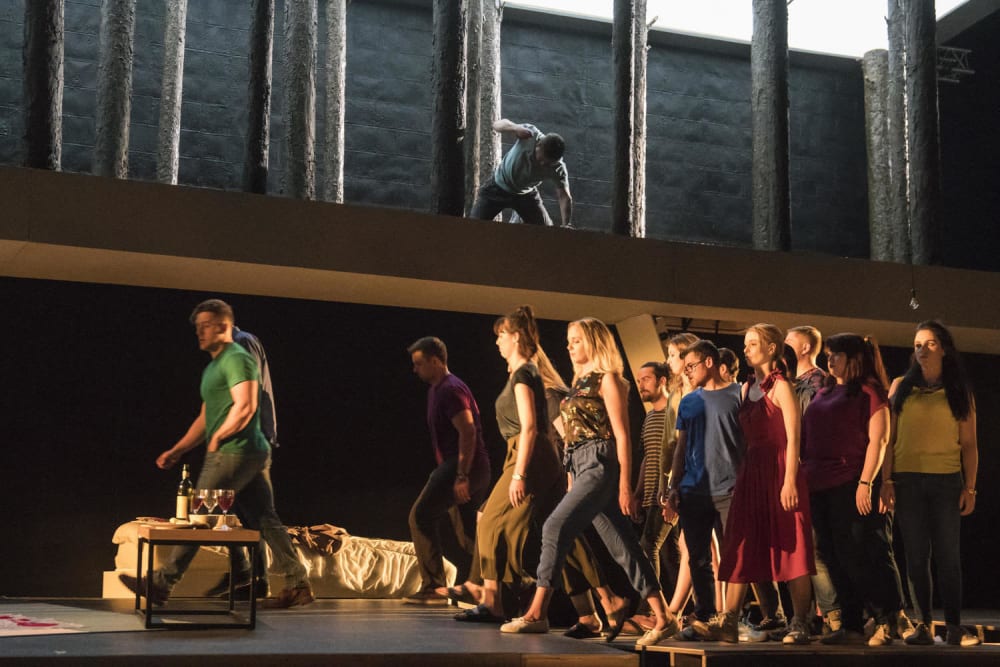 Donnehy and Walsh's second opera, which premièred at the Galway International Arts Festival last summer, is a 75-minute multimedia production of great complexity with Ryan McAdams conducting the Crash Ensemble. It is directed by co-creator Enda Walsh. It is a multi-layered piece full of angst as it explores loneliness, frustration, a disintegrating marriage and revenge through a mixture of poetic statement and conscious banality.
Through the increasingly visceral lamentations of the overture, Adam Silverman's lighting picks out a succession of locations across Jamie Vartan's set. First the musicians, then a sitting room, kitchen and shower on either side of the central well occupied by the ensemble, a bed or divan centre behind it and above on an upper level a forest of unbranched tree trunks. There is birdsong in the score but this is a dangerous dark wood.
A text is projected on the space between the two levels: "Beauty, since you are leaving, as you take my heart, take its suffering too." Now a violinist climbs out from the orchestra pit, lays his instrument in its case and awkwardly struggles into his jacket. It is Aaron Monaghan as tormented protagonist Martin, escaping rehearsal and going home. He's on a bus and on Tinder where he calls himself Carlo and upgrades himself from violinist to composer. Online, he meets Scarlett who shares his obsession with the music of Carlo Gesualdo, a 16th-century Italian composer whose musical innovations in tonality, rhythm and harmonic progression were way ahead of their time, a nobleman who caught his wife in flagrante with her lover and murdered them. Both score and plot have used elements borrowed from Gesualdo.
On his mobile, Martin is pestered by callers. His text conversations are displayed on a video screen that stretches across the back of the set and here too we see clips of his interest in wildlife, a lion pride hunting and killing wildebeest and the circling hordes of flocks of starlings. We see the bloodthirsty samurai video game he likes playing on phone or at home on his laptop.
Martin is not the only one in his apartment. It is also the home of Matthew (Benedict Nelson), also a fiddle player, and his wife Amy (Sharon Carty), though he never meets them. Matthew could be his future or more likely his past. This couple are visited by Amy's friend Hannah (Máire Flavin) whom she has not seen since before their marriage four years ago. They tediously talk about how Amy has "brought a forensic analysis to home decoration". Hannah has written a book about avarice.
As these three open wine and get sozzled with Matthew in a silly party hat, a naked Martin scrubs himself in the shower. Martin is mute throughout but the others sing with great clarity, though still surtitled (and the dialogue itself is often spoken; only about half of it sung). Is Hannah a past lover of Amy's or is it now that their relationship develops?
Meanwhile, Martin climbs on to the deep freeze to get a glimpse of copulation going on in the dark wood, the scene a mixture of the surreal and an apparent naturalism. Later he will climb up there on a ladder for an assignation with Scarlett (Kimani Arthur).
This isn't an opera of great tunes but its restless core is full of invention as well as tension, its paralleled plotting adding interest to a scenario that seems of classical simplicity disguised as complexity as Amy mourns lost youth and finds delight in new love while Martin / Matthew become one in the same reaction. It is a work with an intriguing structure and interesting sonorities that holds with its bold theatricality.
Reviewer: Howard Loxton