The Secret Adversary
Agatha Christie adapted by Sarah Punshon and Johann Hari
The Watermill Theatre in association with Eleanor Lloyd Productions
The Watermill Theatre Newbury
–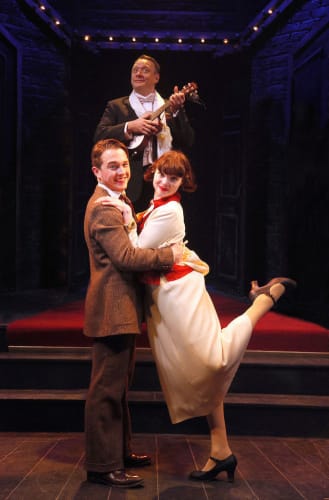 Commemorating the 125th anniversary of Agatha Christie's birth, The Watermill Theatre, in association with Eleanor Lloyd Productions, has created a cracking world stage première of The Secret Adversary.
This splendid Tommy and Tuppence thriller cleverly adapted by Sarah Punshon and Johann Hari is an inventive funny spoof played at a breathtaking pace by the seven highly talented actor-musicians.
Tom Roger's luscious design is highly ingenious with secret panels and hidden trapdoors and a stunning arch with lights. The period costumes are spot on.
Set in 1920, our intrepid heroes, Tommy, impressively interpreted by Garmon Rhys who recently graduated from drama school, and the plucky Tuppence, beautifully played by chirpy Emerald O'Hanrahan, return from the war flat broke and unemployed.
They embark on an outlandish business scheme establishing "The Young Adventurers Ltd—willing to do anything, go anywhere."
Their first adventure involves international intrigue, covert treaties, undercover agents, disguises and blackmail—quite a heady mix. Moreover, they need to discover the disappearance of diplomatic papers and find out who and where is the mysterious Jane Finn who disappeared when the Lusitania sank? And who exactly is Mr Brown?
Elizabeth Marsh is the seductive resolute Rita and many other characters, including the Russian Bolshevik, Kramenin, complete with beard, and is totally convincing.
Gun-carrying American millionaire Julius P Hersheimer (Kieran Buckeridge) is also searching for Jane Finn and so the race is on to find her.
Morgan Philpott plays the conspirator Whittington as well as myriad other characters all to great effect as well as performing some clever magic tricks. He develops a wonderful rapport with the audience. The car sequence is hilarious.
Completing the cast is Nigel Lister as the prominent attorney and Sophie Scott as Annette.
The plot, as you would expect from Agatha Christie, twists and turns but we are kept guessing until the very end.
There is so much to delight in this rollicking fun play including music pastiches, a comical, thrilling chase scene and some striking song and dance routines choreographed by Lucy Cullingford with fine musical arrangements by Alex Silverman.
Impressively directed by Sarah Punshon, this is a captivating and thoroughly enjoyable production that is highly recommended.
The play tours to Northampton's Royal and Derngate, Eastbourne Theatres, Ipswich's Wolsey Theatre, Derby Theatre, Coventry's Belgrade and Kingston's Rose Theatre.
Reviewer: Robin Strapp