The Secret Garden
Tamsin Fessey and Lynne Forbes based on Francis Hodgson Burnett's story
Angel Exit Theatre
Cornerstone Didcot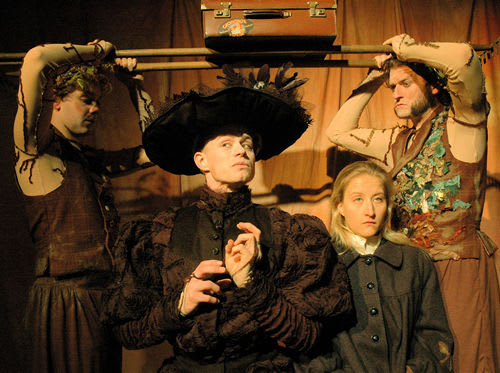 Frances Hodgson Burnett's classic children's story The Secret Garden is lovingly brought to the stage by Angel Exit Theatre Company. This highly inventive production is beautifully staged by director Tamsin Fessey with delightfully designed costumes and set by Jodie Gardner.
This is very much an ensemble production with some sterling acting from the five highly talented actors. Their physicality and use of songs, puppets and a plethora of imaginative theatre techniques was a joy to watch and totally enthralled and captivated the youngsters in the packed audience at The Cornerstone in Didcot.
Mary Lennox is sent to England from India following her parent's death from Cholera. She is to spend her time in her uncle's dark damp manor house on the Yorkshire Moors.
Ashleigh Cheadle is splendid as the petulant bad tempered Mary who has to entertain herself in this lonely oppressive house, a complete contrast to the vibrancy and colour of her Calcutta home.
She is looked after by the stern strict housekeeper Mrs Medlock all dressed in black, a frightening figure and perfectly played by Simon Carroll-Jones who also skilfully plays the whimsical and sick little boy Colin.
Lyn Forbes is the jolly housemaid Martha who introduces Mary to Dickon, the cheerful versatile Max Mackintosh who teaches Mary about the countryside and the animals especially a friendly robin and a fox—both puppets.
The Robin leads Mary to an old key that opens the secret garden that has been left to rot and die following the death of her uncle's wife. Henry Douthwaite captures Archibald Craven's enormous loss and also plays the old gardener Ben who suffers from rheumatism and a bad back.
Mary discovers Colin locked away in his bedroom afraid of nature, strangers and the fresh air but thanks to Mary and Dickon's kindness they develop the garden together and slowly replant it bringing a new life and purpose through their creations and Colin discovers that he can walk after all.
This was a story about grief and loss both for the children and the adults but reminds us that Mother Nature can rebuild lives with the rebirth of the seasons and give us hope.
Angel Exit are consummate story tellers who have created a magical mesmerizing production. Highly recommended.
Touring until April
Reviewer: Robin Strapp