The Secret Garden
Jessica Swale, based on the novel by Frances Hodgson Burnett
Theatre by the Lake
York Theatre Royal
–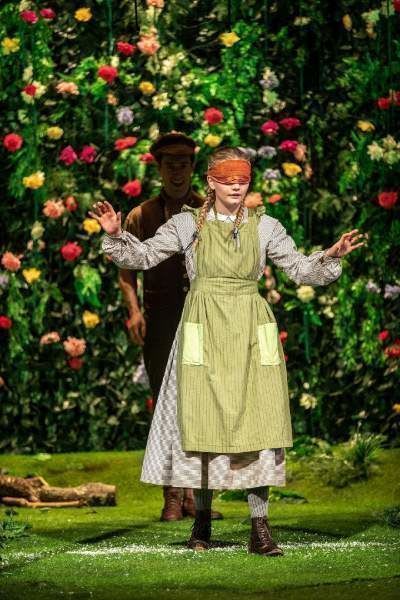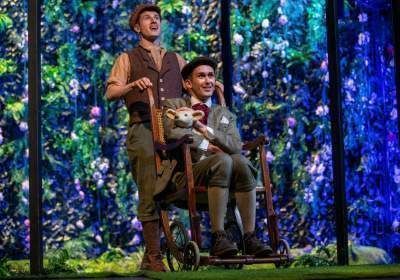 Ever since I saw a revival of York Theatre Royal's superb production of The Railway Children at the National Railway Museum in 2009, I've been a devotee of their annual summer show. This time, the theatre is playing host to Theatre by the Lake's production of The Secret Garden, which earned glowing reviews when it was staged last Christmas.
The script is mostly faithful to Frances Hodgson Burnett's original 1911 novel. When ten-year-old Mary Lennox (Ella Dunlop) loses her appalling parents during an earthquake, she is transplanted from colonial India, with its tigers and fakirs, to the palatial home of her uncle in rainy Yorkshire.
Initially sour and unpleasant due to years of parental neglect, Mary's heart and mind are opened by the working-class friends she makes: Martha (Coral Sinclair), a kindly housemaid who refuses to be patronised by her young mistress, and gardener Ben (Keith Bartlett), whose gruff exterior hides a heart of gold. Even more profound is her relationship with local boy Dickon (Matthew Durkan), who introduces her to the wonders of nature.
When Mary discovers that she has a young cousin, Colin (Steven Roberts), who is being forced to stay indoors under the guidance of an immoral doctor, it's Mary's turn to help someone in dire need. Perhaps the key to Colin's recuperation lies in the secret garden, which his father, Archibald (Chris Jack), sealed off after the death of his beloved wife.
My expectations were high for this production, which is written by Olivier award-winning dramatist Jessica Swale and directed by Liz Stevenson, whose impressive list of credits includes How My Light Is Spent at the Manchester Exchange. Fortunately, my hopes were not dashed: this is one of the best family shows I've seen in recent years.
Swale preserves the central themes of the original novel—the beauty of nature, the power of imagination, humanity's endless capacity for love and growth—without striking a didactic tone. The characters are lovingly rendered, and Swale manages to create moments of real suspense in a well-known narrative. Indeed, this is a production that fully embraces the gothic possibilities of Burnett's novel.
Stevenson's direction is fluid, dynamic and inventive. Apart from a few moments where the pacing slackens, the production has a strong sense of narrative drive. My friend overheard a small child proudly proclaim that they didn't feel remotely tired at the end of the production, which surely testifies to the production's power to enthral young audiences.
The cast are terrific. Ella Dunlop does a fine job of capturing Mary's severity in the early scenes and skilfully charts her development into a good-natured child. Matthew Durkan brings warmth and charm to the part of Dickon, and Steven Robins is delightfully haughty and odd as the reclusive Colin.
Coral Sinclair and Keith Bartlett excel as Mary's older confidantes—both are a joy to watch. There's also a lovely, subtle performance from Flo Wilson as Mrs Medlock, the housekeeper of Misselthwaite Manor. Whereas Maggie Smith played her as a battleaxe in the 1993 film, Wilson allows us to see hints of the character's softer side.
Although I found the first song slightly jarring, I enjoyed most of Barnaby Race's musical arrangements, particularly in the second half where the characters sing in order to summon Archibald back home from abroad.
However, the production's greatest achievement lies in Lily Arnold's brilliant set design. The cold, forbidding nature of Misselthwaite Manor is rendered through a large, shiny, metallic cube, flanked by bare trees. However, the cube opens up like an elaborate jigsaw puzzle to reveal Archibald's study and Colin's bed chamber. Even more impressive, it opens up to unveil the secret garden, which is riotously colourful and vibrant.
Lily Arnold's set designs are greatly enhanced by Matt Leventhall's lighting. Some of the lighting effects used to foreshadow Colin's eventual appearance were genuinely unnerving, putting me in mind of Jane Eyre's mad woman in the attic and the paintings of Francis Bacon.
The Secret Garden is a marvellous production. Enchanting, moving and beguiling, it deserves to be a huge hit this summer.
Reviewer: James Ballands