The Secret Love Life of Ophelia
Steven Berkoff
Greenwich Theatre
–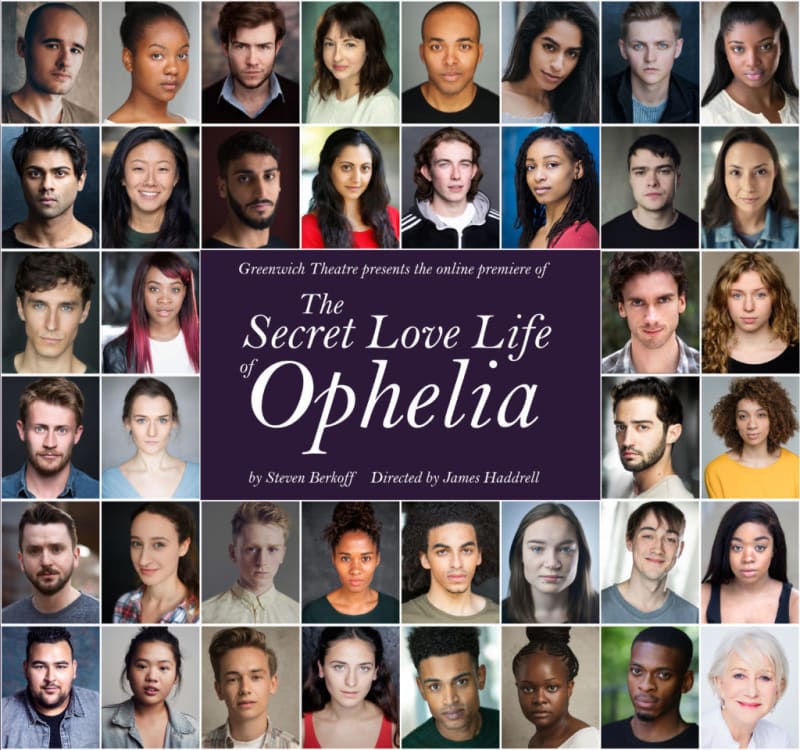 Steven Berkoff's 2001 play about the relationship between Shakespeare's Prince Hamlet and Ophelia is written in epistolary form and has previously been presented on stage with two actors voicing what they have written to each other, but the dramatist has given special permission for this version, directed by James Haddrell, adapted for creation in a lockdown situation, which presents them in the form of video messages supposedly discovered on a mobile phone found near the place where a young woman was drowned in a river.
It is a contrived concept that doesn't match reality but that isn't the point. It is something you just have to accept: it is an excuse for this treatment, which doesn't attempt to rewrite the text to make it more plausible. It is still full of references to letters and actual writing. There is no attempt to explain why the young lovers Ophelia and Hamlet don't simply have live conversations on their mobile phones but only leave messages. You just have to take everything at face value and enjoy the voluptuousness of the writing, the innovative ideas and the performance.
The first surprise is that each new message presents a different Hamlet, a different Ophelia. It is explained by the damaged to the phone which has fragmented messages damaging audio and video so that sound and images for each message have been reconstructed with these results. Tosh! But it does give us the chance to enjoy multiple concepts of these characters and to showcase the talents of 39 young actors.
They are not all equally accomplished at handling the renaissance richness of Berkoff's verse and its occasional rhyming but their differences are very intriguing and (like other lockdown creations) let us see into bedrooms, kitchens and gardens, sometimes choosing to confide their deep feelings as they get on with domestic chores. Haddrell and his cast have been very inventive and, while the format with its text punctuations announcing each new call become repetitive, the variety of locations as well as character helps hold the interest.
It is well into the play before the Hamlet story begins to impinge on their conversations when Hamlet begins to share his thoughts about his uncle. The earlier part is devoted to their erotic exchanges, which are full of youthful ardour and very explicit. This isn't for prudes and you can feel the relish with which Berkoff is using Shakespearean forms to go into such intimate detail. Of course, In real life, these youngsters wouldn't be having these wordy exchanges: they'd be too busy gasping for breath as they engaged in phone sex—but that is not the effect this production is after, though the content does make it adults only.
The Hamlets and Ophelias are played by the following actors:
Daniel Adeosun, Morayo Adeagbo, Harry Ames, Maisie Armah, David Angland, Owen Baxter, Matt Blaney, Ollie Booth, Elizabeth Chu, Lily Demir, Kathryn Djemai, Chanel Fernandes, Chante Frazer, Lew Freeburn, Savannah-Raé Gordon, Kaine Hatukai, Cassandra Hercules, Tamaria Hesson, Emma-Louise Howell, Serin Ibrahim, Akshay Khanna, Miles Kinsley, Safia Lamrani, Tre Medley, Vicky Modi, Karim Motaz, Charlie Nobel, Lorna Panton, Nick Rawbin, Jasmine Raymond, Ida Regan, Daniel Reid-Walters, Conor Rivers, Vivianne Sengati, Paddy Stafford, Joe Swift, Chloe Wade, Shaofan Wilson and Marc Zayat.
The exchanges, of course, stop with the demise of Ophelia but there we hear the end of her story in Queen Gertrude's description of Ophelia's drowning, delivered by Dame Helen Mirren as a touching coda.
Reviewer: Howard Loxton