The Seven Deadly Sins
Bertolt Brecht and Kurt Weill
Opera North
Leeds Grand Theatre
–

Listing details and ticket info...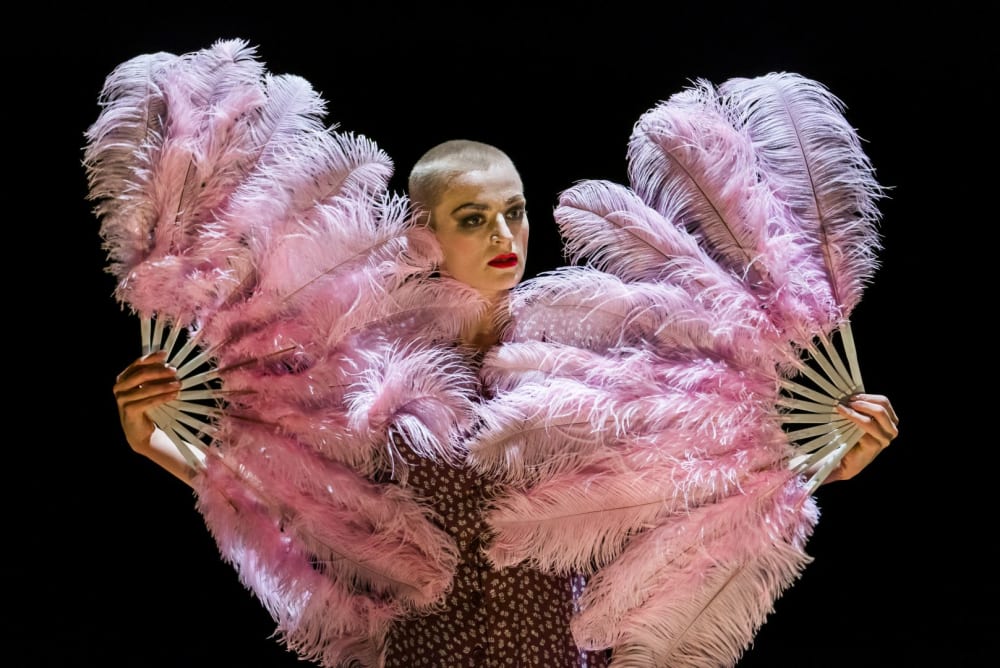 The Seven Deadly Sins, a satire on the petty bourgeoisie and their naked unattractive greed, was written by Bertolt Brecht and Kurt Weill whilst in exile, they having fled Nazi Germany. It was their last collaboration.
Billed as a ballet chanté (ballet with singing) and lasting just 40 minutes, the opera premièred in Paris in 1933, produced, directed and choreographed by George Balanchine. The cast was headed by Lotte Lenya and Tilly Losch.
Anna leaves her home in Louisiana (SLOTH) to make enough money to buy a little house for her family. The journey, which lasts seven years (1932–1939), takes her to Memphis (PRIDE), Los Angeles (WRATH), Philadelphia (GLUTTONY), Boston (LUST), Baltimore (GREED) and San Francisco (ENVY), a sin for every city.
There are two Annas, twin sisters. Or are they two sides of the same person? One Anna is sung by Wallis Giunta. The other Anna is danced by Shelley Eva Haden. The singing Anna is cynical, smart, grounded, practical, diction perfect. The dancing Anna is idealistic, emotional, impulsive, crude, exploited and a little bit mad.
Gary Clarke's production for Opera North, conducted by James Holmes and translated by Michael Feingold, was to have been the first part of a double-bill; but COVID put a stop to that. Instead, the socially distanced production, performed to an empty auditorium, was live-streamed from Leeds Grand Theatre. The filming is on the too-dark side when the singers are not in close-up.
Clarke's choreography, danced by Haden, has a terrific physical impact. She presents a grotesque and frenetic cabaret figure with references to Busby Berkeley and the Dying Swan. Her extraordinary and unrestrained stamina ends with her stripped to her cami knickers, exhausted, crawling all over the floor.
Opera North's The Seven Deadly Sins can be watched free on the OperaVision channel.
Reviewer: Robert Tanitch