The Shakespeare Revue
Christopher Luscombe and Malcolm McKee
Kenny Wax Ltd and Cambridge Arts Theatre
Yvonne Arnaud Theatre, Guildford
–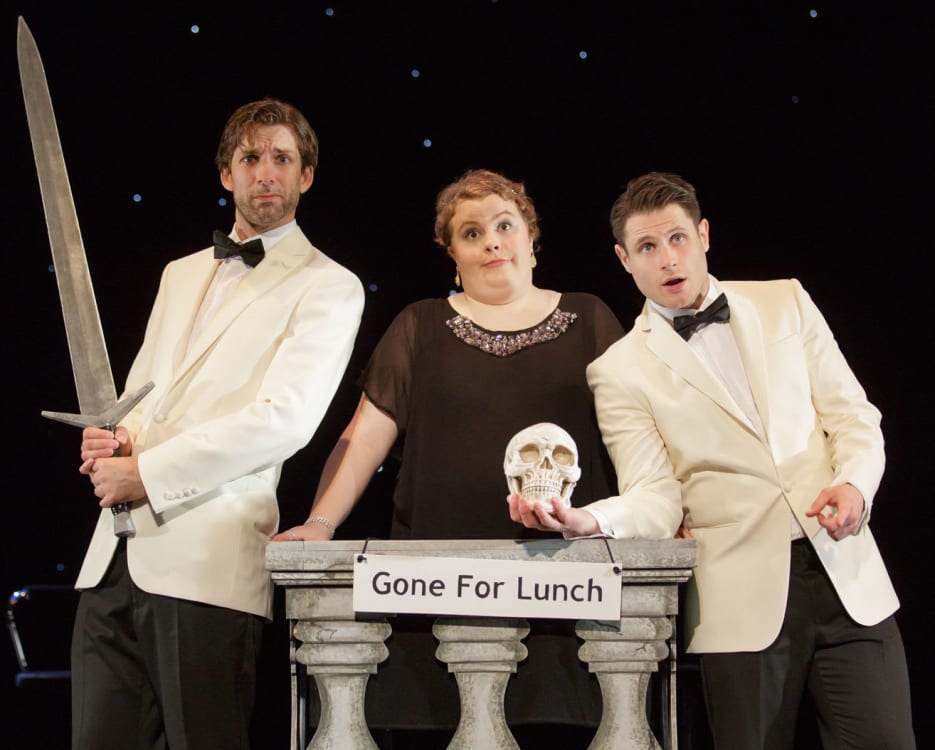 Five bar stools, a piano and five extremely talented and versatile performers are all it takes to give an evening of hilarious theatrical delight. Oh, there are also contributions from the likes of Stephen Fry, Hugh Laurie, Dillie Kean, Victoria Wood, Alan Bennett, Peter Cook to name but a few, and music from Cole Porter, Noël Coward and Stephen Sondheim to name but another few.
It may be Hamlet but it's got to be fun, fun, fun states the director of the "Pontypool Dramatic Society" in Victoria Wood's hilarious "Giving Notes", and fun it is as well as witty, clever, inventive and very fast-moving as one sketch follows another with verve, enthusiasm and perfect timing.
It's not at all necessary to know much about Shakespeare to thoroughly enjoy this show. Everyone knows the "To be or not to be" speech, and here it becomes a jolly Cockney knees-up to "Let's all go down the Strand", while "The Teddy Bears' Picnic" is used for the Capulets picnic in the Vaults. This is not exactly making fun of the Bard but celebrating his life and how relevant his plays and sonnets are to today's society. This point is made in Bernard Levin's Prologue quoting so many examples of phrases that we use every day without realising where they are from.
"All Greek to me, More sinned against than sinning, Vanished into thin air, Fair play, Stand on ceremony" are just a few examples, and there are so many that you begin to wonder how we ever managed to converse beforehand and who knew we were all so steeped in culture.
Revues are a bit like the Royal Variety Show but (dare I say it) better, much more fun and a challenge to the performers who have to sing, dance, act and keep the comedy lever high without overemphasising, particularly good in Monty Python's "The Man Who Speaks in Anagrams", performed perfectly deadpan by Alex Morgan. It's fascinating trying to work out what he is saying, but "Be ot or bot ne ot" is more of a challenge to my spell-check than it was to the audience.
Comedy takes a short rest for Lizzie Bea's wistful and beautifully sung rendition of the young girl who is carrying a torch for the man who carries a spear, but she's soon back to her comically naughty side with "The English Lesson". The audience are encouraged to join in which they did with much laughter. Could the word "count" have anything to do with it?
Highlights—there are many! Morgan's blonde-wigged Romeo's frustrated exasperation at Anna Stolli in full flow as Lady Macbeth. "I gave suck" she states dramatically. "It's Romeo on Tuesday," he shouts, "you give suck on Wednesday".
Jordan Lee Davies is hilarious (and precarious) in his demonstrated anecdote of finding Robert Helpman on top of a chair on top of a table trying to apply his make-up close to a light bulb in the dressing room of a football stadium and wondering, languidly, how the umpires manage.
In truth, they all work so well together that it's unfair to single out any one. Music and choreography fit the whole perfectly and it all adds up to one gloriously funny, laugh-filled evening.
Reviewer: Sheila Connor