The Shark is Broken
Joseph Nixon and Ian Shaw
Guy Masterson for TTI in association with Shooting The Breeze
Assembly George Square Studios
–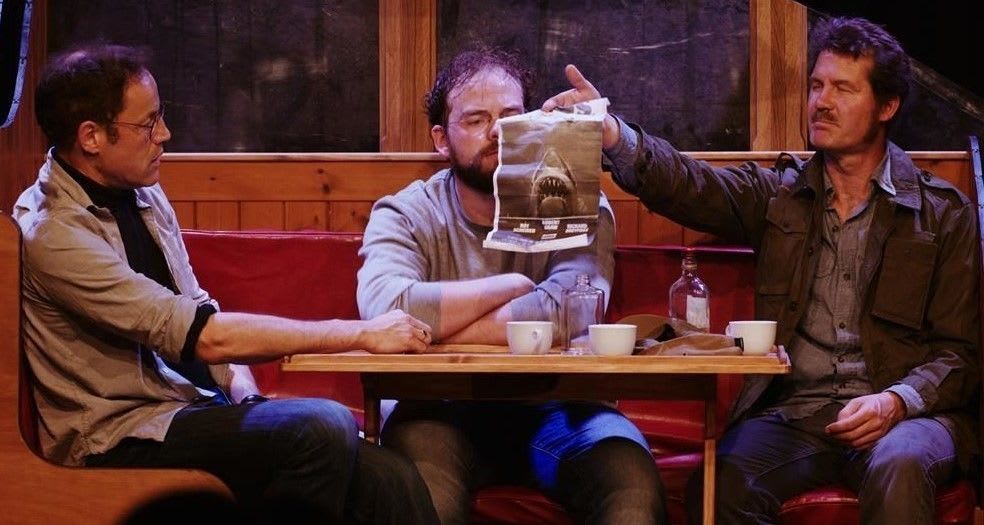 It's well known that one of the greatest aspects of the classic horror movie Jaws was how it tantalisingly only showed the shark in glimpses until near the end. It's also common knowledge that one of the reasons behind this artistic choice was because the mechanical monster props continually broke down during production.
As a result, the three main actors, Roy Scheider, Richard Dreyfuss and Robert Shaw, were often holed-up on the boat for long days, with nothing to do but drink, argue and pass the hours. Taking inspiration from the late Robert Shaw's diaries of the time, his son Ian Shaw along with Joseph Nixon have crafted a nigh on perfect theatre encapsulation of those trying days into an hour of onstage magic.
With the long-established expertise of Guy Masterson helming the production and a script that is rock-solid, a worthy cast is needed. It's unsurprising that co-writer Shaw would be willing to step into his father's shoes, in an uncanny turn that feels doubly eerie when he is reciting sections of the film's script. Equally surprising in both look and sound is Duncan Henderson's turn as Scheider, all New Jersey swagger and relaxed sarcasm. It's only Liam Murray Scott who isn't quite the perfect visual replica of Richard Dreyfuss, but that's something immediately forgotten as soon as he begins to whine and strut with bravado and entirely convinces as the uptight and upcoming actor.
Sat around the dinner table in the Orca, the three of them pass the time arguing, as the legendary feuding between Shaw and Dreyfuss begins to manifest. The pair clash at every turn, while Shaw drinks constantly, Dreyfuss laments his career not taking off soon enough and Scheider relaxes as the cheerful voice of reason, clearly loving the distraction from the tedium. They play cards and ha'penny shunt and talk about their lives, their passions, their work, occasionally opening up to each other and sometimes ending up at each other's throats.
It's hard to find words enough to describe this confluence of excellence. It's a simple play, well written about three men who could hardly be more perfectly different if they were invented for a play. There's also something cleverer going on, as the actions of the actors mimic the personalities of their characters in other ways as Shaw plays many lines almost directly to the audience, whereas Henderson never once seems to be aware he's on stage, often sat to himself, idly reading script pages or coolly watching the others. There's also a continued recurring motif of Shaw working on the infamous USS Indianapolis speech, and it's literally chilling to hear him talking about "dead eyes, like a doll's eyes" as he describes the slaughter of hundreds of men.
Whether you are a casual fan of the film Jaws or not, this is a stage production for the ages. It may have been born at the 2019 Edinburgh Fringe, but I have no doubt it will take the world.
Reviewer: Graeme Strachan