The Shawshank Redemption
Based on the novella by Stephen King, adapted by Owen O'Neill and Dave Johns
Bill Kenwright Ltd
Curve Theatre, Leicester
–

Listing details and ticket info...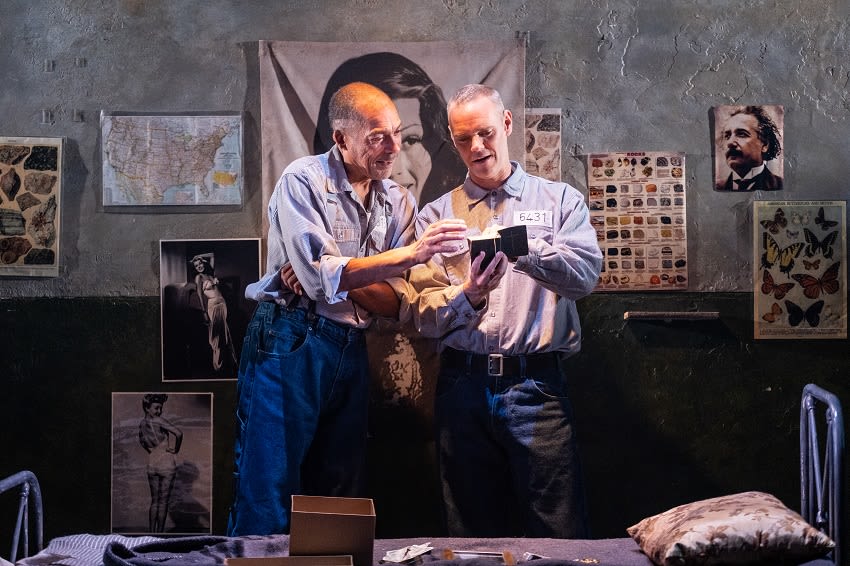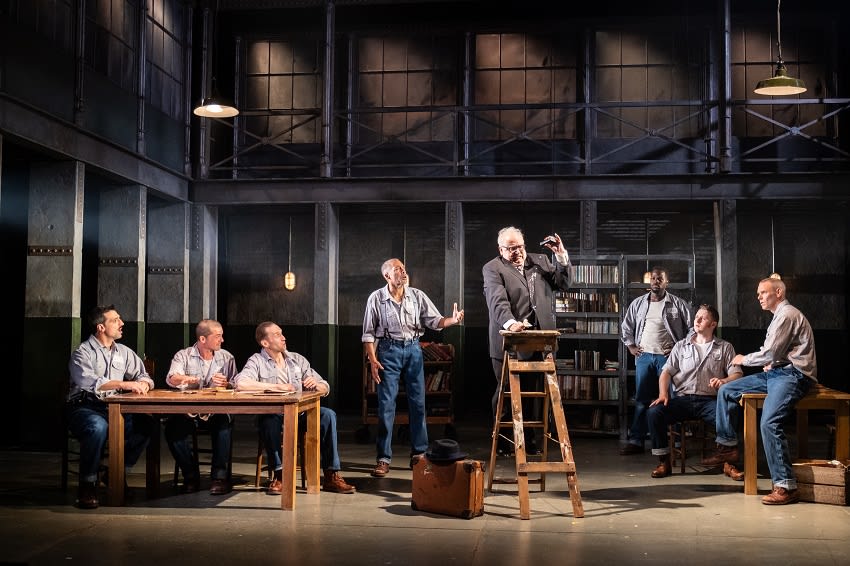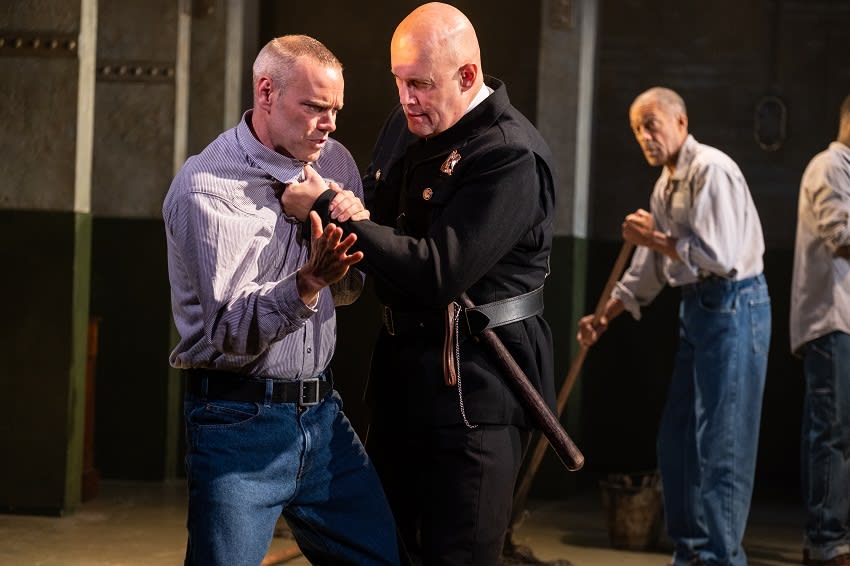 A key theme of The Shawshank Redemption is time: doing time, how best to fill your time, biding your time. An unexplained delay of a good 15 minutes before the performance began plus extra after the interval therefore seemed ominous.
I remember in the early days of the DVD player, the 1994 film adaptation of Stephen King's 1982 story Rita Heyworth and The Shawshank Redemption was often a free gift with the purchase of this new technology and the film has since become a fixture on many "best movie of all time" lists. This is a well-known and well-loved story, first adapted for the stage in 2009, and now "freshly rewritten" and midway through a nine-venue UK tour.
All scenes take place in the notorious Shawshank Maximum Security Penitentiary and Gary McCann's set design of concrete pillars and walls, metal bars and harsh lighting leaves no hiding place for the inmates. An oak panel descending from the flies and leather chair offer a glimpse of the seat of power in Warden Stammas's office.
To end up in Shawshank, you'll have done something to deserve it, usually murder. Of course, all the prisoners will tell you they're innocent, although in former banker Andy Dufresne's case (Joe Absolom), convicted of the murder of his wife and her lover, it turns out he is. Enduring the unwelcome advances of the Shawshank "Sisters", Bogs (Jay Marsh) and Rooster (Leigh Jones), during his time inside, former banker Andy navigates their beatings and rape as well as the greed of Warden Stammas (Mark Heenehan) and guards. Andy eventually has a foot in both camps: keeper of his jailers' financial secrets and champion of his fellow prisoners, obtaining books for the library run by long-timer Brooksie (Kenneth Jay) and helping new inmate Tommy (Coulter Dittman) take his school exams. When Tommy tells Andy of evidence that could help to free him, the Warden's response is the catalyst Andy needs to set his plan for freedom underway.
This is a classic story of hope and humanity overcoming corruption and injustice, with the development of trust and friendship between "fixer" Red (Ben Onwukwe) and Andy at its core. Onwukwe and Absolom convince with their performances; Absolom reveals Andy's quiet persistence and understanding of his fellow man—prisoner or guard—with dignity and restraint, and complements Onwukwe's more robust portrayal of narrator Red. Brooksie's story and Jay's portrayal is heartbreaking: institutionalised and, although he has status on the inside, it is no preparation for his life back in society.
Aside from Red, Andy and Brooksie, characters are one-dimensional and stereotypical, and some scenes drag during the second act. The passage of time is marked by the changing music of the passing years framing key scenes rather than any discernible change in characterisation. This feels a patchy production with occasional technical issues, some detail lost in the staging and clatter and noise off stage during Red's realisation of what Andy has achieved in the final scenes. These may be teething problems on the first night in a new venue, however they did detract from an otherwise gripping production.
There are moments of humour woven through this gritty tale of incarceration and redemption; the contrast in scenery and power of the final scene will restore your faith in the power of friendship and fortitude.
Reviewer: Sally Jack