The Sheffield Mysteries
Chris Bush
Sheffield Theatres
Crucible Theatre, Sheffield
–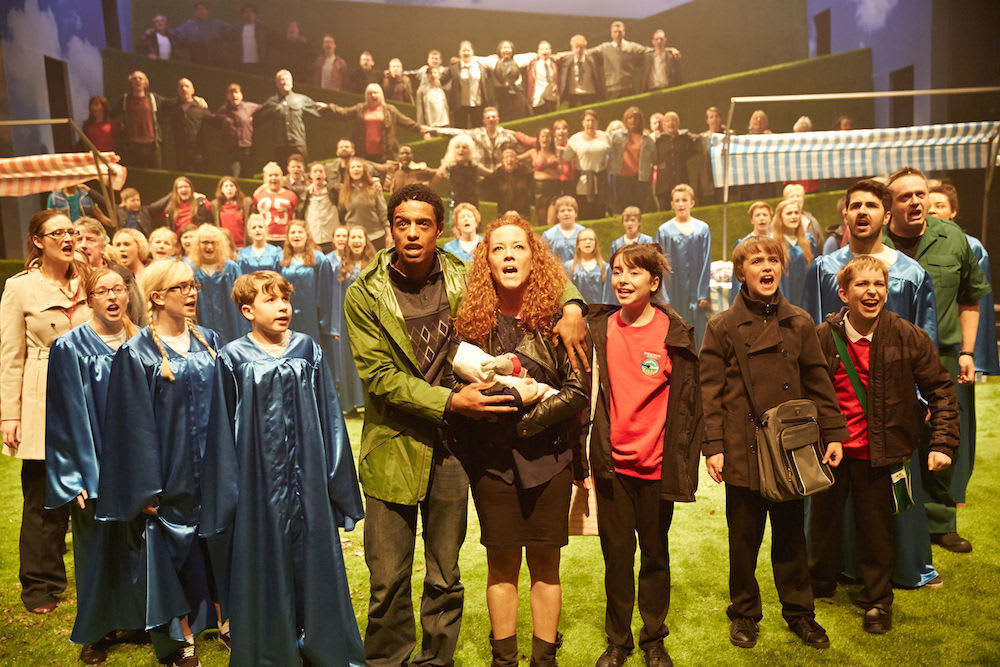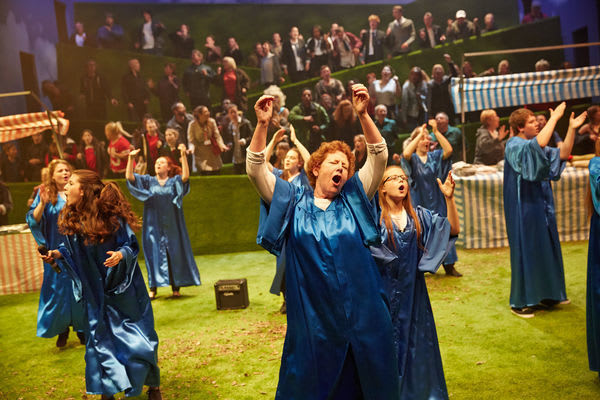 The Sheffield Theatres production of The Sheffield Mysteries shows what a group of professional artists can do with a company of amateur actors and musicians drawn from the local community.
This was community theatre big time: 91 actors of all ages and a splendid small orchestra of accomplished young people.
Writer Chris Bush selects scenes from the traditional Mystery plays, to provide a coherent and over-arching structure. So, the first half ends with the birth of Jesus, and the second with a notional Crucifixion.
Bush uses the framework to explore more contemporary parallels in the lives and experience of people living in Sheffield, who remember the decimation of the steel and mining industries and distrust the police. The lyrical sequences at the beginning and end of the play, presented by winged angels, view the city from above and present its history and diversity.
This is undoubtedly a political piece, not least in the lampooning of Sheffield MP Nick Clegg, who is presented as Pontius Pilate, and its affiliation to left wing views. The she-devil, an advocate of consumerism, is not a Labour voter.
This is an inclusive production, which breaks the rule of continuity. Roles are handed on from one scene to another, so there at least two Mary and Joseph equivalents and Jesus is played by a man in a hard hat at The Last Supper and by a young woman for the later scenes leading up to the Crucifixion, which, I hasten to add, is not physically realised in any way, but a metaphor in a modern context for commitment and responsibility.
Artistic Director Daniel Evans, ably assisted by a support team, who must have worked hard with sub groups, displays his usual impressive talent as a director of musical theatre.
Designer Richard Kent has produced a remarkably simple but brilliant set, which allows fast access for at least 50 performers, through two entries and a zig-zag of ramps. It is visually interesting to watch the entry down the ramps, which also provide a variety of levels on which the large cast can be displayed.
Much credit must go to composer Richard Taylor and musical director Matthew Malone for a complex score and accomplished performance, which includes gospel music, full choral episodes and a splendid rap sequence. I was impressed throughout by the quality of the singing.
In this large cast of disciplined and enthusiastic performers, there are several who stand out. It is quite tricky to pick names out of the programme when the biblical names have been amended and roles are passed on. I hope I am correctly crediting Owen Jones as Pilate, Ian France as Noel, Liz Cashdan as the Fortune Teller, and the splendid performers in the rap scene. The woman who plays Christ in the later scenes is particularly strong, as is the police woman in the interrogation scene.
My one reservation about the production is that it was often a mystery to me. What was going on, and how did this relate to original Mystery plays? I really wanted to know where we were in the biblical story, and what new slant Chris Bush had put on it.
Sadly, although the actors are wonderful, enunciation and projection are sometimes muffled. I was particularly at a loss in the Noah scene. No rain. No flood. An alphabetical list of food taken from a market stall? Not obviously two by two! The scene is well acted but difficult to de-code.
On reflection, and it is now too late in the day, it would have been helpful to have had surtitles based on the programme outline. Just to give the audience a clue.
For anyone living in Sheffield or nearby, this is a splendid spit in the eye for the Westminster government, and a celebration of Sheffield's reputation as 'The Socialist Republic of South Yorkshire'.
For any theatre company considering putting on a community show, this is a must see. For anyone who enjoys a vigorous show with plenty of wit, pace, song, dance, and action, this is an enjoyable summer evening out.
Reviewer: Velda Harris