The Ship Sank. Where on Deck, Did My Captain Lie?
Anne Elmholt and Nina Kunzendorf
Forestille / Vorstellen
ZOO Playground
–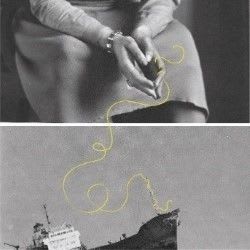 One of the beauties of Fringe theatre is the willingness to take risks and experiment with form. In that spirit, Forestille / Vorstellen's form of abstract deconstructive theatre toys with the concept of a play until it becomes almost a dramaturgical art installation.
Beginning with Anne Elmholt lying flat on the stage and narrating the stage directions before performing them, the audience is pulled into the story of one woman's lifelong struggle with her mentally unbalanced and domineering mother. Along with Nina Kunzendorf, who joins the stage shortly after, they take turns donning a denim jacket and performing the part of the woman. Meanwhile, between scenes, they break down the nature of a story and poke occasional jibes at the nature of stage tears and onstage violence.
The 'meta' nature of the piece means that the narrative itself becomes less important than the questions being raised and the play has layers upon layers to be sifted through. Even the title is wittily apt, being a play on a line from Walt Whitman's poem O Captain, My Captain! the infamous elegy to Abraham Lincoln. That theme of lamentation over a dead figure of power is thematically resonant and can be tied into the narrative quite easily. There is however another meaning in the title, as it is while there's also a far more literal sense of a question about the lies her mother told and the veracity of what is being both reported and portrayed.
How much truth lies in the story being performed is never clear. Even from the start, there is the tantalising prospect that a third actress, the woman in question, was supposed to attend but could not. Is this true, or part of the narrative? It's certainly the case that, by the final closing moments, there are many questions left in the air and some will find it unsatisfying and confusing. Ultimately, like any art, it's the questions and interpretation that the audience puts onto the piece that makes all the difference. If you want to see charming, cutting edge, experimental art house theatre, then you could hardly do better than this.
Reviewer: Graeme Strachan