The Show in Which Hopefully Nothing Happens
Created by Jetse Batelaan (originally devised with cast members Martin Hofstra and René Geerlings)
Theater Artemis
Unicorn Theatre (Clore Theatre)
–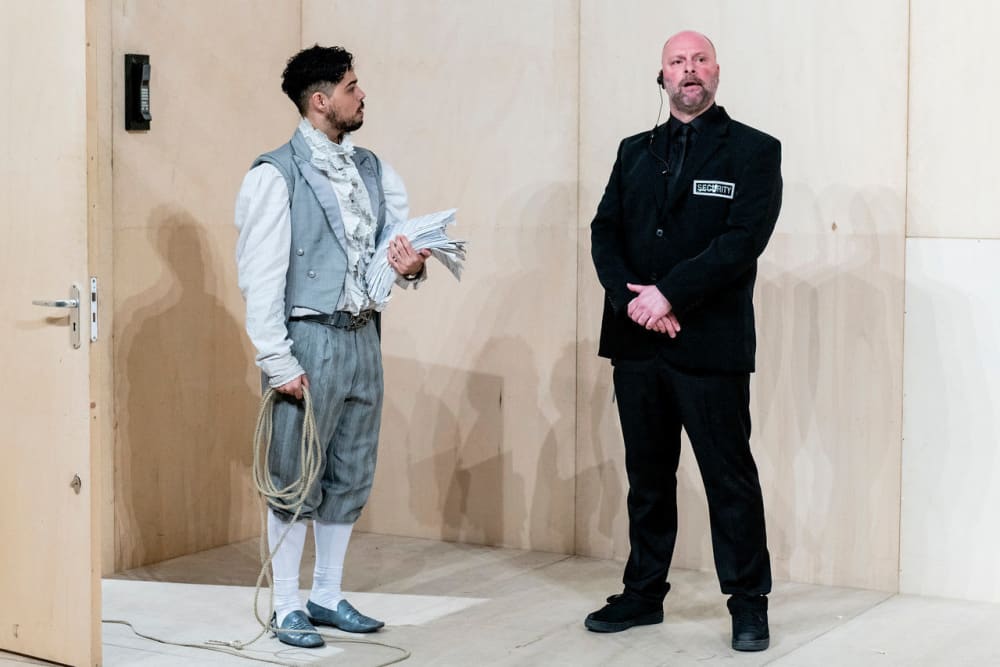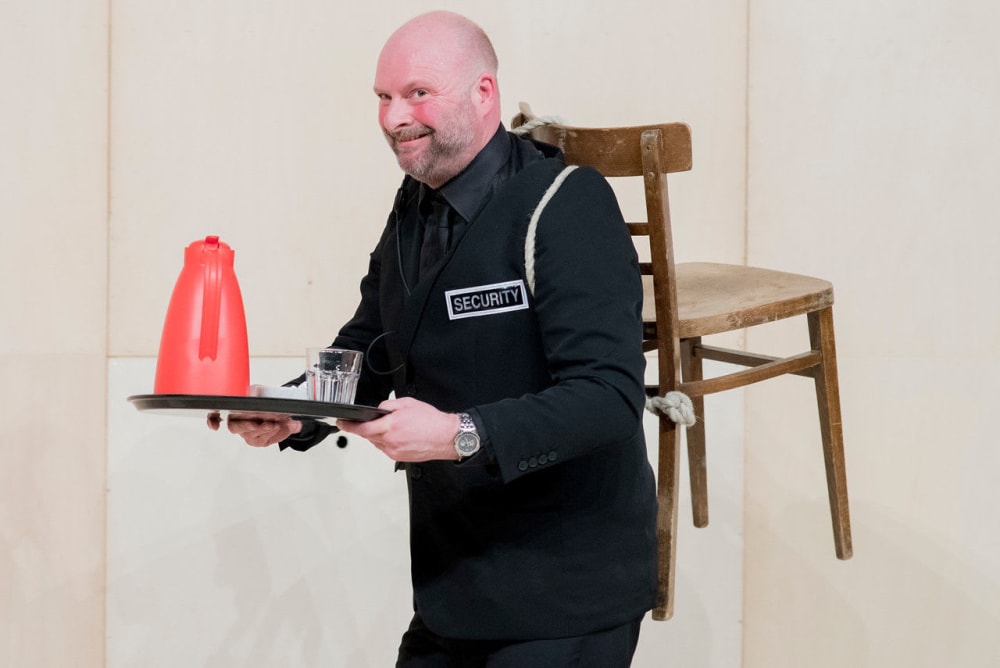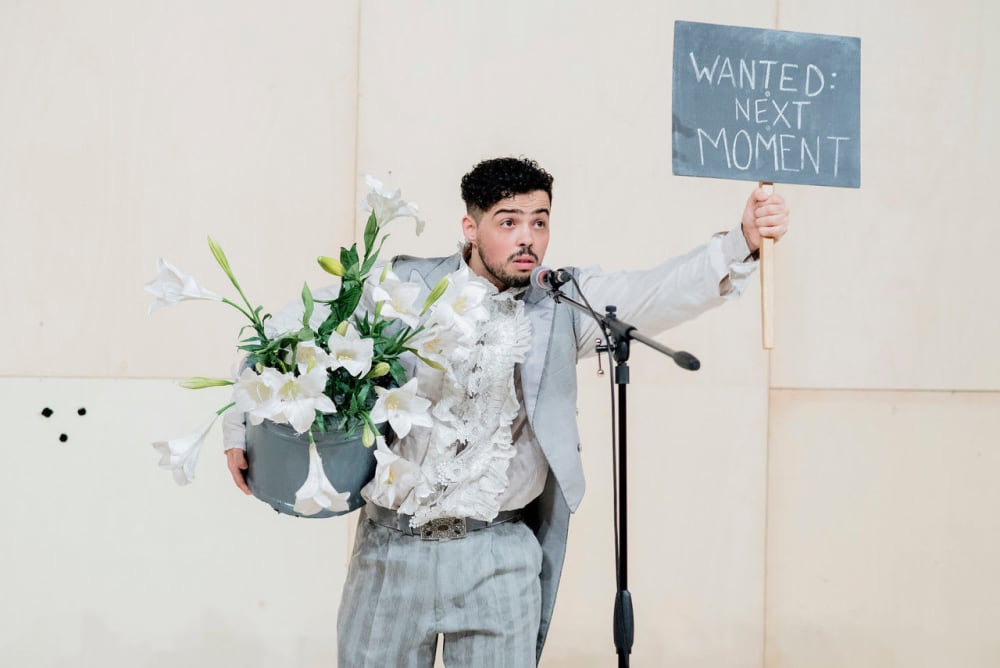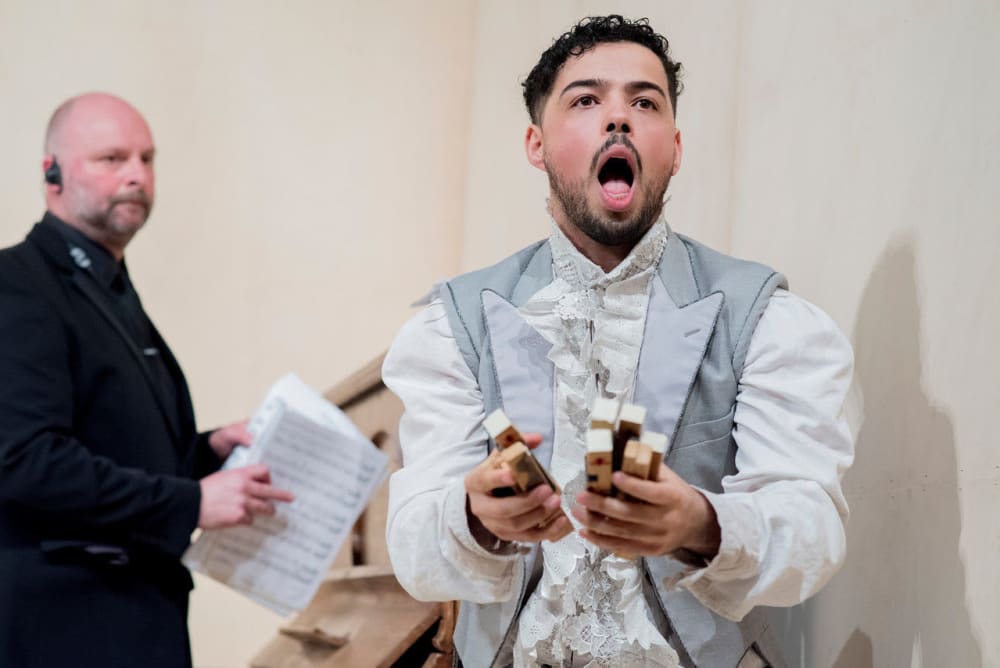 This absurdist piece was created in the Netherlands 12 years ago by leading Dutch youth theatre group Theater Artemis and has been delighting audiences ever since. It now comes to The Unicorn's smaller theatre with a British cast: Nigel Barrett and Riad Richie.
The Show was created for children but adults will find it very intriguing and if, like me, they are part of an audience of lively young schoolchildren, they will find the audience reactions a delight too.
There is a black-uniformed security man standing by as the house files in: that is Nigel (both the character and the actor) and when everyone is settled he takes the centre of a stage that is boxed in by bare plywood walls with just a small table, one chair, an upright piano up against one side and a microphone centre-stage.
Having checked everyone is in, he announces that he is locking the door and then switches on the alarm system, then, before leaving through the auditorium, tells us, "we like to keep the stage empty".
And so it remains. Nothing happens. Or is that a scratching you can hear? There is one section of wall that is clearly a separate panel; is that going to be pushed in?
Nothing happens. Now someone is rattling the door handle and calling out. Already we are alerted to looking out for anything happening, even the littlest things. Now, after a little wait, someone comes round the edge of the set and tries to enter but that sets the alarm off. The man, who is dressed in grey breeches and frock coat and a ruffled shirt, retreats but shortly tries to enter from the other side. Next he pops up looking over the top of the set. Could he climb in? He still sets the alarm off which eventually brings Nigel the guard back.
Who set it ringing? The audience spontaneously tell him in typical "he's behind you" fashion as the intruder still pops his head up.
Holes drilled in the wall let fingers in and what looks like an extended tape measure reaches through to the microphone, but it is only when the guard relents and opens the door that the other man is allowed to enter: and then only so far and no further.
He claims he is an actor, name of Riad, come to perform there, but when he is at last allowed right in it is to play the piano on which he dumps the pile of scores he's been carrying. He's also holding a rope and at last, after extended coaxing, a giant tortoise appears on the end of it. Nigel has been trying to tempt it with lettuce. He now has the rope and tethers the tortoise to a chair leg so that when it retreats it drags the chair with it leaving Riad with just air to sit on.
Expectation of nothing happening magnifies each little action. Though they stay in their seats, the audience are active participants.
Now comes a new section using simple wordplay as Riad, who has exited and come back saying "I'll continue in a second", sees Nigel (but in a white outfit not Nigel) come in with a sign saying "Now" or another labelled "Second" and there is a repetitive riff of expecting the next moment but getting Now (which of course the next moment is on arrival) and continuing manifestations including a coffined "Dead Moment".
There is other surreal nonsense including a gag in which Nigel finds he is attached to the furniture and other things and comes through the door when we all know he is hiding behind the piano and a sequence with a performer so small we can't see them.
I enjoyed it and the infant schools audience (target age 6–10) were excited and involved and loved it. The actors' timing seems perfect, technicians' cues spot on and what superficially seems totally absurdist has undercurrent messages about living by the rules, common sense, communication, anticipating the future and perhaps a new concept of what is entertaining.
Reviewer: Howard Loxton