The Shrine / Bed Among the Lentils
Alan Bennett
London Theatre Company Productions
Bridge Theatre
–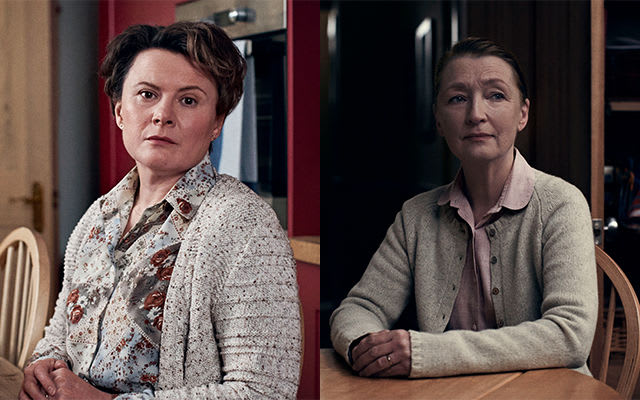 These plays are the first in the selection from Alan Bennett's Talking Heads monologues that the Bridge Theatre is presenting in pairs this autumn. The same actors performed them on television earlier this year but now we have a chance to see how they work in a theatre. Except…
Except that this is a strange kind of theatre, sitting in one of the Bridge Theatre's comfortable seats surrounded by space because the majority of the seats have been removed leaving widely scattered singles and pairs like isolated islands. The emptiness affects the acoustics and the interruption of audience doesn't help make the connection with the actor.
Ralph Fiennes's performance in David Hare's Beat the Devil leaps across the gap but that piece is more consciously theatrical. It is their apparent intimate verisimilitude that makes these plays so engaging. That intimacy is much more difficult to achieve under these conditions and with designer Bunny Christie, director Nicholas Hytner presents close reality of teacups and plastic bags against a more abstract background.
Transitions and time lapses which punctuation the action add variety and often look lovely with Luke Halls's video projections and the dying fall of George Fenton's piano score. TV can simply cut or fade to a different shot and a new blouse or jumper; this has to be slower and that is not always an advantage.
The Shrine is the shorter piece in a 75-minute programme with no interval apart from the brief changeover between the monologues. Monica Dolan plays recently widowed Lorna, mourning husband Clifford, killed in a motorbike accident. She has taken to keeping vigil at the place where it happened, kneeling at the roadside in a yellow high-visibility jacket and ensuring the skid marks on the tarmac remain clearly visible.
The police, concerned for her safety and her presence distracting motorists from the road, try to get her to move on and they reveal things, personal details that surprise her. Clifford went off on his own to birdwatch, so why did he have a second helmet in his pannier? A priest turns up offering prayers, a blonde biker in leathers who knew Clifford as Cliff; a Cliff who seemed a different man from the Clifford Lorna so loved and remembered.
It's a touching performance from Monica Dolan; this Lorna seems more lost than on television, though what she does with those crash helmets shows her reclaiming life her way.
Bed Among the Lentils presents vicar's wife Susan, played by Lesley Manville, dutifully doing the altar flowers or distributing the parish magazine but she has given up on God: she asks her husband Geoffrey, "do you really believe in God? God's just a job." Perhaps she has also given up on her husband who's just delivered a sermon on sex. Barristers' wives don't have to go to court, she argues, why should she have to go to church?
Susan's acerbic attitude to religion and marriage is beautifully captured as she finds a new openness in the arms of a young and attractive Indian grocer or owning up at an AA meeting.
These aren't highly dramatic pieces and both these ladies have a layer of genteel respectability. As they explore what lies beneath, Dolan and Manville don't entirely overcome the effect of socially distanced theatre but they give effective portraits in all four dimensions.
Reviewer: Howard Loxton