The Simon and Garfunkel Story
Dean Elliott and David Beck
Maple Tree Entertainment Limited
Liverpool Empire
–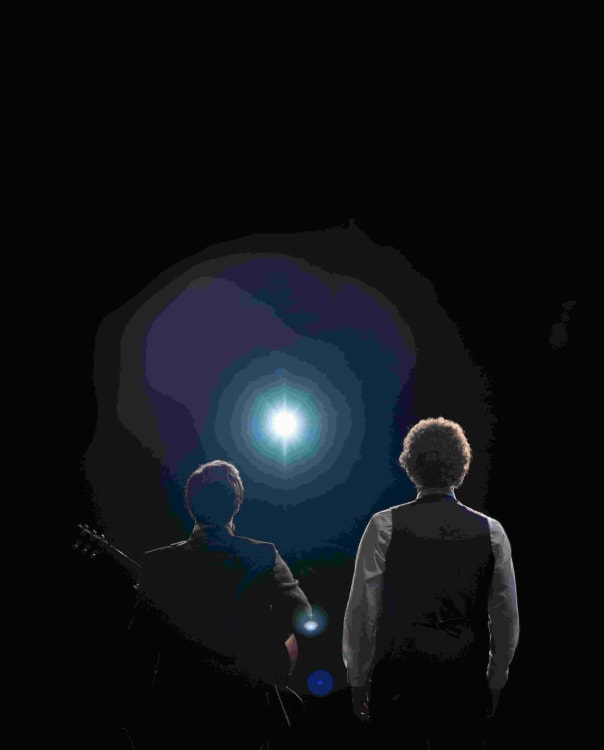 The moment the haunting opening notes from "The Sound of Silence" signalled the start of the last night's performance, you could hear the proverbial pin drop in Liverpool's Empire Theatre, you really could. Quite a feat when there's an audience of over 2,000.
Set against a backdrop of iconic moments from the 1960s featuring Monroe, Ali, JFK et al, The Simon and Garfunkel Story is not just another greatest hits show, it's also a journey through one of the most tumultuous decades of recent times.
As a concept it works surprisingly well, never more so than when Anne Bancroft's seduction of Dustin Hoffman is projected into the theatre heralding the start of the second act, swiftly followed of course by a rousing rendition of "Mrs Robinson".
It comes as a revelation to be reminded of the chemistry which made Simon and Garfunkel the world's most successful musical duo. Hats off to Dean Elliott (Paul Simon) and Joe Sterling (Art Garfunkel) who absolutely nail some of the trickiest harmonies you're ever likely to hear.
With such a great back catalogue to choose from, the hits come thick and fast. From the wonderfully tender ballad that is "Scarborough Fair" to the much rockier "Cecilia", this is a musical set that any artist would be proud to call their own.
What really makes this show stand out are the undoubted talents of Sterling and Elliott, who together not only manage the tricky task of emulation but also manage to invest their own musical ability into this production.
Thus the music here doesn't just solely aim to create or ape—a not ignoble intention in itself—but rather the music on this stage is also infused with the talents of the individual performers.
Sterling's version of "Bridge over Troubled Water" is a spine-tingler, bringing to the fore a vocal performance of power and sheer clarity. As showstoppers go, it surely doesn't get much better than this.
Thinking how this show could be improved is no easy task—perhaps a separate narrator to do the links between songs, but really that's nit-picking. Having toured nationally and internationally this show could not be any tighter.
Supported by a superb band comprising Josh Powell (drums) Adam Smith (guitar / keyboards) Leon Camfield (bass), The Simon and Garfunkel Show will satisfy even the most exacting of fans and more than likely win over some new ones.
The Simon and Garfunkel Story has been receiving rave reviews and standing ovations wherever it goes and last night in Liverpool was no exception. For once, you really can believe the hype.
Reviewer: David Sedgwick