The Sins of Jack Saul
Book and lyrics by Glenn Chandler with music by Charles Miller
Above the Stag
–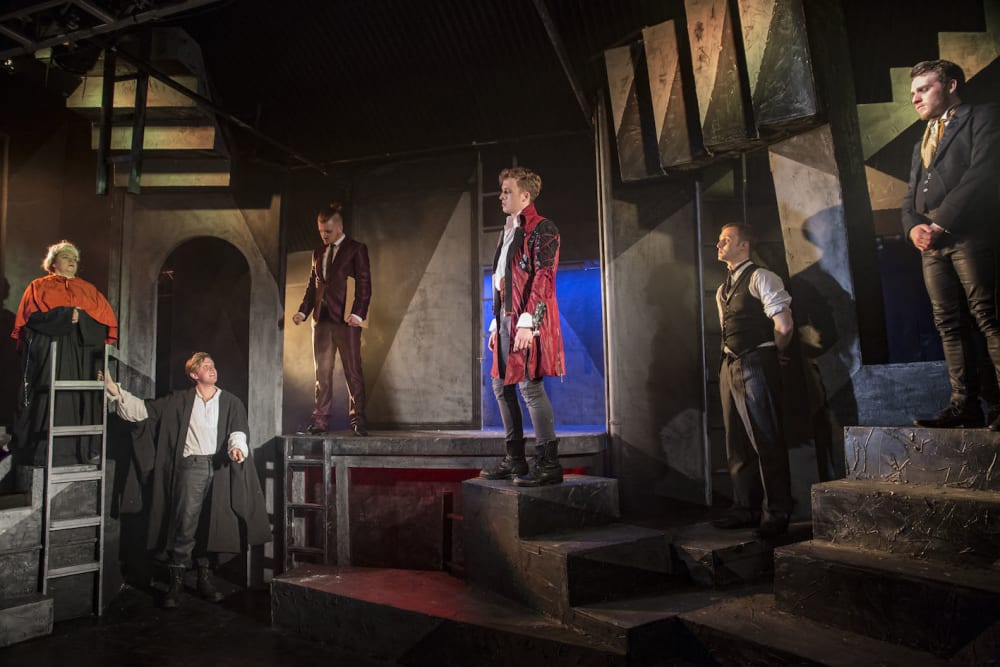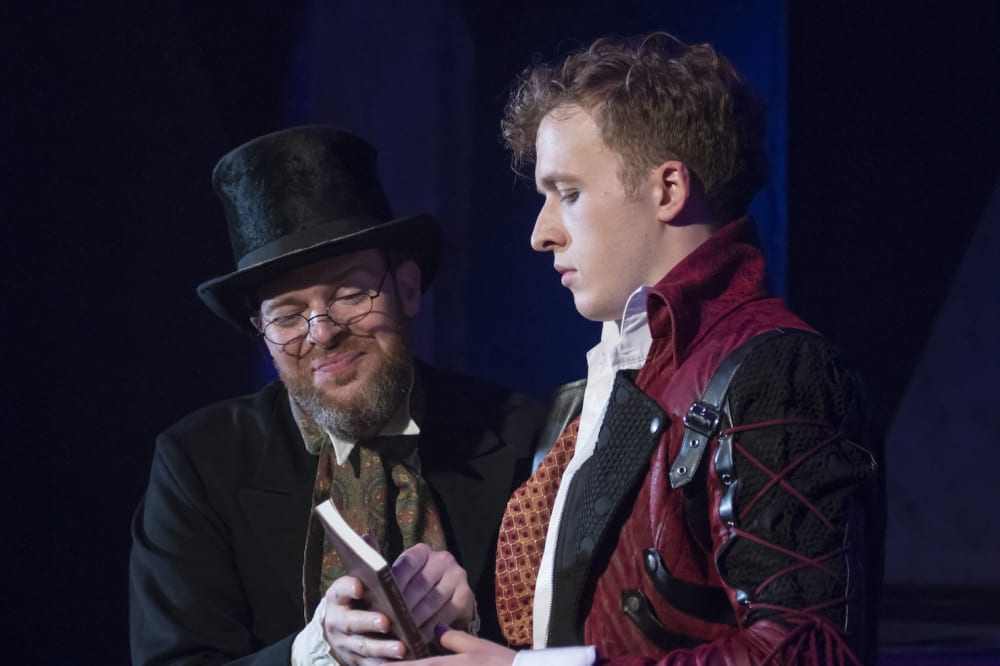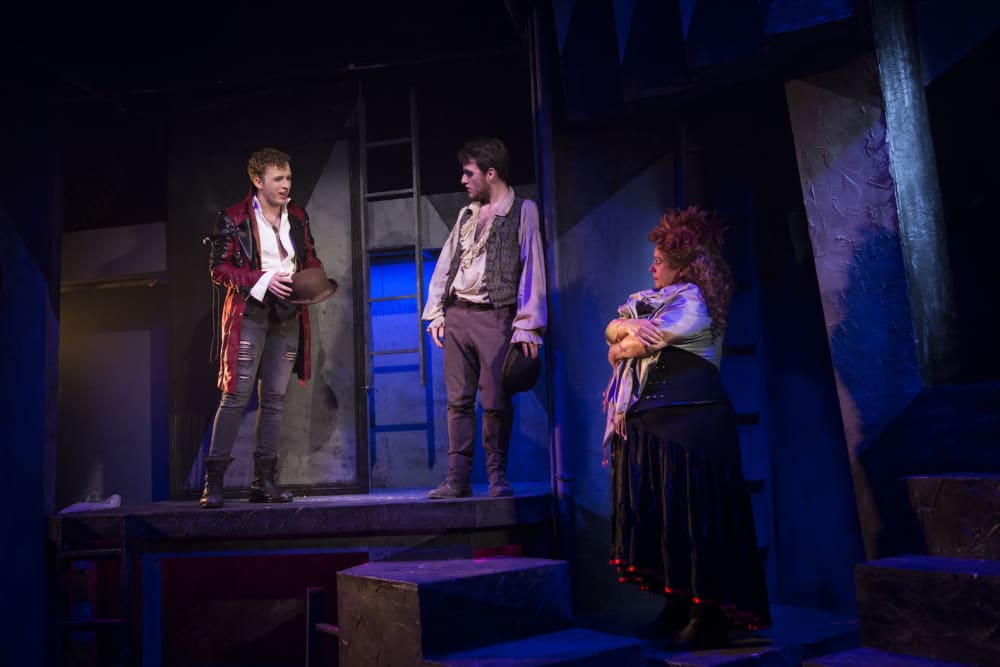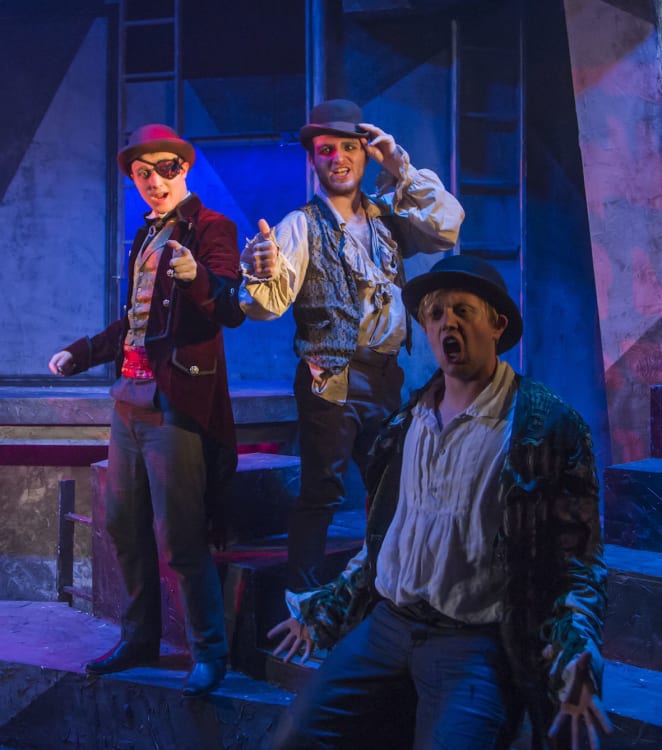 Based on Glenn Chandler's book of the same title, which has just been published, this is the story of Victorian London's most famous male prostitute, a Dublin-born boy who was both involved in the notorious Cleveland Street brothel trial of 1889 and before that in the 1884 Dublin Castle scandal. He became the central character of an infamously pornographic book: The Sins of the Cities of the Plain that purports to be his memoirs.
Punters arriving in the auditorium are greeted by a nun and find themselves confronted by a catacomb-like setting of rostrums and ladders on which muslin-shrouded corpses are laid out. "He was one of those," the nun tells the officiating priest of one body. Wtih the arrival of the Devil (who calls himself Fergus) that corpseis brought back to life for interrogation. It is Jack and his life is examined looking for things to his credit before his next destination is determined.
It is a neat way of facilitating a telling of Jack's story, Fergus clicking his fingers to move on to its next naughty episode. David Shields's sombre setting (cost-effectively adapting his set for ATS's last show) and Chris Withers's deliberately lurid lighting with more than a hint of hellfire may echo the darkness of Victorian gay life but this is a show that is essentially upbeat and comic with a camp edge to its portrayals of the establishment figures and upper-class deviants whom Jack Saul encounters.
Jack McCann (here making his professional debut) gives Jack his personal charm and Chandler's script puts us firmly on his side as he struggles to rise from the slums. Early on "The Family Firm", one of the show's funniest numbers in which trios of potential employers rise in succession through a trap, is at the same time equally poignant as they reject him because of his accent, address and religion.
Amateur prostitution is a means of survival. He meets his first love in a soldier he takes for a client but who is on the same game. "I always wanted a man in a uniform, the feel of a Redcoat, soft and warm," he sings to his Lieutenant Kirwan (Ciaran Bowling), though his soldier then abandons him to save his own skin.
"I Could be Jane Austen" sings Jack; he dreams of being a writer and uses Pride and Prejudice in an effort to teach fellow rent boy Bill Clarke (Sam Chipman) to read but he ends up on the Dilly ("It's a Fine Life on the Dilly") and then working in the Cleveland Street brothel run by Hugh O'Donnell's Charles Hammond and Felicity Duncan's Madame Caroline where visitors include Lord Euston (David Mullen, also Gustavus Cornwall, prime target of the Dublin Castle case), who claimed he had gone there to see artistic "Poses Plastiques", a cue for another number.
Apart from McCann and Michael Gonsalves's sinisterly controlling Fergus, everyone is kept busy doubling in quick character sketches. Things move at a fast pace, there is no time to go into much detail, but with this strong cast under Steven Dexter's direction it runs smoothly whether delivering the riotous "Pornography" or Jack's soulful "Who Will Remember Me?"
Well, Jack, you are remembered and the tough times you lived through in the Victorian gay underworld of predatory pleasure but, like Lionel Bart's Oliver, this show wraps up that pathetic picture as lively entertainment.
Reviewer: Howard Loxton