The Sitting Room
Carol Clewlow
Operating Theatre
Washington Arts Centre
–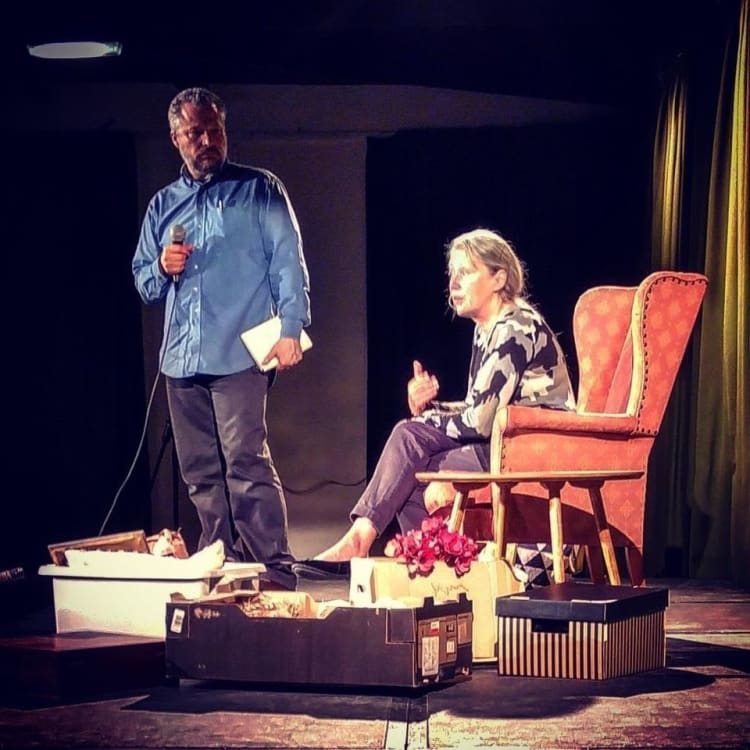 No, not the bizarre but similarly titled Spike Milligan offering. Carol Clewlow's one-act single-hander is a much different animal.
Joy Sanders plays Elaine, the middle-aged woman whom we find wrapping and sifting through her mother's possessions as she prepares for the funeral. Her father is already dead.
Within a few minutes, the play touches a chord with the mainly female and mature audience. Elaine was forced to put her elderly mother in a nursing home and now feels a terrible guilt. The fact she had no choice does little to assuage this guilt.
Like many of us (this writer included), she witnessed her once-spirited parent exposed to an often depersonalised humiliating existence, lacking dignity, lacking compassion, lacking empathy, cared for by inexperienced, badly-trained, underpaid young staff with limited understanding of an elderly woman's needs. The mother was poorly fed with cheap food and often left in a soiled state. Her life and spirit drained away as society becomes ever more fractured and such 'care' is handed over to organisations whose main raison d'etre is not the human condition but satisfying the shareholders.
And with the situation growing worse, Elaine looks ahead with some despair as to what lies in wait for her own twilight years.
Now this may not sound like a barrel of laughs, nor is it. Operating Theatre is a company whose work previously has been directed specifically at the medical profession itself. Carol Clewlow has written more than 20 plays for them targeting certain medical areas, conditions and problems, performed to professionals in hospitals, or to students and other 'insiders'.
Supported by an Arts Council England grant, the company is now attempting to broaden its scope and also address the general public. Making your work relevant to both a specialised and general audience is quite a challenge. I can think of several medical areas where it would be clearly impossible. But full marks to the adventurous Washington Arts Centre for affording Operating Theatre the opportunity to enter these choppier waters with a matinée and evening performance.
The Sitting Room succeeds on both the private and public level. The writing is brisk and informative without being didactic, Joy Sanders performs the part sensitively but without indulgence or over-easy sympathy seeking and director Alex Elliott keeps the direction simple but not static. There are shades of Alan Bennett's Talking Heads as we are drawn into Elaine's disturbed present and sense of an even more disturbing future. And we recognise this situation's growing universality. Society's ticking time-bomb indeed.
At the play's end the director invited Joy Sanders on stage to answer questions. These proved to last as long as the play itself as the audience threw themselves into an energetic discussion—testament enough to the effect of what they had just seen.
Two small points. Though it is a subject matter of some gravitas, in addressing a general audience, Carol Clewlow could allow herself, without losing the piece's power, a little more of the intelligent humour that runs through her novels. And during the questions session we weren't always certain if Joy Sanders was still in character or not.
But Operating Theatre has made the cross-over. Mainly because, behind all the play's necessary information, this is a piece about a real human being and not simply a medical case study.
Reviewer: Peter Mortimer