The Sleeping Beauty
Choreography by Kenneth MacMillan (after Marius Petipa), music by Tchaikovsky
English National Ballet
Opera House, Manchester
–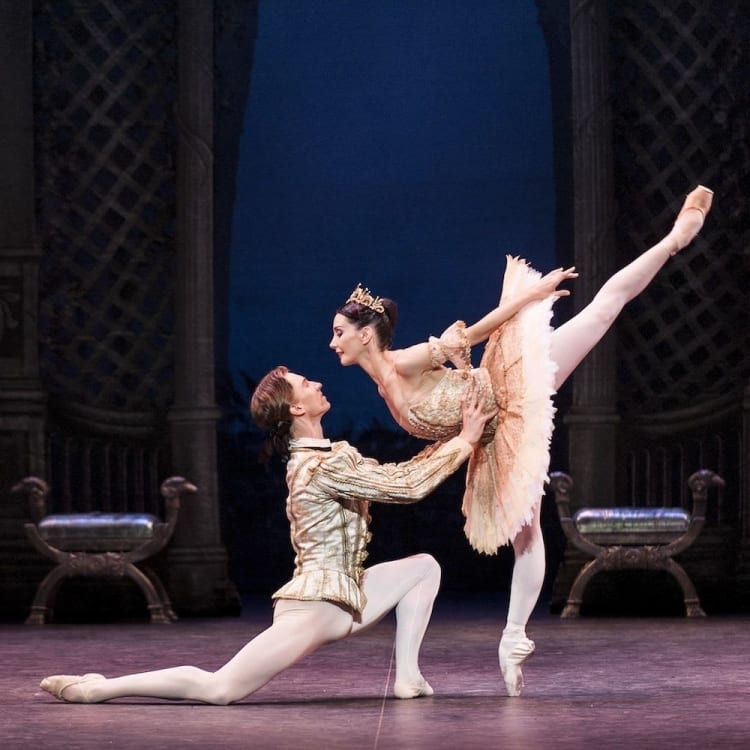 One might question, in this era of sparkling re-imaginings of Sleeping Beauty (such as Matthew Bourne's) whether there is any place for traditional, costume-drama productions like this one by English National Ballet. On the evidence of tonight, the answer to that question has to be 'yes'.
Irrespective of whether The Sleeping Beauty is, as the poster proclaims, 'the world's favourite fairy tale', there is no denying the appeal, especially in austere times, of a sumptuous dose of romance. Nicolas Georgidas's costumes—all velvet and faux fur—gorge on luxury and excess like a festive box of chocolates.
Notwithstanding the regal costumes and cosy plot (good, of course, triumphs over evil in the end), it should not be forgotten that, as new artistic director, Tamara Roja observes in her programme notes, this is 'one of the most technically demanding ballets for dancers'.
Petipa's original choreography (augmented by Sir Kenneth MacMillan) is the balletic equivalent of the compulsory programme for Olympic gymnasts. The audience all but holds its breath as Princess Aurora makes her entrance, and Roja brings to bear all her experience and technique in carrying it off.
The company as a whole take on the challenge bravely, with Alison McWhinney as the White Cat earning the right to sharpen her claws on anyone's sofa, while Laurretta Summerscales uses her height to carve beautiful, elegant lines as the Fairy of the Woodland Glade. James Streeter makes villainous of fairy Carabosse a John Lythgoe as Queen Elizabeth I—all temper and merciless retribution. 'Relish' scarcely does it justice.
Musically, it's unfortunate that the percussion section sits stage left, outside the pit; the cymbal drowns orchestral subtleties at every crescendo. Mind you, the usually respectful crowd at the Opera House also need a pep talk on this showing. When did it become acceptable to chatter through the overture? I know this is ballet, but the show starts before the curtain goes up, folks!
This production fulfills MacMillan's stated intent of celebrating 'fine manners and good breeding.' Like its companion piece, The Nutcracker, The Sleeping Beauty is an ideal Christmas treat for all those girls and boys who still dare to dream of fairies, princes and princesses.
In Tamara Roja's hands, romance will not be allowed to die. Something to celebrate this Christmas.
Reviewer: Martin Thomasson