The Snow Child
Valentina Ceschi and Thomas Eccleshare
Unicorn, Sheffield Theatres and Dancing Brick
Unicorn Theatre
–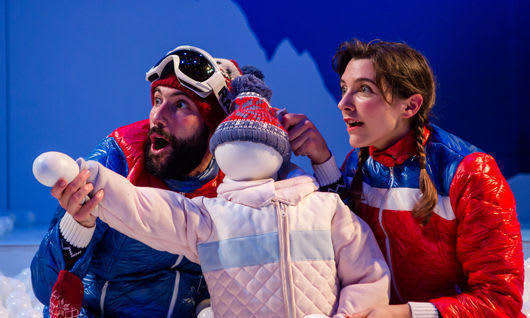 This 45-minute presentation aimed at younger children is an absolute delight.
Performed by its creators, it has no spoken dialogue but is in constant communication with its audience and keeps them enraptured.
James Button's set offers snow-covered mountains above a snowfield of white plastic balls and two sets of skis standing upright. Atop one mountain is Harry Blake, greeting the audience and playing his own music live: an important contribution to the show.
When the audience is settled, in several places the snow stirs into turbulence, which causes considerable excitement. That gets greater as a woollen hat pops up and then another, then a glove, a ski boot, a pair of smiling faces.
It is Valentina Ceschi and Thomas Eccleshare in their ski suits. Their wide smiles and expressive faces provide an instantly understandable wordless communication between themselves and with the audience. That is the key to The Snow Child's success as they explore the snow from which they have emerged, diving back into it and playing with the snowballs.
Mounting one ball on another, they create comic little snow folk of increasing complexity and then, in the depths of the snow, they discover a snow child, a life-sized one (a snowball-faced puppet).
They find a map, also snow-buried, a guide to treasure so all three set off in search of it, skiing over the snow. Night falls, there are stars and then it is day again and the treasure discovered.
But things are changing: spring is arriving; it is getting warmer. Flowers pop up through the ground; coloured light turns the snow into a wildflower meadow. Soon it is too hot for the Snow Child's comfort. A sheltering sunshade isn't enough to protect it so it leaves for cooler climes, going off to the still-snow-covered mountains, waving back to its friends from the high peaks.
Now the snowfield has melted: it's a swimming pool. Valentina and Thomas shed ski suits for summer wear and settle poolside with cocktails in pineapples, and switch on their portable radio. There is presenter going on about things (the only spoken speech in this show) who starts like a transatlantic commercial but just when you are sick of it so is Valentine and she clicks it off.
Leaves start to fall; the flowers disappear. It is autumn and summer things are put back in store. Now it is time to put on warm clothes: ski suits, gloves and woollen hats again. There is snow falling.
But something, someone, is missing. Where is the Snow Child?
What could be more delightful than the happy shouts of a theatre full of children who have just noticed him/her coming down the mountainside?
The absence of spoken dialogue seems to make the audience especially attentive and observant and spontaneously responsive. A change in the tempo of the music had one little girl dancing away long before the performers responded, thereby licencing the audience to do so. The kids' concentration is palpable.
There is a Russian fairy tale about a childless couple who make a daughter for themselves from snow and you could read this story as a couple with a similar longing and of the need to give your children freedom, to choose what is best for them.
It is also an inversion of the story of Persephone, a reminder of the renewal of the seasons, but infant audiences (for schools the company suggests Reception to Year 2) won't need interpretation, they will just love watching and feeling part of it.
Reviewer: Howard Loxton