The Snow Maiden
Nikolai Rimsky-Korsakov
Opera North
Leeds Grand Theatre
–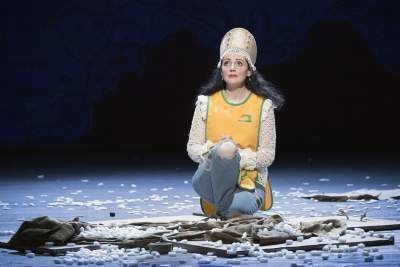 To kick off 2017, Opera North has chosen to stage Rimsky-Korsakov's The Snow Maiden (1882) for the first time, alongside Humperdinck's Hansel and Gretel (1893) and Rossini's Cinderella (1817). The Snow Maiden is an enduringly popular figure in Russian folklore, and her story exists in a number of variations. Based on an 1873 play by Alexander Ostrovsky, Rimsky-Korsakov's libretto explores the eternal themes of heartbreak, desire and obsession, whilst also dramatizing the inevitability of the seasons changing.
As the product of a love affair between Spring Beauty (Yvonne Howard) and Father Frost (James Creswell), the fair Snow Maiden (Aoife Miskelly) is no ordinary teenage girl. Not only has her birth ushered in a perpetual winter—much like the one that blights Narnia in The Lion, the Witch and the Wardrobe (1950)—but her heart is made of ice, and her father knows that it will melt if she comes to know the warmth of love.
Captivated by Lel (Heather Lowe), a dashing youth from a nearby town, the Snow Maiden decides to leave the forest, in which she has lived a safe and solitary existence, and enter the world of flesh-and-blood human beings. However, despite the Snow Maiden's beauty, Lel proves resistant to her icy charms because of her inability to love.
Unlike the other two productions in Opera North's season, The Snow Maiden will be unfamiliar to most British audiences. Indeed, this production marks the first professional staging of Rimsky-Korsakov's opera in the UK for over 60 years. I'm not surprised that The Snow Maiden has been neglected for so long: it is rather an oddity.
As an operatic heroine, the Snow Maiden is frustratingly passive for most of the action, and her detachment from the rest of humanity makes it difficult for us to invest in her emotionally. Also, her death is necessary to end the perpetual winter that has gripped the country, meaning—to quote Marina Frolova-Walker from the programme notes—"we cannot truly be saddened as we would be by a human romantic heroine".
However, despite some misgivings about Rimsky-Korsakov's libretto, there is much to enjoy in John Fulljames's dynamic production. Visually, the production is highly impressive. Giles Cadle's versatile set is greatly enhanced by Will Duke's ingenious video designs, which provide some of the evening's most memorable and startling moments. The imagery of jostling snowflakes, unfurling plants and blooming sunflowers will remain vivid in my memory for a long time to come. Christina Cunningham's vividly coloured costumes also add considerably to the magical feel of the production.
This production benefits from some beautifully calibrated performances. Aoife Miskelly sings beautifully as the Snow Maiden, and is particularly affecting in her final scene where she embraces love for the first (and last) time. As Lel, the local Casanova, Heather Lowe effectively conveys the character's swaggering confidence and impudent charm. Elin Pritchard gives a barnstorming performance as the wronged woman Kupava who berates her treacherous lover Mizgir (Phillip Rhodes) for casting her aside on their wedding day.
The Snow Maiden features some of Rimsky-Korsakov's most beautiful and eclectic music, and I was highly impressed by the orchestra's musicianship, particularly during their performance of "Dance of the Tumblers". I look forward to hearing them perform in Hansel and Gretel next month.
Reviewer: James Ballands