The Southbury Child
Stephen Beresford
Bridge Theatre, Chichester Festival Theatre
Bridge Theatre
–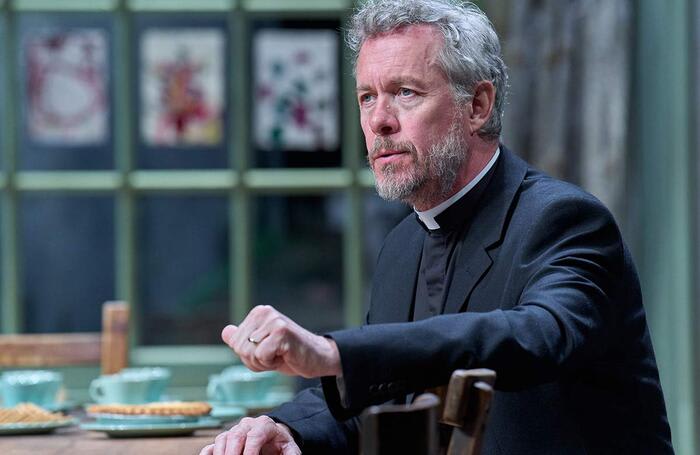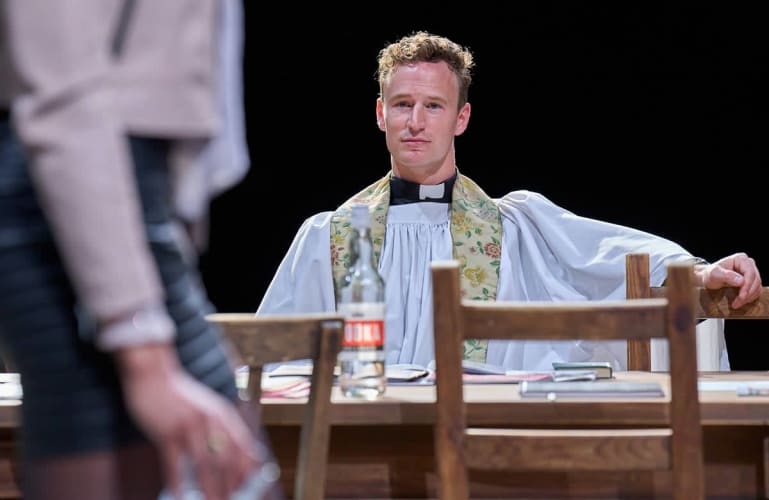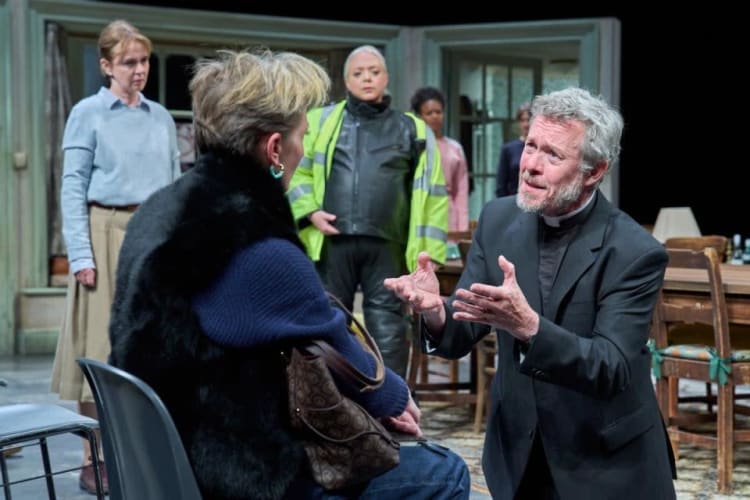 David Highland is a vicar in a coastal town that used to be full of boatyards and fisherfolk but they've now given place to ceramic centres and seasonally-occupied second homes. Local people have had a tough time including unmarried mother Tina Southbury (Sarah Twomey) whose little daughter has died. Tina wants a funeral that will celebrate that young life, remembering its good times, her plan was to liven the church up with helium filled balloons but the vicar has vetoed that.
He seems kind and progressive but it goes against the grain. You need to grieve first and he thinks he knows best. He believes he should give his parishioners what they need, not what they want.
Now Tina's out-of-work carpenter brother Lee (Josh Finan) has turned up at the vicarage. David thinks it is about the balloons, but it seems Lee is estranged from his sister, something to do with believing he was a match for his sick niece for a procedure but it turns out he wasn't. It is Lee who starts talking of religion: "if Henry VIII had kept his cock in his trousers, we'd still be Catholic". He also tells the vicar how little respect he is held in: "pisshead and wanker" is what locals call him. Indeed, he does reach for a drink too often and has been unfaithful to his overburdened wife Mary (Phoebe Nicholls), who seems to be forever rushing about somehow coping.
Mary and David have two daughters. The eldest, Susannah (Joe Herbert), is a local schoolteacher and helps with parish work. She is frustrated and probably jealous of her flamboyant adopted sister, London-based Naomi (Rachael Ofori), an actress down on a visit and so un-vicar's daughter in high boots and glossy green skirt, looking, as she says herself, like a "Lithuanian prostitute".
Tina seems to be getting a lot of support; between scenes, we can hear noisy crowds, but the only other parishioners we meet are doctor's wife posh Janet Oram, an arrogant troublemaker (Hermione Gulliford), and outspoken policewoman Joy Sampson (Holly Atkins).
Director Nicholas Hytner gets sterling performances from the whole cast. Through these characters, the dramatist raises a number of themes and the performances make you feel that we could be told a lot more about them: adoption, for instance, and Naomi's contact with her birth mother, but this is a play already full of detail.
In the midst of everything is Alex Jenning's David Highland, a gentle performance that outwardly seems to match the way the vicar himself describes the Church's manner: "we are never angry in the Church of England, we are grieved". Jennings gives him a calmness that hides inner turmoil, but we know it is there.
Stephen Beresford doesn't set out to offer a "state of the Church" overview but we do see some of the problems a clergyman has and there is a sense that this is about more than the immediate domestic scene. The huge flagstone-floored room of Mark Thompson's vicarage set suggests a wider world and, almost crashing through the window like the battering ram on a Roman warship, is the church seen in strangely-pointed perspective. If that isn't the Church as an actually threat, it has an intimidating presence.
A programme note on the way the C of E employs its clergy seems relevant but in the character of Craig Collier, a curate sent by the diocese to assist David Highland, throws interesting light on a particular problem the Church has to face. Craig, played with tact and sincerity by Jack Greenlees, is gay and has a long-term partner. Now, the Church too is perfectly happy to accept gays in its flock, it will even put up with a gay priest, but there is talk of the diocese appointing Craig in David's place. Craig's partner wants them to get married. For the C of E, that is a step too far. It's a dilemma that seems much more important than helium balloons at a funeral.
Reviewer: Howard Loxton