The Spider Glass
Craig Malpass
The Big I Am
theSpaceTriplex
–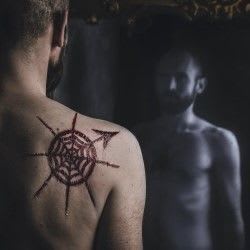 In many ways, this is a perfectly apt Fringe piece for our time: a self-reflective examination of the meaning of masculinity, what it means to be a man, and a despairing yet nostalgic look at how the strange media and attitudes of the '80s and '90s formed the adult men of today.
James has been tasked with helping his mum move out of the old family home. She's settling down with a new man and it's finally time for them both to move on from the place where he grew up. We find him in the attic, while he sorts out the trash from the treasure of his youth, leafing through old books and thinking wistfully about the teenage joys of reading FHM, masturbating and feeling inadequate in the changing rooms after sports. Then coming across a tape deck with a recorded radio show he made with a childhood friend, Josie, the girl next door with whom things didn't quite work out.
Craig Malpass, the writer and performer of the piece, performs the one-man show with an aim to explore the meaning of being a man and uncover some of the factors that lead to how men view themselves. His portrayal of James is something of an everyman, although one who is recognisable but still somewhat troubling.
There's a dark and brooding undercurrent to the character, which plays out in an understandable manner but makes it hard for the audience to endear themselves to him. While it's comical to hear him chat wistfully about naked women in magazines, more than once this slides contrastingly into him talking about unpleasant, angry sex with women.
Even in the recorded radio show, young James is almost abusively unkind to Josie, who is contrastingly an angel of patience and kindness. It's a good performance, but one that feels a little stilted and at times somewhat hopeless in the portrayal of someone so bereft of charms that even the slight hints of self-reflection and redemption feel like they might have come too late.
The trouble is that there is, by necessity, a superficiality to the piece. James's story is thinly sketched and often fleeting, as suits the wandering of his mind while he clears through some of the junk in the attic. Since the stated aim of Malpass was to start a conversation about masculinity, the play doesn't seek to give any answers, or indeed any that seem to move beyond the basic premise that many men are confused about how to act and don't feel comfortable sharing their feelings.
While that may be the beginning of the conversation for some, as it's clearly the result of much inner peering and, in the current moment, this is a fitting and important play for many young men, who have never considered their actions and formative years.
Reviewer: Graeme Strachan