The Staff Room
Michelle Payne
Path 22
theSpace @ Surgeons Hall
–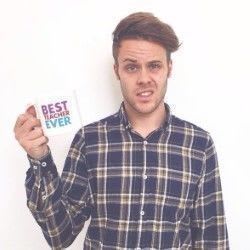 Michelle Payne's The Staff Room is a delightful insight into the inner sanctum of a typical secondary school as seen through the eyes of three young teachers who are just starting out on their careers.
It's a cluttered place littered with work, notices and of course biscuits—loads of biscuits. For anyone who has every taught, this is familiar territory.
Ria (Faye Derham) wanted to be a physiotherapist but never made the grade so has become a PE teacher who loves having no marking and weekends free and has saved enough money to put a deposit down on a house.
However she does have to run extra-curricula clubs including the prospect of a 6AM running session. But what teenager is going to get up that early?
Geography teacher Hugo (Craig Webb) took the job because he thought he would, "get lots of exciting trips out." He hadn't reckoned on the Rainham Marshes on a wet morning.
Alison (Hilary Murnane) is the enthusiastic history teacher who is passionate about her subject, the planet and teaching.
There is a hilarious scene at parents' evening when the three teachers talk about their students if only Hugo knew who they were.
Ria is anxious to support her pupil Jazz who has an eating disorder and confronts her mum who ends up in tears but at least Jazz gets help.
Like most schools today, they are being forced to convert to private acadamies and when the head announces that the school will become the Morris Academy from September, there is a flurry of job applications.
Our group of teachers most certainly did not want to become "corporate robots".
The audience will recognise these characters and the whole production is fast-paced and highly enjoyable.
The running time of 50 minutes doesn't allow the major issues of our education system to be explored in any great depth, which is perhaps a missed opportunity.
Reviewer: Robin Strapp