The Static
Davey Anderson
ThickSkin
Traverse, Edinburgh
–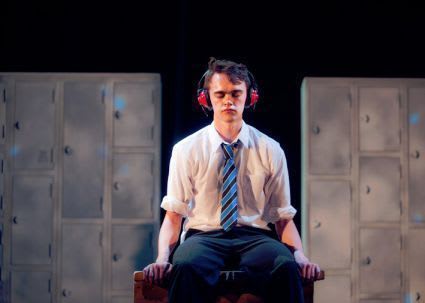 Aside from GCSE set texts, its rare to see an audience this young and even rarer to see them so engaged by the action on stage. This production does more than just introduce and enthuse young people into theatre, it has an uplifting story with universal appeal and a really watchable physical cast.
Sparky (Brian Vernel) is a lanky, out-of-control kid whose Ritalin prescription leads to a demonic voice in his head, and only constant headphone use can keep it at bay. He meets Siouxsie (Samantha Foley) a Misfits-style wild child whose superpower is being able to turn her dreams into reality by writing them down.
The idea of showing the trials of adolescence through a warped lens is not new, but this production had a certain gusto and zip that captures the school experience. There are also some super pieces of choreography, which are quite the icing on the cake.
Vernel and Foley are both a great blend of adolescent awkwardness and malevolence. The adults, Mrs Kelly (Pauline Lockhart) and Mr Murphy (Nick Rhys), get to have their fair share of fun too playing not just the counsellor and PE teacher respectively but several other characters too.
There are shades of David Greig's Yellow Moon to this play, not just in terms of the number and demographics of the characters, but also in terms of its simplicity, speed and pulsing contemporary heart. What The Static lacks in terms of Greig's more complex story the performance more than makes up for in its bold imaginative use of dance with all four actors giving great physical performances.
The chaos of the ending seems slightly messy and not really dark enough, due in part to an over-reliance on projections at this part. However this is a minor distraction in what is a great production with some real wow moments.
This show really deserves the epithet of "cool", even though I feel sure such a description would be cringeworthy in the extreme to both the main characters and also the show's enthusiastic youthful following.
Reviewer: Seth Ewin