The Stolen Rubber Band
Peter Mortimer
Cloud Nine Theatre
Low Lights Tavern, North Shields
–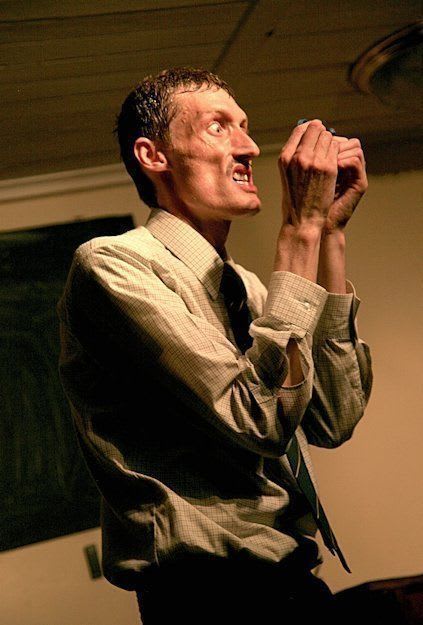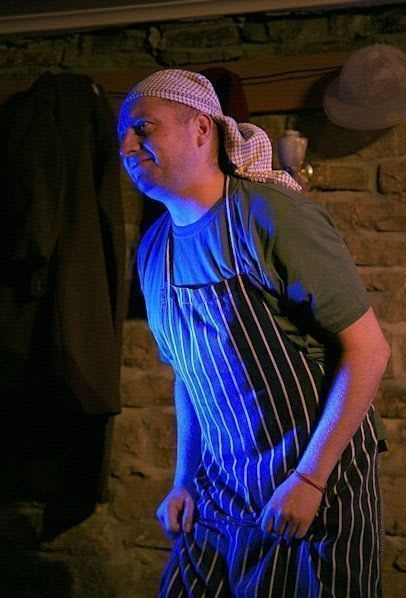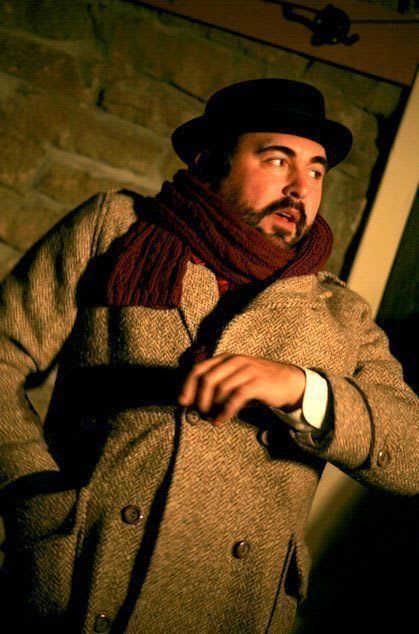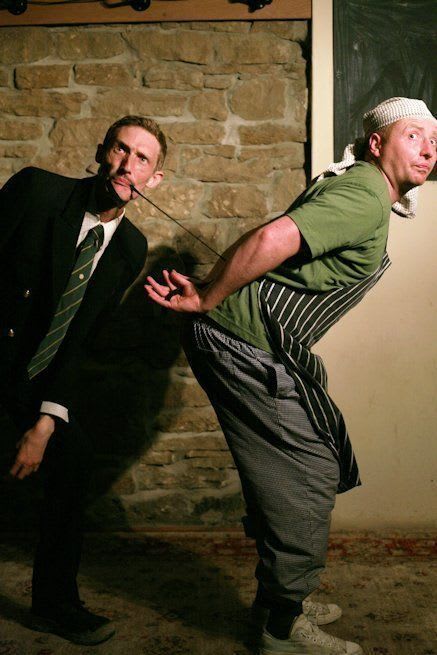 If, five years ago, anyone had said to me that you could find a regular audience for absurdist plays along the North Tyneside coast, I would probably have laughed aloud, but that's what Cloud Nine has created over the last few years with Peter Mortimer's plays.
The latest, The Stolen Rubber Band (A Play with Gargling), sees Terse (played by Cloud Nine regular Robbie Lee Hurst), smartly dressed in blazer with medal ribbons, smoking the kind of pipe Basil Rathbone's Holmes used, utterly fed up with the imaginary sausage, imaginary (extremely free range) eggs, imaginary bacon but oh-too-real dog biscuit served by his chef Foam (another regular, Dylan Mortimer) so he sets off, pith helmet on head, to restore their fortunes by stealing a rubber band, leaving the hapless Foam to count to 100,000.
On his journey he must collect the password to get through the Gate of Gump (through which no one has ever passed) from the Wobbly Man With Dog and pass the Bald Balladeer (in fact, lots of others, all played by newcomer to the company Pip Chamberlin).
And what, on such a quest, is the use of a number of baby's dummies? Or a knowledge of the language of Gargle?
Will he succeed? Will their penury be ended? Will there be a happy ending? Can Foam count to 100,000?
In the past I've noted similarities in Mortimer's plays to Ionesco and N F Simpson. Here he goes beyond that; here we are definitely in the realm of an über-surreal Goon Show.
It shouldn't work but it does. After the show I listened in on a conversation between some audience members in which one man laid out a Marxist reading of the piece which did, in fact, make sense. And that shouldn't, but it did.
And the reason it works is that, unlike Goon Show characters such as Eccles and Bluebottle, under the Neil Armstrong's tight direction Foam, Terse and all Chamberlin's characters are treated not as comic creations but as real people, are played with conviction, and their actions, no matter how surreal or even ridiculous in terms of the real world (whatever that is), are in total conformity with the logic of the play's world.
To have played it for laughs would have made it silly (my mother always used to say of the Goon Show, "It's too daft to laugh at!"); playing it straight brought laughs but also leaves the door open to a Marxist—or any other—interpretation. A parallel universe, then, but one with similar, or even the same, problems as ours—and the solutions to those problems present the same dangers.
The play moves to the Surf Café in Tynemouth on Thursday 22 October, to the Yoga Station in Whitley Bay on 23, to Whitley Bay FC on 24 and to Whitley Bay Comrades Club on 25.
Reviewer: Peter Lathan