The Strange Tale of Charlie Chaplin and Stan Laurel
Paul Hunter
Told by an Idiot
HOME, Manchester
–

Listing details and ticket info...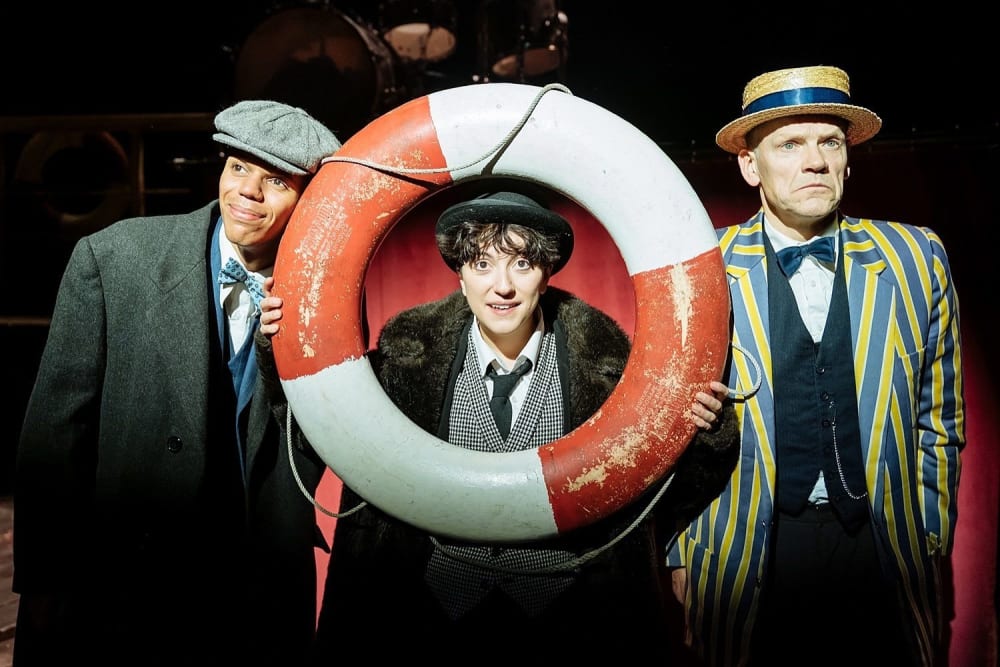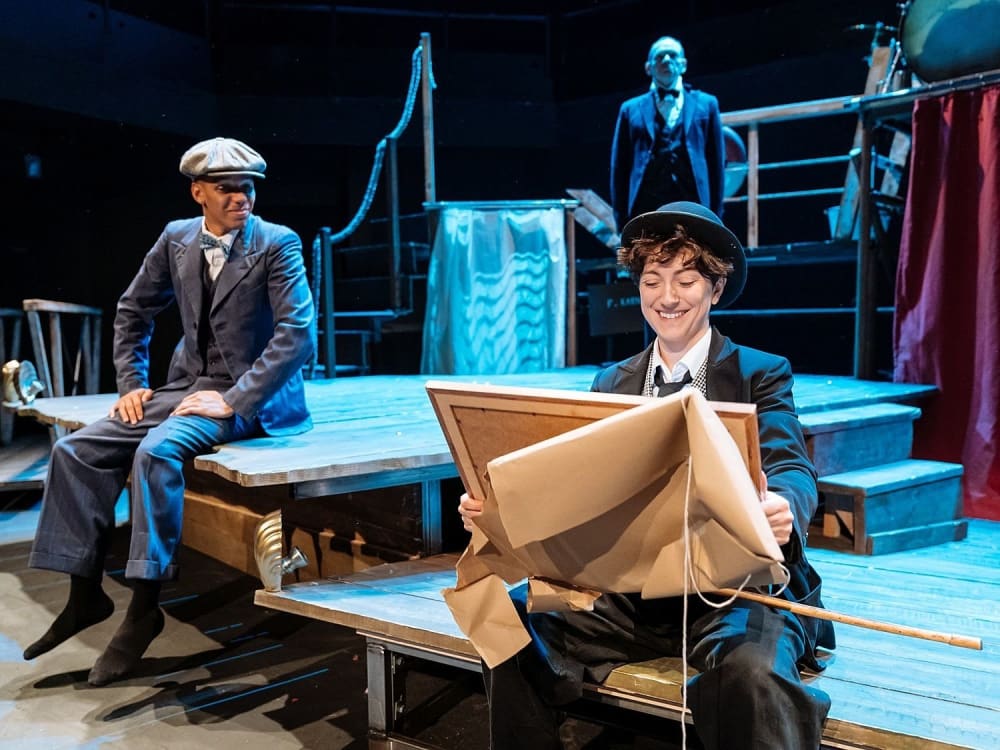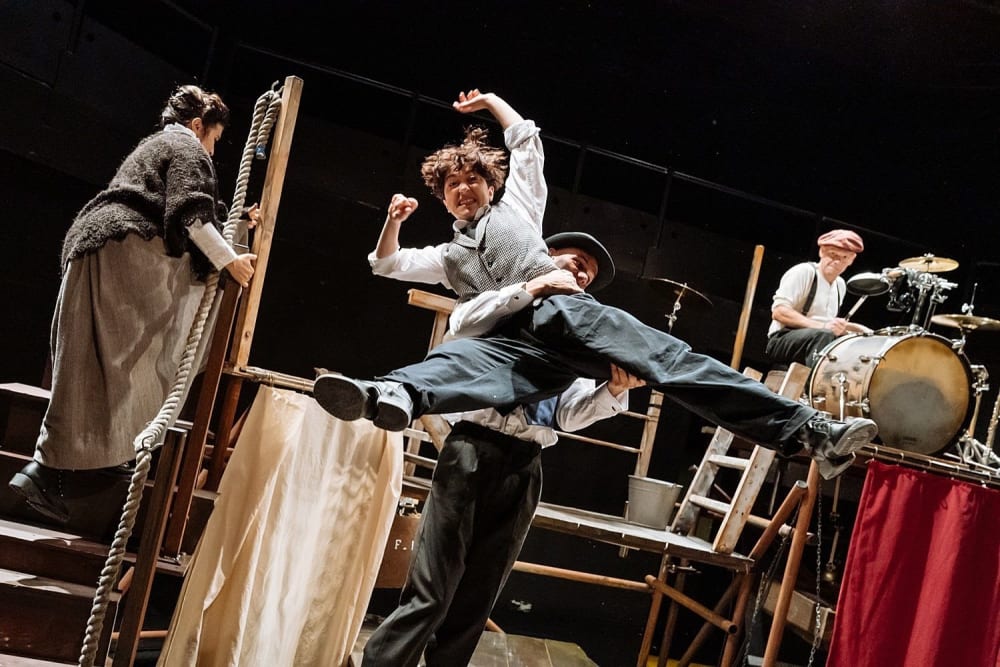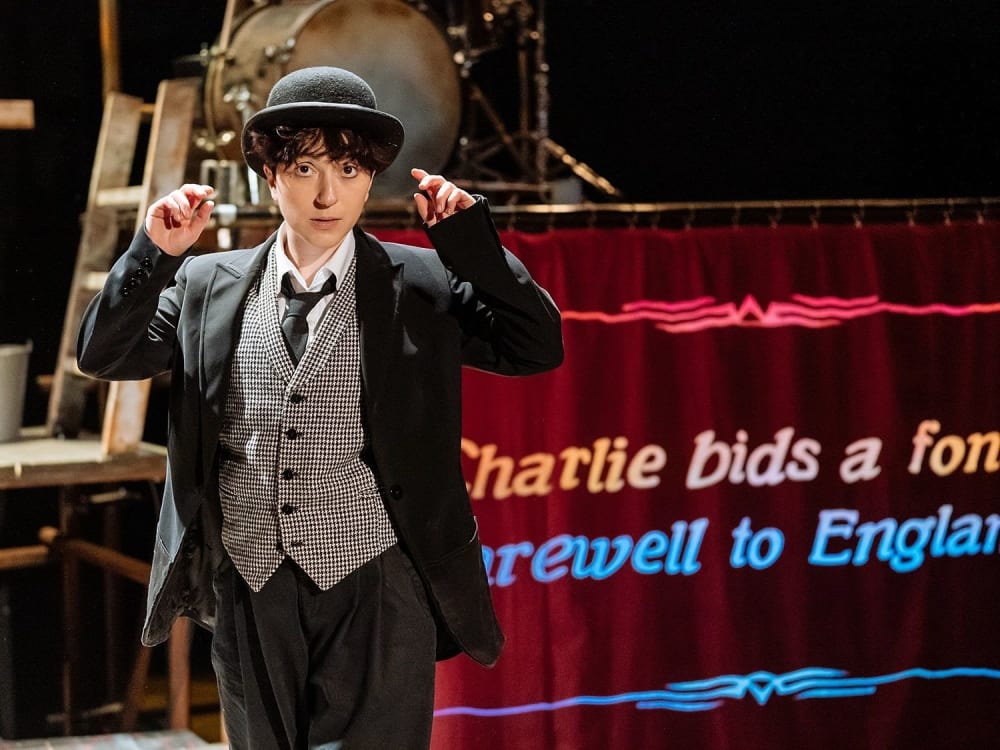 The incident that forms the basis of this show isn't particularly strange: hit London comedy producer Fred Karno took his troupe of performers, including Charles Chaplin and his understudy Stanley Jefferson (later to become Stan Laurel), on a ship to New York for a tour of America in 1910. Any strangeness is in the telling, which takes as its style the form that made these two men famous and for its material, writer-director Paul Hunter says they "were determined to value fiction over fact, fantasy over reality".
That maybe suggests that what we see in the show is completely made up, but most, if not all, of the events portrayed did actually happen, if perhaps not quite in the style of a silent comedy. During the sea journey, there are flashes both forwards and backwards in time, each a sketch in itself, portraying events such as Chaplin's childhood in poverty; Laurel stepping in when Chaplin walked out after demanding more money, then Chaplin muscling back in to take his applause; Laurel meeting Hardy, and Hardy's death; and so on.
I'm not sure what real event inspired the overlong routine of disposing of a dead body, but for the 1957 reunion of the famous pair in Beverley Hills, we are presented with two possible scenes, one joyful, and the other rather sad, but there aren't any clues to which, if either, was the truth. As the press release tells us that Chaplin's detailed autobiography never even mentioned Stan, I'm guessing it wasn't the first.
The production is performed without any spoken words, although some words appear in the occasional song and in silent movie-style title cards on a screen (video designer Dom Baker). The style of performance is recognisable from the sort of comedy films they were later to make, but the subtlety of some of it may have been better suited to the big screen than to a live theatre audience and certainly wouldn't have reached the back rows of the sorts of houses they were playing in 1910.
Amalia Vitale gives a great physical portrayal of Chaplin which isn't a full-on impression but brings elements of what was later to become the Little Tramp character, including the bowler hat and cane, into her performance. Jerone Marsh-Reid, on the other hand, is quite appealing as the young Stan overshadowed by the great man but there is little in his physicality or dress to suggest the character of Stan Laurel as we now know him.
Nick Haverson plays an array of characters including a flamboyant Fred Karno and an uptight butler to Chaplin, and he transforms himself remarkably before our very eyes into Oliver Hardy with a pillow, a false moustache and a few well-observed gestures and facial expressions—oh, and he also plays drums. After an opening with recorded piano music, the soundtrack is taken over by Sara Alexander—who also plays Chaplin's mother—on a piano on stage for a continuous score that matches the action well from Zoe Rahman, although there are several references to Chaplin's own "Smile" in there as well.
Ioanna Curelea's multi-level set with a nautical influence is a perfect playground for a group of physical comedians. There is a bit of audience participation when a couple of different people are persuaded onto stage at different times; it's interesting to see actors patiently persuading members of the public to follow their instructions when they aren't allowed to speak.
There is some very clever physical performance in this show with some classic comic routines played with split-second timing, some of which are pretty funny. Overall, though, to me the funny parts didn't feel funny enough or big enough, there are long sections without any real laughs or anything to replace them and the constant jumps in time and place can be a little disorientating.
But, nevertheless, a 100-minute show without any spoken words that still tells a recognisable story is quite an achievement and, while I may have wished for more, I was never bored and it kept my attention, so I certainly think it is worth seeing.
Reviewer: David Chadderton