The Sum of Us
David Stevens
Above the Stag
–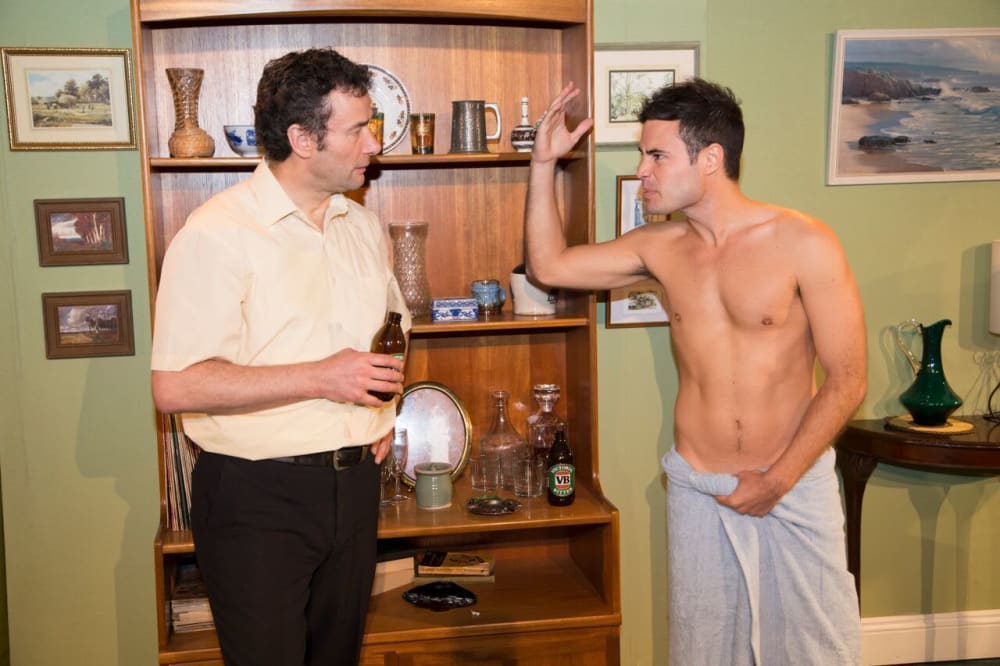 This warm-hearted study of a father and son relationship is beautifully handled by cast and director in this production, which is both touching and exceedingly funny without becoming mawkish.
When his wife died of cancer when their son Jeff was 10, heart-broken Harry was left to raise him on his own. Jeff is grown up now, a 25-year-old, rugger-playing plumber, but he still lives at home. Stephen Connery-Brown and Tim McFarland play the father and son relationship with just the right mixture of affection and irritation at family foibles, culinary limitations and failings like not turning taps off completely.
As Harry tells the audience—this is a play in which characters communicate directly with them—"our children are the sum of us". His boy is at the centre of his world but isn't it time that he had a more independent life, found a partner? Jeff is as much a friend as a son but he's a nightmare to live with.
No, that's not 'cause Jeff's gay ("cheerful" is Harry's term, his joke), Harry's known about that almost as long as Jeff has. He has no problem with Jeff bringing guys home, but he wants him to be finding someone to be happy with. He is almost as excited as Jeff when he has a date with gardener Greg (Rory Hawkins), a guy with a dream of planting a forest. But, when Jeff brings him home, Greg can't quite handle having Harry there.
Devoted as Harry is to the memory of his wonderful wife, he too is beginning to feel it is time he moved on, tried for another relationship. He has even signed up with a dating agency. And when he meets Joyce (Annabel Pemberton), he thinks he's found the right person—except she can't quite handle the idea of a gay stepson.
There are a lot more layers to this story, including a grandma who, widowed early, found solace in the arms of a Sapphic Salvation Army singer, lack of self-confidence in the dating game despite being as good-looking as Jeff is: "Maybe I am just a bit dull" is what he thinks could be his problem. Then there is a twist in the story that emphasises the problems of really understanding each other, however much love there may be between people.
House designer David Shields does wonders with this wide, shallow stage space creating a very believable Melbourne home and then turning it into a public park in a moment and Gene David Kirk's direction delivers depth beneath the ripples—no roars—of laughter.
If you haven't had a good child-parent relationship you could find yourself a bit jealous of this one. If you have then you'll recognize its awareness. Jeff's sexual orientation adds extra edge to the comedy but this is a long way from being just for gay audiences, though the LGBT crowd that Above the Stag sets out to serve should certainly love it.
Reviewer: Howard Loxton