The Suppliant Women
Aeschylus, new version by David Greig
Actors Touring Company, Royal Exchange Theatre and Royal Lyceum Theatre Edinburgh
Royal Exchange Theatre
–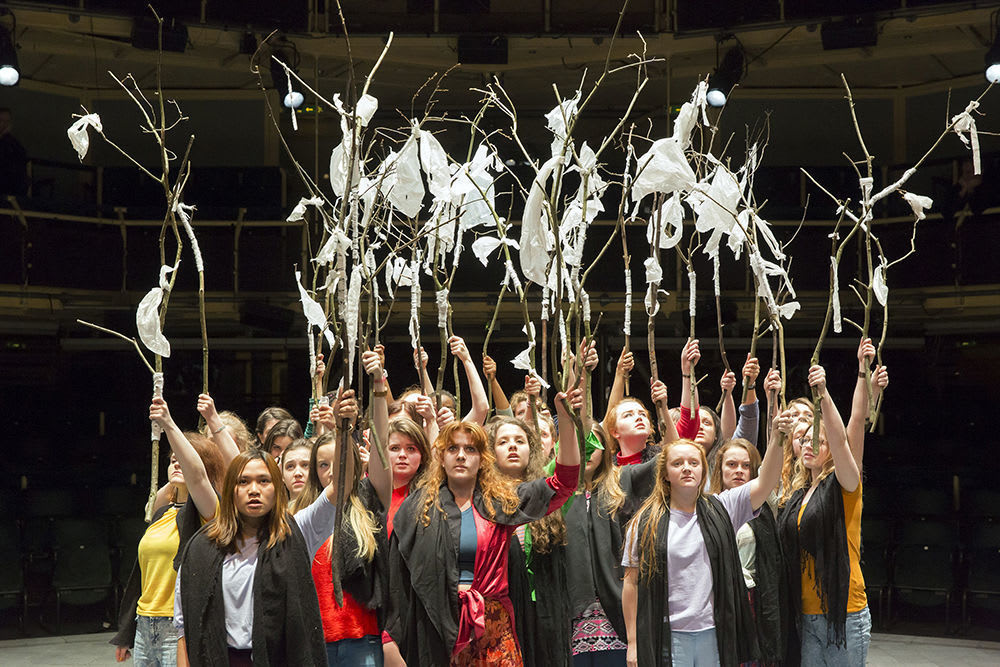 While the original play is 2½ thousand years old, this production does a remarkable job of recreating the original experience of this play, not by creating a moving museum of Ancient Greece or by a patronising attempt to "make it relevant" but by recreating what Aeschylus gave to his audience in a way that makes more sense to us, now.
Royal Exchange Patron and Chair of the Board of Trustees Ben Caldwell opens by paying tribute to those who funded the performance, not forgetting council tax payers and the ticket buyers. It is made clear that the chorus, just as in Greek times, are unpaid volunteers, before (paid) actor Omar Ebrahim puts the play into the context of its original trilogy.
The fifty suppliant (refugee) women have fled from Egypt with their father Danaus to escape forced marriage and take refuge in the temple at Argos. They plead with King Pelasgus of Argos for his protection, claiming greater kinship with the Greeks than the Egyptians, but he knows he risks war if he interferes in a fight that isn't his, so he puts the issue to a vote of the people—a referendum if you like—who decide to defend the threatened migrants.
This is Greek theatre as a centre for political debate, linked closely with Greek democracy, which translates very well to modern debates about immigration and refugees. Like most Greek plays, there is far more talk than action and most of the exciting stuff happens offstage, but director Ramin Gray makes up for this by giving us a visual feast, despite the rather plain modern dress against a breezeblock floor (set and costume designer Lizzie Clachan).
The bulk of the story is told by the chorus of 34 Suppliant Women through slick, impressively synchronised movement (choreographer Sasha Milavic Davies, movement director Josephine Hepplewhite), perfectly delivered choral speech (vocal leader Beth Allen) and some effective singing (composer and musical director John Browne). It's a huge, demanding collective part even for professionals, but this talented group pull it off superbly.
The remainder of the chorus—16 Greek / Egyptian Men and 25 Citizens of Argos—have little to do in comparison, but their contribution is effective when needed.
There are only three professional actors in the company. Omar Ebrahim is both Danaus, the father and protector of the women, and the vicious Egyptian Herald, Oscar Batterham plays the dilemma of King Pelasgus effectively, even with some humour and Gemma May is the Chorus Leader.
I think at times I found the sound and the movement so hypnotic that I wasn't listening to the words, but there are a lot of words to put across a fairly simple set of ideas, so I don't think I missed anything important.
The play ends positively but on a bit of a cliffhanger as this is only the first third of the original story and there are bound to be consequences. The message seems to be that protecting the vulnerable fleeing the violent is both an act of humanity and a great risk for the protectors. Aeschylus speaks to us across the ages to lay down terms for a debate that seems like a major issue for our own time.
Reviewer: David Chadderton