The Swallow (La Golondrina)
Guillem Clua (translated by Tim Gutteridge)
Spanish Theatre Company
Cervantes Theatre
–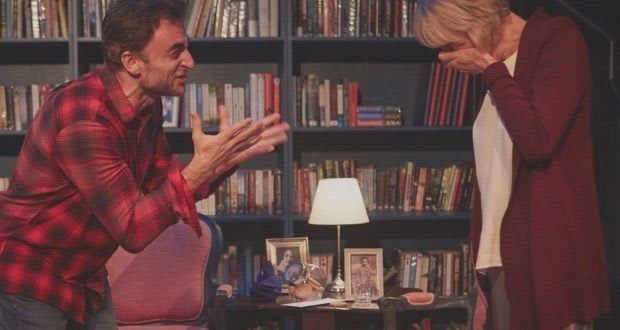 Mid-thirties Ray has come to singing teacher Emily to prepare himself to sing, he says, at a memorial service for his mother but she says his voice isn't good enough, she doesn't teach beginners and recommends someone else to go to, but a succession of things see him staying and talking. It turns out she too is still mourning the death of her son just a year ago.
While she is out of the room, he steals a book from her shelves and clearly recognizes the young man in a photograph displayed alongside that of the same man in boyhood, who must be the son she is mourning.
Theatre publicity has already has already announced that this play by contemporary Spanish dramatist Guillem Clua was written in response to the Orlando gay nightclub shooting and audiences may soon guess where this story is going—but it isn't that simple.
As lies are abandoned, it becomes a confrontation between mother and lover, a play about understanding and prejudice and especially about love.
Jeryl Burgess is rigidly controlled as uptight Emily and David Luque passionately angry as Ray whose restricted breathing isn't the effect of smoking as Emily imagines, nor is she as much in denial as he thinks.
The song "La Golondrina" by Mexican composer Sevilla, and a change Ray unknowingly makes to the lyric, brings the truth out into the open.
Ray rages that the Islamist's massacre of men in a gay nightclub (173 shots in 5 minutes as Mariah Carey sang on on the sound system) was reported as a terrorist attack but not as homophobia. Had the victims been Jews it would immediately have been seen as anti-Semitic. Emily seems to argue against a gay identity, that it is a choice of lifestyle just as one might choose a genre of music, which gets Ray's goat. (If only people did just accept sexual preference as easily as musical choices!)
It's a play full of pain but with comments that are caustically comic. Mother and lover argue with passionate feeling and it is not only they but many of audience who are struggling to hold back tears, but this play never becomes mawkish or sentimental.
Running 90 minutes without an interval, The Swallow with the sincere playing of Jeryl Burgess and David Luque under Paula Paz's direction provides a very intense experience and a great plea for honesty and acceptance here about sexuality but more widely too.
Performances in Spanish preceded this run in English in which the names of the characters are Anglicised and the setting not specified. The role of the Catholic Church and Spain's recent history all contribute to this particular story, but the intention is clearly to emphasise that the situation is not specifically Spanish. Indeed, the play has already been performed in Athens, had a reading at this theatre last year and one in Rome whilst its staging in a Madrid production will follow in September.
Reviewer: Howard Loxton