The Taking of Zena Charbonne
Stewart Ennis
The Occasional Cabaret
Salisbury Playhouse
–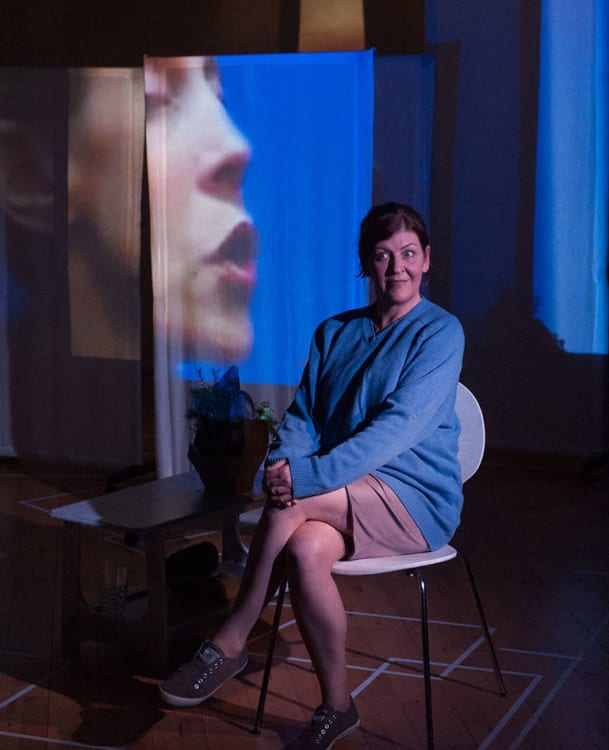 We're used to seeing theatrical oddities in the Salberg, the Playhouse's studio theatre. An hour-long monologue, though, with just an accompanying cellist (Robin Mason) for support? Sounds interesting. It's an Occasional Cabaret touring production, written by Stewart Ennis with Peter Cerke directing.
Zena (Catherine Gillard), wife of a high-ranking official, Sir Michael Charbonne, has been kidnapped and as the lights come up we see her tied to a chair, her head encased in a black hood. The menacing tones of the cello, played with sensitivity and a strong awareness of the text by Robin Mason, who also composed the accompanying music, evoke all those images from recent news stories we've come to associate with terrorism-inspired situations like this.
We don't need to have the threats, the victim's pleading voice or the triumphant waving of a bloodied head to remind us of the likely outcome of this scene. We read the papers. They're already well established in our consciousness.
Zena, too, has been well prepared for this possibility. She's been taking lessons from Leo, her guru, so she's going to adapt her life, to vary her routes and times and, when the worst happens, is going to be able to face her kidnapper with fortitude and calm, thinking about the happy moments in her life and concentrating on her own mental stability.
Only the reality isn't quite as simple as this, is it? With the use of clever technology, we see behind that black mask into Zena's mind as images flash backwards and forwards onto huge screens. Then the mask is removed. But instead of relief, Zena finds it all to confusing and needs to retreat back into her imaginary world. The light itself is too painful.
And her relationship with her captor, the mysterious Mr Fox, that can't be easy, can it? Then there's Michael, her husband. Although, like the other two male characters in Zena's life, we never actually get to see him, he has a significant bearing on the eventual outcome of the story. He was, after all, the original reason for her present plight.
We already know what's supposed to happen in a kidnapping story, don't we? When David Balfour's wicked uncle delivers him into permanent exile—or worse—in Stevenson's Kidnapped, we're conscious that, after a long series of perilous adventures during which the tension builds to nail-biting levels, there will be, in the end, a climax in which all will be resolved.
Where was the build-up of tension in Zena Charbonne? One minute we're sharing Zena's desperate thirst and wondering if we would dare drink the bottled water which may well be poisoned, then shortly afterwards we're watching her being interviewed for television—on the screens again—about her terrible ordeal. No crowd of cops rushing in and shouting. No bodies. Nothing.
So did this actually take place, or was it all a figment of Zena's over-active imagination? Did she establish a relationship with Mr Fox, as in the so-called 'Stockholm syndrome' in which kidnap victims come to empathise with their captors, sometimes even taking up their cause?
A lot of unanswered questions. And the play is still developing, apparently. It's only on for two nights in Salisbury. It would be nice to be able to see it again, in another year's time, perhaps. We might even find out if she really was kidnapped after all.
Reviewer: Anne Hill