The Talented Mr Ripley
Adapted from the novel by Patricia Highsmith by Mark Leipacher
The Faction
New Diorama Theatre
–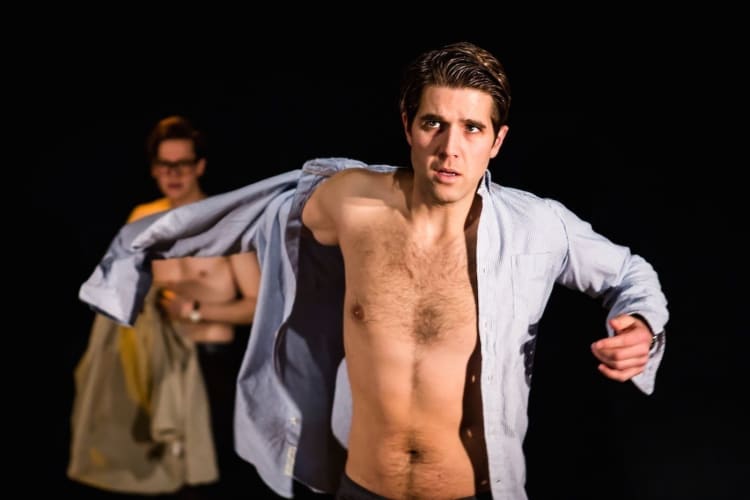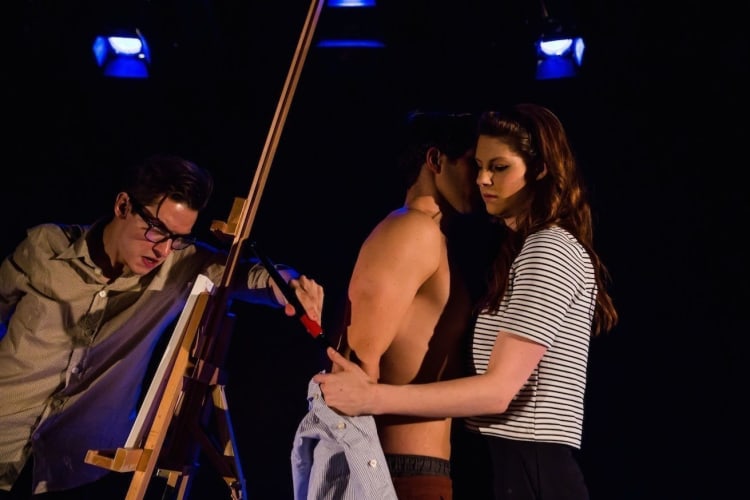 Patricia Highsmith's psychological thriller is well-known—there have been cinema versions of this first of her Ripley novels from René Clément and Anthony Minghella and this isn't the first stage adaptation—but, however well you may think you know it, it comes up fresh and engrossing in Faction's version.
Adapter/director Mark Leipacher presents his protagonist turning from his typewriter to address the audience directly and taking the audience into his confidence right through the telling. We know from the start that this opportunist confidence trickster will take advantage of everyone that he comes across, soaking up information that he can make use of, exploiting every casual meeting.
Christopher Hughes doesn't make Tom Ripley the good-looking, sexy charmer that you realise he might have done when you see him as himself at curtain call. From the start, this is a somewhat psychotic weirdie hiding behind those horn-rimmed spectacles, but he presents a possibly genuine vulnerability that is disarming and accounts perhaps for people trusting him.
It is an accomplished performance that is matched by Adam Howden as easy-going rich kid Dickie Greenleaf, escaping from his family in Europe, whose wealthy US father (Christopher Tester) sends Ripley out to Europe to coax him home, and Natasha Richman as Marge Sherwood Dickie's girlfriend.
These may be the principal characters but The Faction is very much an ensemble company, its strength partly drawn by the members who have worked together with some frequency.
If you already know the story, there is a good chance that you will forget the outcome, or at least the details of how it comes about watching Ripley seem to get away with murder and then another and another as they prove necessary to avoid exposure. Why does no-one recognize him as himself or as not being Greenleaf whose identify he has assumed, especially after pictures appear in newspapers?
Ripley's lucky in the way he manages to switch personalities to match most encounters, though it seems inevitable that Italian detective Roverini (Tom Brownlee) is going to be on to him.
Christopher York, Francis Woolf, Clare Latham and Kate Sawyer play all the other characters. There isn't one weak performance in Leipacher's swift-moving production, which is played on a raised white rectangle that facilitates sudden appearances and enables props to be lifted immediately into place.
Christopher Wither's lighting and Max Pappenheim's sound design are effective without being intrusive. Fight director Kevin McCurdy plots the violence to look real without (I hope) inflicting injury and Suzie Foster provides solid stage management—all part of this close-knit team.
A mid-twentieth century thriller is somewhat different to the classical dramas on which the Faction has largely concentrated its work but, given their concentrated, dynamic and very physical presentation, it comes alive as a real piece of theatre.
The Talented Mr Ripley is playing in repertoire. Check theatre web site for dates of performances.
Reviewer: Howard Loxton