The Taming of the Shrew
William Shakespeare
RSC Royal Shakespeare Theatre, Stratford-upon-Avon
–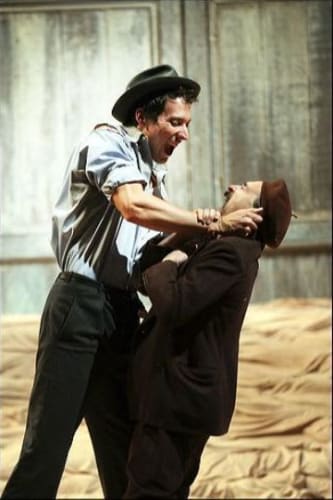 The huge thrust stage of the Royal Shakespeare Theatre is transformed into a luxuriously comfy Great Bed of Ware. Dun-coloured floor to ceiling drapes mask a wood-panelled rear-stage reveal that offers comic tableaux moments of Italian street-scene laziness or outrageous slap-and-tickle raunchiness. The same dun material spreads over the stage in pillow and duvet undulations, inviting the front row audience slyly to slip their hands beneath to 'feel' the enormous mattress. Ruth Sutcliffe's set, stunning to see but surely perilous (for the actors) to negotiate, focusses our minds on the sexual shenanigans to come. This Taming of the Shrew is going to be about sex and bedding and little else besides.
Into this dusty dreamscape falls Christopher Sly, the drunken Induction lowlife literally dogged by RSC actors who bark and snarl at his inebriated excess. Nick Holder, an enormous and tattooed goliath who rolls around and under the stage bedding, is excellent as the comic victim of these aristocrats' game-playing. Sly suffers indescribable indignities throughout the play, his recumbent figure rewarded by banknotes strewn liberally over his chest as a post play-within-a-play conclusion to this inconclusive drama.
Fooled into watching some travelling actors perform their play, and accompanied by his 'wife' (the seductively charming pageboy, Bartholomew, of Hiran Abeysekera), Sly loses his dignity, and his 'pants', with varying degrees of humiliation and humour. Naked but for a strategically placed milk pan and a grubby too-short vest, Sly is ever present. His voyeurism mirrors our own in this, Lucy Bailey's innovative take on an uncomfortably misogynistic early modern depiction of female subjugation.
The bed aside, the overarching imagery of Bailey's production is the 1950s post-war world of rural Italy. Characters populate the stage with Neorealismo filmic clarity and inventiveness. Live Italian oompah-band music accompanies a narrative that introduces the aggressive and self-destructive Kate of Lisa Dillon and her gold-digging suitor Petruchio, played with Irish blarney charm by David Caves. Kate is the village scold, a tomboy turned involuntary temptress whose response to male attention is to flail with the fists or lift her skirt and urinate as a statement of golden shower defiance. Dillon encapsulates the woman trapped in a society that still recognizes the commodity value of an unmarried daughter.
Terence Wilton plays Kate's troubled father, Baptista, a man desperate to see his two daughters married but incapable of controlling the wayward 'shrew'. Baptista's huffing and puffing masks his fatherly tenderness. Wilton portrays the moment when the old man's eyes fill with tears, as he watches in shocked silence the emotional destruction of his eldest daughter, with surprising compassion and depth.
Baptista's youngest, the twee though ultimately nymph-like Bianca (Elizabeth Cadwallader), cannot marry until Kate succumbs to a male. Kate will never submit, however, not least to one as weak as the men who court her sister. Most comical of these suitors is the louche lounge lizard lothario, Gremio, played with posturing excess, outrageous comb-over and sinister pencil moustache, by the excellent David Rintoul.
Petruchio strikes a deal to tame his future bride. Likening Kate to a wild falcon, this money-grabbing smoothie announces his intention to starve his victim into submission. Despite Petruchio's troubling admission, Bailey's production invites its audience to reconsider his actions, and Kate's reactions, in a surprisingly novel way. Petruchio is no less harsh in his treatment of Kate than any caring 'master' seeking to tame his wild hunting bird. In consequence, Kate's taming represents a release from self-harm and social exclusion.
Kate, so it seems, will ultimately benefit from her marriage. At the conclusion of the final scene, when Kate submissively offers her hand to rest beneath the foot of her husband, her compliance is accompanied by a wildly passionate and erotic realization of mutual attraction and, ultimately, respect. Kate tears at Petruchio's clothes, and her own, in her frenzied and ultimately dominant desire to consummate their marital vows.
Petruchio has been aided throughout by his clownish servant, Grumio. After Lisa Dillon, Simon Gregor is the true star of the show. Gregor grimaces and gurns with balletic precision as he conjures images of Charlie Chaplin at his Fred Karno best. Striking his outrageously aggressive poses, like a diminutive monster whose gonads have expanded beyond the realm of his inner thighs, Gregor parodies the machismo excess of Italianized masculinity. Only with Grumio's assistance could Petruchio succeed in his battle with Kate. It is Grumio who frustrates the unfortunate woman at every turn and who brings her quivering and helpless like a wild falcon into the arms of her money-minded manipulative spouse.
Lucy Bailey's Taming of the Shrew is refreshing because it counters misogynist or feminist readings of the play. Its novel take on a decidedly uncomfortable subject relocates this narrative of sexual subjugation to the realm of pantomimic comic romp. The RSC audience roared with laughter and delight at the naughtiness that unfolded from the bed sheets onstage. Sexy and sultry, with an abundance of nicotine- and testosterone-fired passion, this taming makes bed-time at Stratford a breathless delight.
Reviewer: Kevin Quarmby