The Taming of the Shrew
Choreography John Cranko Music Kurt-Heinz Stolz after Domenico Scarlatti
Stuttgart Ballet
Sadler's Wells Theatre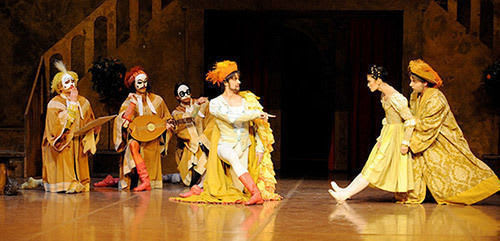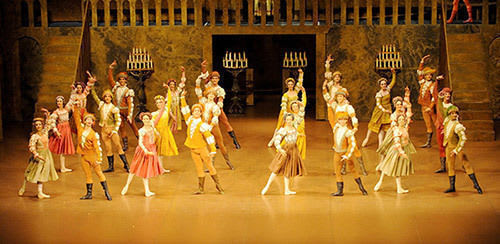 John Cranko's version of The Taming of the Shrew was created for Stuttgart in 1969 and is a signature piece for the company, but it has not been seen in London for more than 20 years.
This vibrant company dances it with brio from the first entry of Bianca's suitors beneath her balcony. They are a lively trio with David Moore's big-headed Lucentio, Ozkan Ayik's aging, incompetent Gremio and Roman Novitzky's romantic Hortensio easily out-manoeuvring the others and Eliza Badenes is a charming Bianca. Cranko even gives Hortensio an extra bit of story, tricking the other two into marrying a couple of street-walkers.
But it is Katherina, cursed Kate as Shakespeare at one point calls her, Bianca's ill-tempered sister, and Petruchio, the out-of-towner who sets out to tame her and marry her, initially for her dowry, whom the story is really about. Cranko gives us an ebullient Petruchio, who in his tipsy first scene gets stripped almost naked and made penniless, and a fiery Katherine who is all shaking fists and stamping feet.
Alexander Jones makes a dashing Petruchio and Alicia Amatriain a mettlesome Katherina and they excel in the fine pas de deux that mark the stages of Petruchio's courtship and his shrew taming. Amatriain is particularly delightful in the way she handles those moments when Katherina allows herself to start to like it as she rises and floats in elaborate lifts before remembering that she is supposed to be angry. This is a strong partnership that lets the playfulness of Cranko's choreography shine through.
This is a spirited performance of a delightful ballet that interprets Shakespeare's play in the warmest of lights. It makes the feminist issues that can dog the play disappear for you can't help feeling that Katherina's dutiful obedience at the end of the play is all a bit of a game.
The dancing is framed by simple settings that gain vibrancy from designer Elizabeth Dalton's gorgeously decorative Renaissance costumes.
Reviewer: Howard Loxton