The Taming of the Shrew
William Shakespeare
Guildford Shakespeare Company
University of Law Grounds
–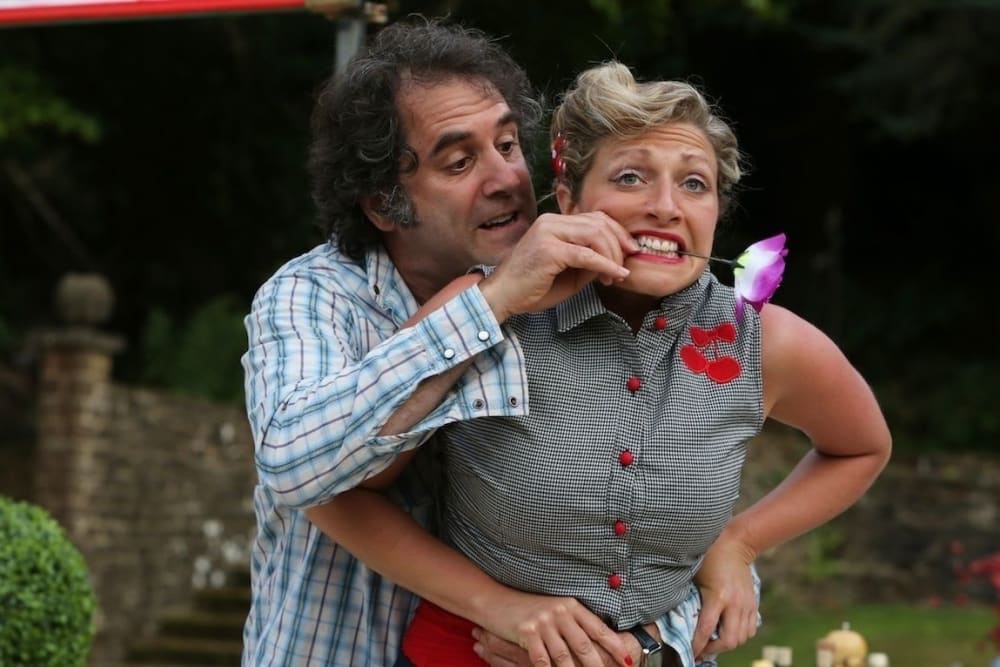 One of Shakespeare's more 'difficult' pieces, Taming of the Shrew is often approached by non-theatre-goers with trepidation—it's remembered for its cruelty and big speeches but not always for its sharp humour and fast pace.
There are of course many ways to approach the play, ranging from dark and brooding to all-out comedy, and Guildford Shakespeare Company leans towards the latter.
The production begins outside the main Law Court building where a mini pub has been created. With suits and selfies, the prologue places Christopher Sly (Owen Oakeshott) in the present day and allows the audience to join in on the fun as he's tricked into thinking he's a Lord.
With a delightful in-joke (which I won't ruin), the action then moves to the main stage where a company of players has been hired to entertain him. Transferring the play to 1950s Italy (and complete with period costumes and wonderful incidental music), the scene is set for suitors to fight over beautiful Bianca and avoid catty Kate.
Christopher Sly morphs into an arrogant and fast-talking Petruchio, come to woo Sarah Gobran's snarling Katherina, and the rest of the cast multi-role effortlessly around them.
Indeed, although the play is famous for its two leads, this is very much an ensemble production with each character fully realised and performed with a heightened style. The direction (by Charlotte Conquest) doesn't quite reach pantomimic but definitely roots itself in farce including door slamming and even the occasional pair of trousers going amiss.
Matt Pinches channels both Del Boy and Jon Inman with an exaggerated Tranio and Chris Porter and Richard Emerson bounce off each other brilliantly as aging sparring partners.
This approach not only allows the wit and humour, so liberally spread throughout the text, to come to the fore but also places importance on the subplot which can often be underplayed. The more mad-cap this story becomes, the less crazy Petruchio appears, which lends his scenes an uncomfortable logic.
There is cruelty in evidence but Oakeshott's Petruchio is performed with so much energy that the audience gets whisked along on the ride without much time to dislike him. When he breaks the fourth wall to ask how else you should tame a shrew, he is greeted by silence and then nods as if to indicate that he really is starving her out of kindness.
There is a true battle of wills here and, although Gobran's Kate is at times downtrodden, I'm not convinced she's entirely beaten. Her final speech may be sincere but her head is held high suggesting her pride is intact—a Kate who has learned to love and perhaps pick her battles more wisely.
Problem play or not, Guildford Shakespeare's staging of Shrew is vivid, lively and left the audience in stitches.
The best compliment of the evening came from the couple sitting in the row in-front of me: "So what did you make of your first Shakespeare then?" "That was brilliant.".
Reviewer: Amy Yorston