The Tap Pack

The Tap Pack
Peacock Theatre
–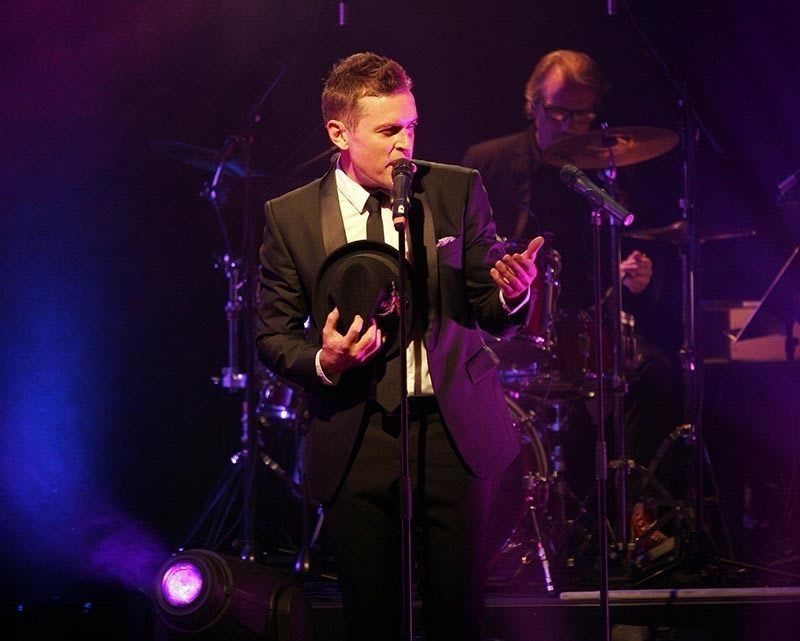 Five men in sharp suits and snappy shoes combine crooning swing and tumultuous tapping. The rhythms aren't confined to their feet: percussion abounds with body beats, cocktails pounded not poured and plenty of canes and drumming.
The Tap Pack are electrifyingly energetic; and the boys are barely breathing faster after fiendish routines. These guys make it look easy, even crooning in between breakout tap choruses.
It's a pleasure to watch this rhythmically perfect team who are able to keep their body language light and playful, as if dancing is no different from walking or talking. I have a feeling there'll be more than one audience member who can't resist trying it at home and finding how tricky those beats really are.
Modelled on the Rat Pack, the tappers are accompanied by a 4-piece swing band, styled appropriately, and dance in front of a versatile cocktail bar which cunningly folds out to become stairs or stage as required. The singing is good, but not great. The two main vocalists simply aren't gifted with the velvet Frank Sinatra fullness of tone that this repertoire begs for. Instead, both Sean Mulligan and Ben Brown are more suited to the more modern numbers. Brown really shines in the sing off with his rendition of Ed Sheeran's "Thinking Out Loud" and Sam Smith's "Black and Gold".
Huge congratulations should be given to Jesse Ramussen and Thomas Egan (creative directors and cast members). It's a great concept and the tapping is faultless. At times, the beats come so thick and fast you can barely believe just one man's feet can create them all.
The delivery is a little corny, with very scripted banter between the dancers. To take this to the next level, the presenting style needs to feel more off the cuff, and if possible find a new tapper with the timbre and tone this show is sorely missing.
I started the night worried that the concept couldn't be varied and extended enough to fill out a whole evening, but I was definitely wrong. The acts are well balanced, moving from a cappella percussion and beats to all five singing and dancing, this is feelgood evening's entertainment. A particular highlight is Ramussen's "Happy Feet" penguin reprise, Max Patterson's sandboard tapping and Egan's jamming. Egan ratchets up the tempo, which is addictively enjoyable, and throughout the evening his goofy persona gets a lot of laughs.
A wonderful evening out, which with just a few tweaks could become superb.
Reviewer: Louise Lewis