The Tear Thief
Carol Ann Duffy
Little Angel Theatre in association with the Royal Exchange Theatre
Little Angel Theatre
–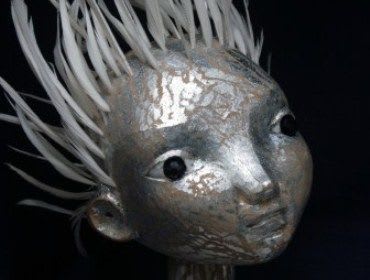 Based on the original children's story by the Poet Laureate, this puppet play presents us with a gentle little creature who collects children's tears. When she has filled her sack, she carries them up to the moon and empties them out to add their sparkle to the moonlight.
We see her as she flits from rooftop to rooftop between supper and bedtime, listening at chimneys, climbing down drainpipes to peer into windows to invisibly visit children who are crying. Among them are an angry little boy having a squabble with his sister, a baby having its nappy changed, a child with a finger stuck in the hole of a recorder.
Tears aren't the same; they have different colours according to their cause is and they are not all of the same value. It takes thousands of crocodile tears to be worth one of real sadness like those of the little girl in the story who has lost her dog. The Tear Thief is usually invisible, though the audience can see her; most people can only get a glimpse if they catch her reflected in a puddle by moonlight.
This may sound mawkish but it is not in this atmospheric telling. Directed by Peter Glanville, it is performed by just two puppeteers, Claire Harvey and Lowri James, who, as well as manipulating the puppets, appear to be moving Simon Plumridge's scenery whether presenting a miniaturised street scene or life-sized chimney pots, giving us a view through lit-up house windows or introducing a large, luminous moon. The puppets are quite small, some really tiny, especially from my seat at the back of the theatre, but it is amazing just how effective the wagging of even the tiniest dog's tail can be in conveying emotion.
Lost dog and reunion is the most dramatic this story gets, but its gentle simplicity is well designed for the younger children of three years and upwards that it is aimed at. Running not much more than half an hour, it won't challenge attention spans and unfolds sufficiently slowly to take everything in. There are snatches of dialogue performed by the puppeteers, but most of the story is told through Juliet Stevenson's recorded voice-over narration—if only we could all tell our children stories so well—as we watch it actually happening.
David Duffy's lighting is often darkly mysterious, though I would sometimes have liked just a little higher levels to be able to see the Tear thief more clearly, but it leaves room to stretch imagination while the contribution from composer and multi-instrumentalist James Hesford, playing his cello at the side of the stage, contributes enormously towards creating the production's rich atmosphere.
Reviewer: Howard Loxton