The Telephone
Gian Carlo Menotti
Arctic Philharmonic Chamber Orchestra
Arctic Philharmonic Chamber Orchestra, Norway
From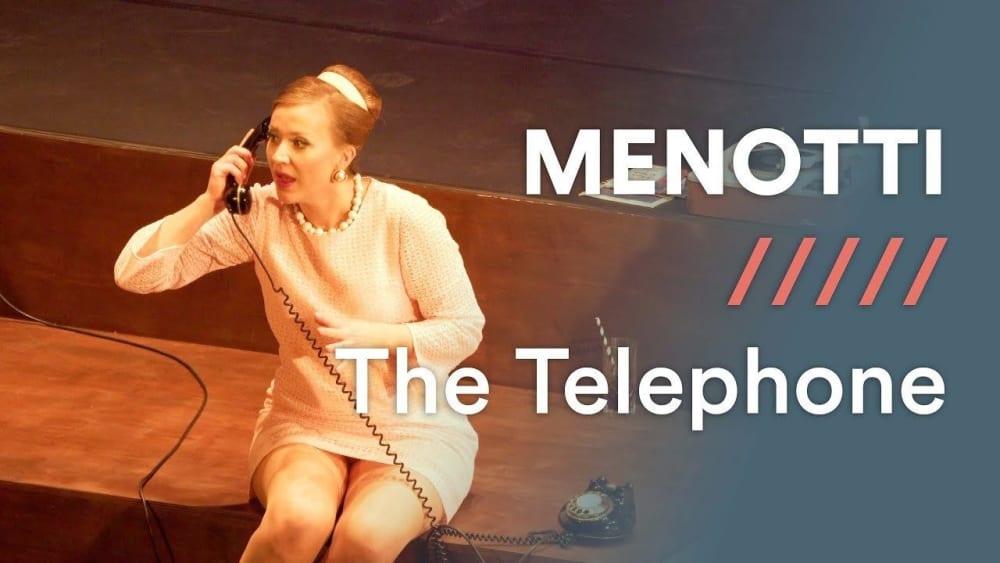 The telephone, born in 1876, featured as a major character on stage for the first time in Jean Cocteau's La Voix Humaine with Denise Duval in Paris in 1930 and appeared again successfully on Broadway in William Gibson's Two for a Seesaw with Henry Fonda and Anne Bancroft in 1958.
The telephone has featured on radio in Lucille Fletcher's Sorry Wrong Number in 1943 with Agnes Moorehead and on television in 1968 in Terence Rattigan's All on Her Own with Margaret Leighton.
The telephone has featured in two operas: Francis Poulenc's adaptation of Cocteau's play with Berthe Bovy and Gian Carlo Menotti's The Telephone, a 25-minute comic opera, which was written specifically for American television in 1947 and has recently been successfully filmed by Scottish Opera.
Alexander Graham Bell has a lot to answer for. In these texting / googling times, the mobile phone is a serious rival in any conversation or relationship and Menotti's opera's subtitle, "L'amour à trois", could not be more apt today. As he says in the text, "as long as you have a phone, you will never be alone."
Norway's Arctic Philharmonic Chamber Orchestra, the world's youngest and most northern orchestra, is based in Bodø and Tromsø, well north of the Arctic Circle. Jostein Kirkeby-Garstad's semi-staged production, conducted by Christian Kluxen, is much colder, much darker and much more Nordic than the Scottish Opera's production which takes a lighter and more sentimental approach. Mathilde Salmi Marjavara's looks absolutely petrified that Aleksander Nohr will be proposing marriage at any minute and she keeps her distance.
The music, which is delightful, is at its most haunting when Nohr complains, "I have waited… I must tell her I love her but that thing will not let me." The thing he is referring to is her telephone which keeps ringing and which she keeps answering, engaging in long conversations, and driving him up the wall. The marriage won't work. He is a fool to marry her. I could have done without the doppelgangers and his crawling all over the long settee and the floor and getting all tied up with the telephone cord.
A final thought before I leave you. US General Mark Milley's no longer secret phone call to Chinese officials, when he was concerned that President Trump might start a war, will have reminded many cinemagoers of Peter Sellers in Dr Strangelove and Henry Fonda in Fail Safe making contact with their Russian counterparts. It could be a subject for a mini-television comic opera?
Reviewer: Robert Tanitch