The Tempest
William Shakespeare
Oxford Playhouse, Northern Stage and Improbable
Northern Stage, Newcastle
–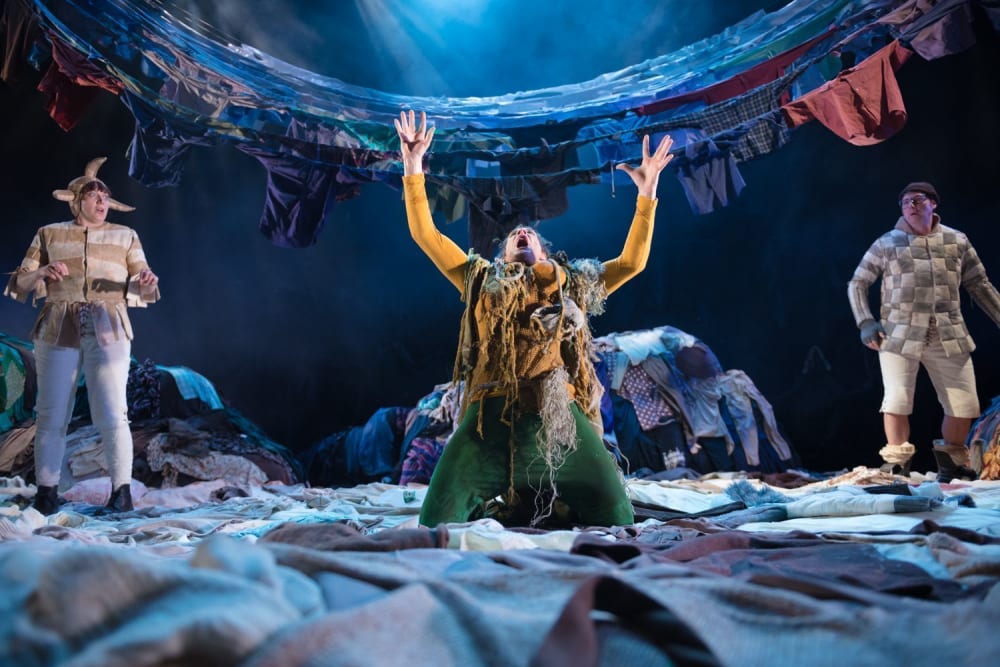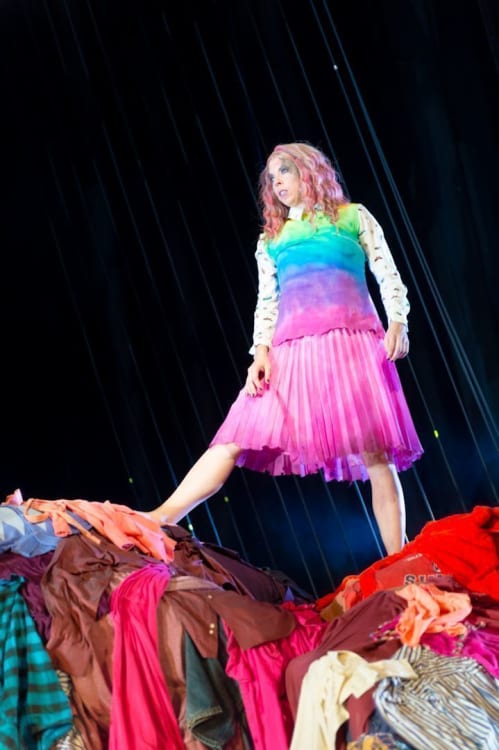 Any company producing The Tempest faces a couple of major problems right from the start.
The play begins with a massive storm at sea as a ship is thrown about, sailors try to keep it afloat and passengers get in the way. There then follows a long scene of exposition as magician and exiled Duke of Milan Prospero (Tyrone Huggins) tells his daughter Miranda (Jade Ogugua) the story of how they came to be abandoned on this island. It's so long that he has to keep telling her not to nod off or be distracted.
Then the spirit Ariel (Eileen Walsh) describes in detail how all Prospero's commands have been carried out and reminds him that she had been promised her freedom for completing her tasks. This leads Prospero to remind her—also in detail—of her own life story and how he had rescued her from being trapped and tortured inside a pine tree. And this is followed by even more story telling as Prospero and Miranda remind Caliban (Peter Peverley) about how his behaviour has led to his current slave status.
Apart from the storm itself, we have not seen anything actually happen. It has all been told to us.
It is, however, beautifully told and there are strong emotions swirling beneath the surface. Unfortunately in this production, these emotions are not reproduced in the performance except for Caliban's anger. The vocal dynamic tends to be rather flat.
In rehearsal, director Phelim McDermott tells us in a programme note, they had recorded the lines which were played back, enabling the performers to act straightaway without scripts.
Obviously this puts the focus squarely on the visual and this is true of the whole approach to the play. Becs Andrews's design is a treat for the eyes: three huge mounds of clothing of all colours and styles against which the cast can lean and blend in or into which they can tunnel to create, for example, Caliban's cave, along with full clotheslines which can be raised, lowered and shaken as required. With Colin Grenfell's effective lighting all sorts of moods and places are suggested.
The costumes of the isle's inhabitants are essentially cast-offs, of different colours, whilst those of the shipwrecked are pristine white, echoing Gonzalo's comment, "Methinks our garments are as fresh as when we put them on first in Africa."
Suddenly the reason for a first scene which did, I confess, baffle me somewhat, becomes obvious. As the play opens, a washing machine sits centre stage and the King of Naples's party stand on either side of it. Ariel fills it and adds washing powder (Ariel, of course) and switches it on. I'm not going to write a spoiler here; suffice it to say that this playful suggestion of what is to come segues into the storm scene.
The production is full of these playful touches: Caliban has a Sunderland, not a Geordie, accent, a reflection of the intense rivalry between the two cities and the Newcastle belief that people from Sunderland are uneducated yobs; Stephano's bottle, which he "made of the bark of a tree with mine own hands" is, in fact, a plastic milk bottle. Later, Prospero's magical masque is performed by Caliban, Stephano (Tony Bell) and Trinculo (Hannah McPake) very much in the style of the Mechanicals' play in A Midsummer Night's Dream.
Then there's the music, composed and performed live by Brendan Murphy on glasses part-filled with water, gongs, xylophone and other percussion. It's hugely atmospheric and subtly underscores much of the action. It is rather significant, I feel, that the loudest applause at the curtain call was for Murphy.
There's much to like about this production but, apart from the comic scenes, the text is flat, lacking in variation of pace and dynamic, not giving full play to the emotions, and so lacking in tension.
Reviewer: Peter Lathan