The Tempest
William Shakespeare
Shakespeare's Globe / BBC iPlayer
Shakespeare's Globe
–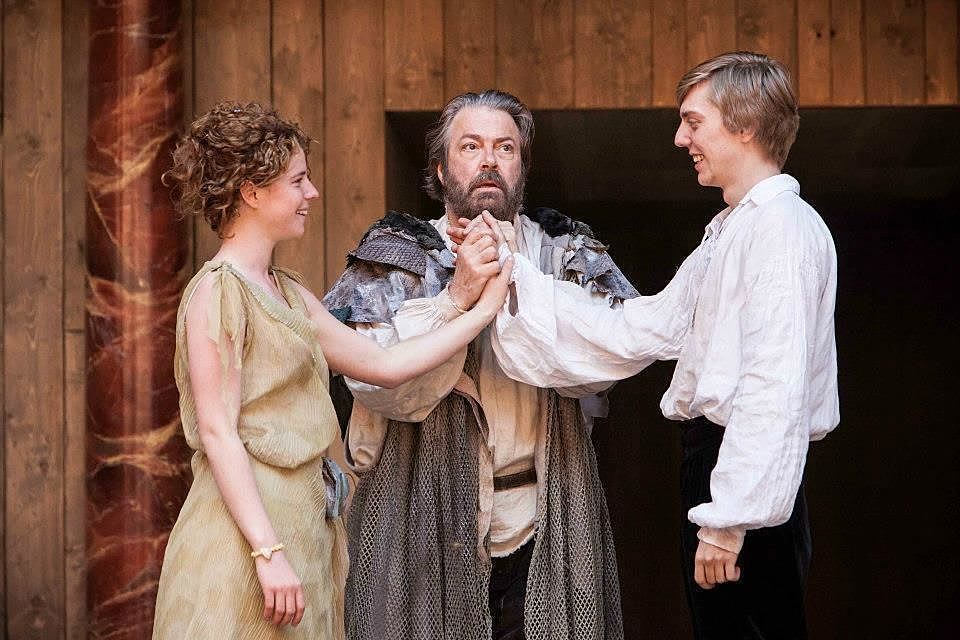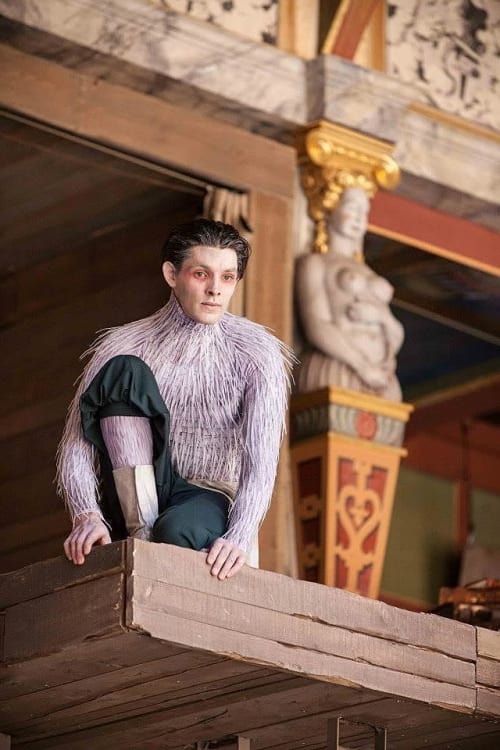 During the lockdown, the BBC is desperately trying to keep us entertained with its boxless 'box[ed] sets' of old series—we used to just call them repeats—but if you dig deeply enough into the Arts category of the iPlayer there are some things of real interest to theatre fans under the title "Culture in Quarantine", including a bunch of relatively recent Shakespeare productions from Shakespeare's Globe and the RSC.
Amongst them is this 2013 production of The Tempest directed by Jeremy Herrin under Dominic Dromgoole's tenure at the Globe featuring Roger Allam as Prospero, Colin Morgan, fresh out of the title role in BBC's Merlin, as another magical character, Ariel, and Jessie Buckley as wide-eyed teenager Miranda. From the raincoats in the audience and the wet stage front, it looks like it was filmed on an appropriately wet day in London.
Herrin's production emphasises the comedy in his fun production. Allam's great magician is a tolerant father figure, not just to his easily bored daughter, but also to his forgetful magical servant Ariel and his wayward slave Caliban (James Garnon)—in body make-up to match the rocks in Max Jones's design and the marbled pillars of the Globe's stage—whom he is still punishing for inappropriate advances to his daughter.
As the subject of Miranda's love at first sight—first sight of any man, that is, other than her father and Caliban—Joshua James's Ferdinand is suitably innocent and pathetic, mooning over her as much as she is over him as Prospero tries to keep them apart. Meanwhile, the boy's father—Peter Hamilton Dyer's King of Naples, Alonso—believes he must have perished in the shipwreck that brought them to the island and is almost the victim of a Macbeth-style plot from his brother Sebastian (William Mannering), egged on by Prospero's treacherous brother Antonio (Jason Baughan), but is served well by old Gonzalo (Pip Donaghy) with his Polonius-type babbling and storytelling.
Meanwhile, elsewhere on the island, the King's butler Stephano (Sam Cox) has been washed ashore with a butt of sack, which he shares with Geordie jester Trinculo (Trevor Fox) and Caliban as they drunkenly plot to overthrow Prospero. There is a lot of great knockabout comedy between this threesome, sometimes ending up in the audience.
The whole thing is great fun, but not without its spectacle—Ariel as the centre of a fearsome eagle also operated by two other actors is a highlight—and its poignant moments, especially towards the end as Allam greatly slows his speech for some of Prospero's moments of enlightenment.
It's pretty well filmed with very clear sound so you don't miss a word, and the two and a half hours just fly by—definitely worth catching during the three months it is available on iPlayer.
Reviewer: David Chadderton