The Tempest
William Shakespeare
Iris Theatre
St Paul's Church, Covent Garden
–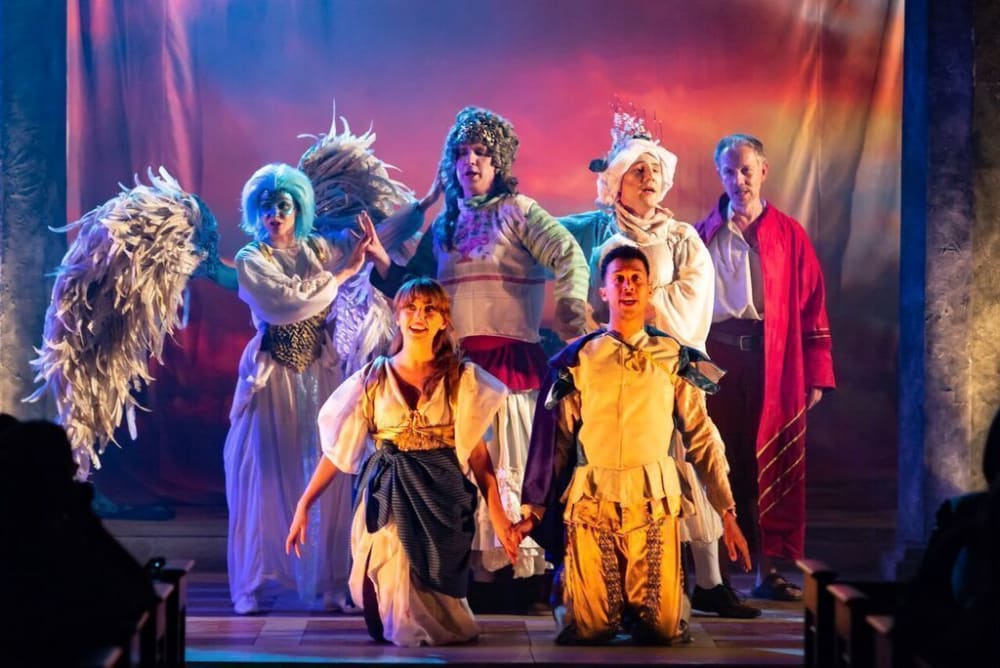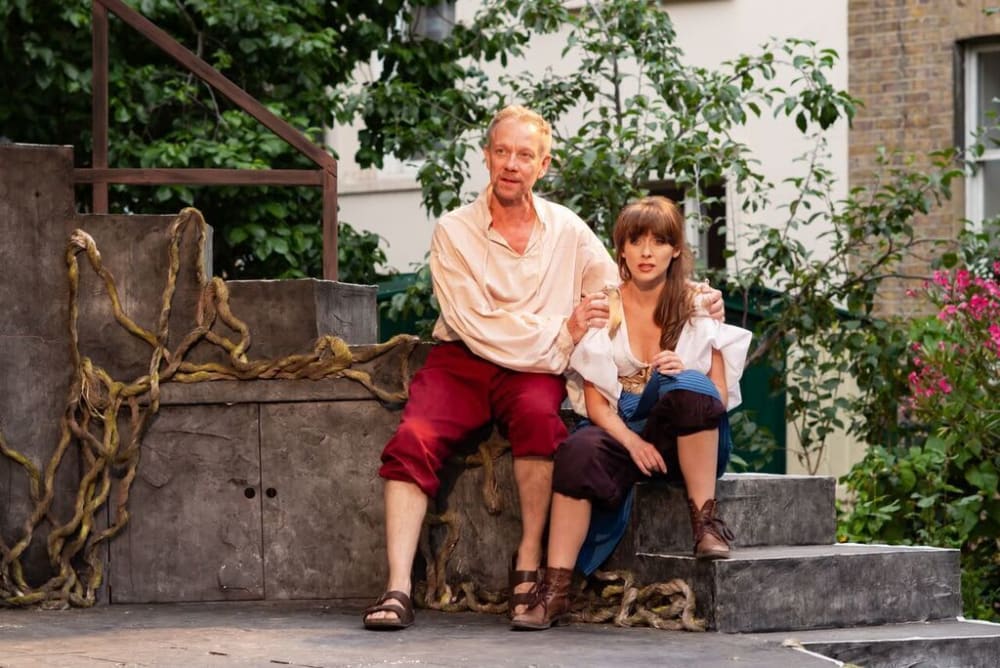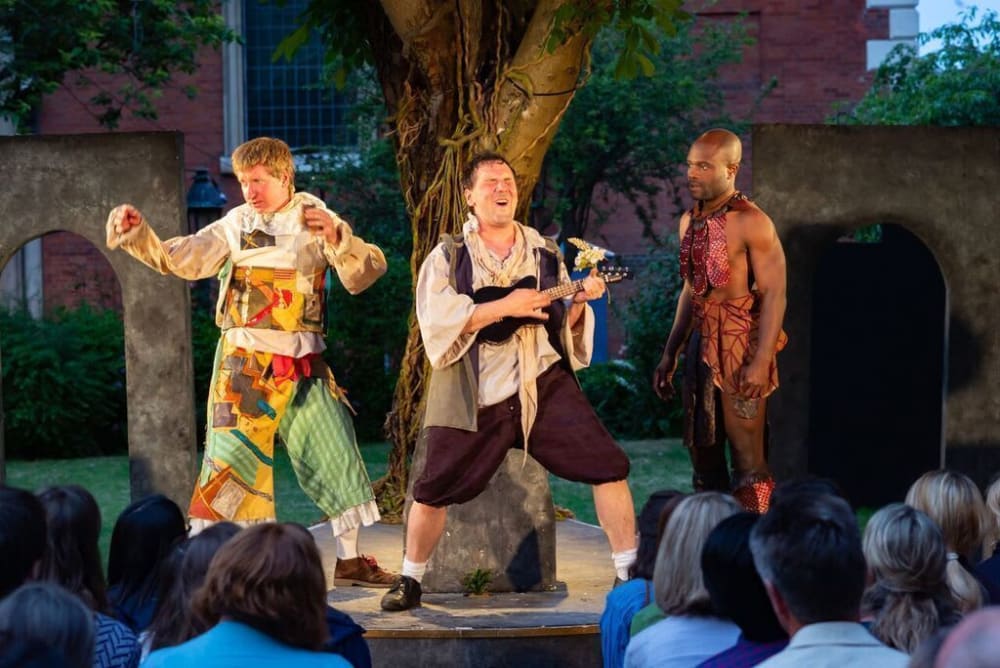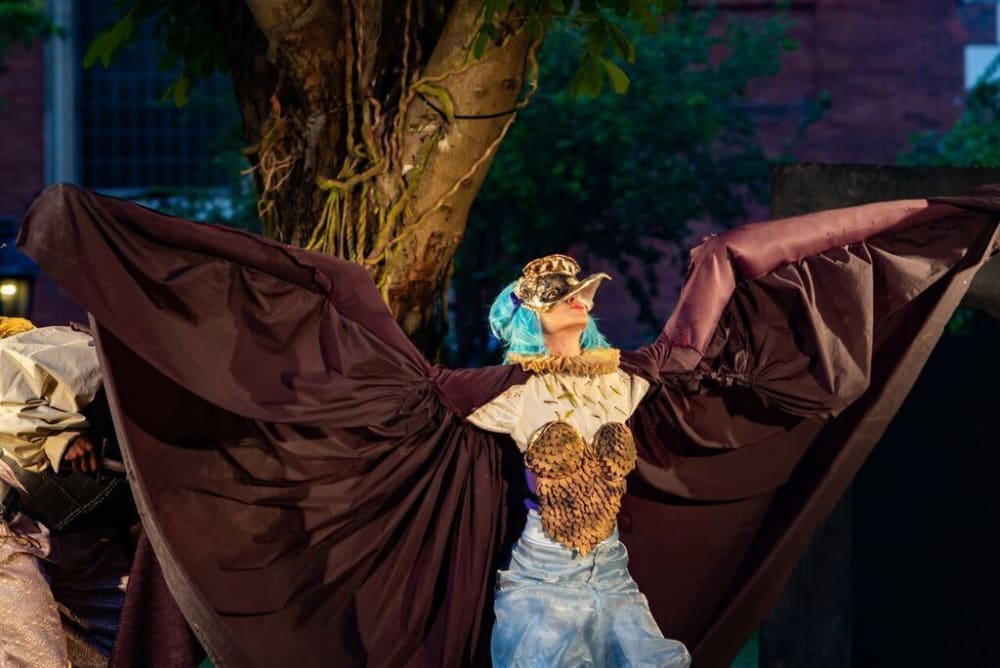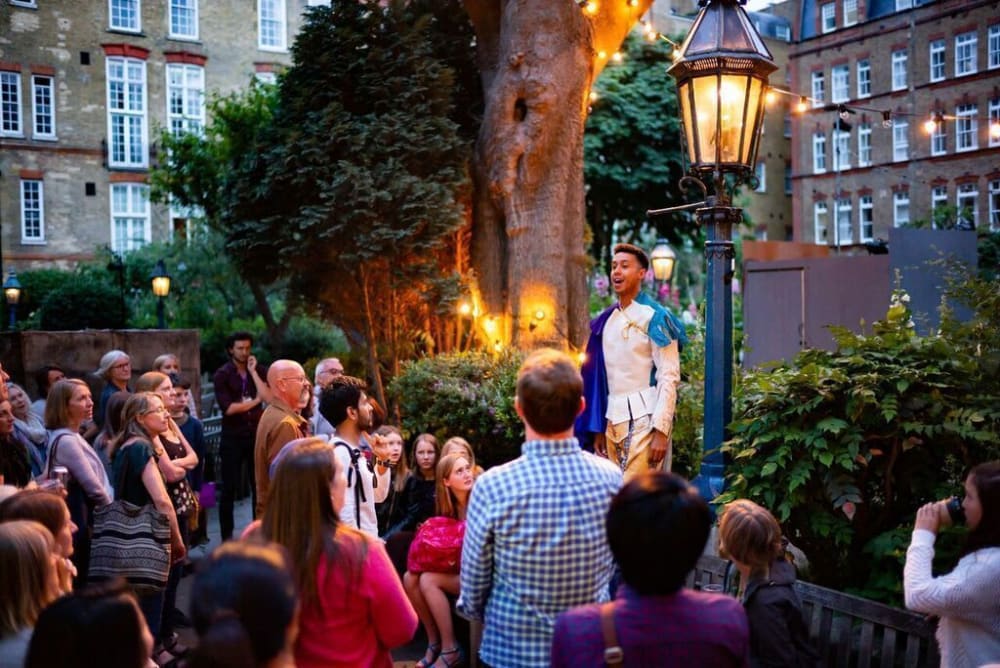 A storm at sea and a shipwreck aren't easy to stage in an English summer garden, especially when as your inspiration you have looked to the Jacobean masques that were so often designed by Inigo Jones, architect of the church which is the venue for this production.
Daniel Winder's production of The Tempest does it largely through shouting, Filipe Gomez's sound effects and drowning a model galleon, though there is a valiant attempt by Linford Johnson's Boatswain to be heard through its confusion. Shakespeare then continues the play with the drawn-out back-story and, until that is over, the play can't really take off; though fortunately Jamie Newall's authoritarian, clear-spoken Prospero makes it easy to follow.
Prospero was Duke of Milan until driven out by his usurping brother. He has since lived and brought up his daughter on an island he shares only with Ariel, a spirit he freed from imprisonment now in his service, and Caliban, the son of a witch whom Prospero killed to take over the island, who has been first educated then enslaved by Prospero's magic.
Prospero has created the tempest to wreck a ship carrying his bad brother and his allies. It is now revenge time, though his plan also involves matching his daughter Miranda with a suitable husband.
This grave Prospero may seem to be meting out justice but he is not someone to get on the wrong side of. Newall makes his treatment of Caliban particularly brutal, especially since Prince Pockey plays the slave not as a monster but an innocent. Even his attempt to mate with Miranda, which brought Prospero's fury upon him, was just a naïve need to populate the island.
Miranda is so under the control of her father that Joanne Thomson gets little chance to give her much personality, though gradually becoming less of an automaton. As Ferdinand, the prince she is paired with, Linford Johnson has much more opportunity to win over the audience with his youthful charm.
Shakespeare's clowns, Trinculo and Stephano in this play, aren't always easy to play and often resort to simple slapstick. Paul Brendan and Reginald Edwards handle their broad comedy adroitly with the help of some songs. Things don't move so smoothly when they and their colleagues are doubling as Prospero's enemies, but the way in which the production enables seven actors play all the roles is effective with some surprisingly rapid re-appearances by the same actor looking quite different as another character. It even manages to present three goddesses and attendant dancers in the masque with which Prospero celebrates the espousal of his daughter.
It is an intriguing take on a court masque that pulls off two drag appearances without being silly by emphasising the show and the showmanship of the seventeenth century masque and its sense of spectacle. There isn't the budget to carry that through the show but Anna Sances's costumes have some opulent touches that echo Inigo Jones's masque designs and there's a good stab at a magical banquet presented by Ariel (though when I saw it its disappearance still needed a bit more rehearsal).
Perhaps it was a nod towards masque-like extravagance that gave Charlotte Christensen' s Ariel a blue nylon wig. It certainly marks her out as different. Her singing and flute-playing make a positive contribution to the production but playing her own intro slows down the entrance of what should be a quicksilver figure. Her constant head and eye movement is probably meant to reflect that momentum but is sometimes an unwelcome distraction from other performers and, though one way of showing how pleased with herself this Ariel is, it seems increasingly twee as she nudges up to Prospero like a devoted dog to its master.
This isn't a "concept" production of The Tempest exploring some academic theory or interpreting the play as an analogy for colonial exploitation, it is a straightforward piece of storytelling, played to engage the audience in the moment. It is staged as a promenade production in the sense that the audience move between different locations in the church gardens and in the church itself but there is seating for everyone everywhere. It is not an immersive performance but it gains from the proximity of the actors.
Reviewer: Howard Loxton